The five things you need to know on Thursday December 17, 2015…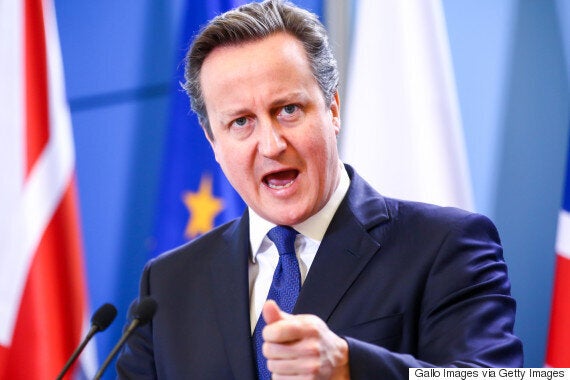 1) TURKEY AND BRUSSELS OUTS
David Cameron heads off to Brussels this afternoon for his first proper discussion of his EU renegotiation plans. Other EU leaders are more preoccupied with the migrant crisis and Turkey, so the working dinner on 'the British question' will be quite late. But the PM will finally get to talk turkey for the first time with all 27 fellow leaders (though those pesky sherpas and 'theologians' will be in the next room).
At the 1922 Committee last night, the PM was in chipper mood, not least after his final PMQs jabs at Corbyn, Carswell and Robertson. But he was also keen to stress how hard the road ahead was on the EU. As the Telegraph reports, he told friends he would follow the example of Margaret Thatcher by standing up to EU leaders like she did in 1984 when she secured an unprecedented rebate for the UK. A senior source close to the PM warned the big difference between now and then: "Mrs Thatcher said when she was negotiating the rebate she needed '10 keys to turn that lock' when there were 10 other members – now he needs 27 keys."
And there's more caution on timing of the deal and therefore of the referendum itself. One senior source close to the Prime Minister said last night: "We are not going to get a deal tomorrow, it is about getting goodwill behind the deal in February, March, June – getting things moving." Was that a reference to getting a deal in June (which would point to a September poll) or a March deal with a June referendum? Earlier this week, when asked if the poll would be this year, he replied coquettishly: "Maybe. Or maybe not".
The Times says the PM will tell the Brussels summit that his need to win over sceptical voters means he has "no choice" but to demand that limits on migration are enshrined in treaty change. So let's look for agreement on language conceding that "primary law change", meaning an amendment to the EU treaty, will be the subject of "further consideration".
Angela Merkel didn't make life easy yesterday, warning: "The principle of freedom of movement and the principle of non-discrimination between European citizens. These principles are not negotiable."
The Guardian has 'In' camp leader Michael Rose claiming the UK would face £11bn in new tariffs for trade if it quit the EU. But the Telegraph focuses on the Ashcroft mega poll of 20,000 voters: 47 per cent of the public now want to leave the EU – with just 38 per cent opting to remain and 14 per cent undecided. The Indy has a health warning about how online polls overstate results compared to phone polls (where In and Out are v close).
Herman Van Rompuy told the Today prog: "I consider Brexit as an amputation for the European Union."
Lords Mandelson and Kinnock made their presence felt as Jeremy Corbyn attended the end-of-term meeting of the Labour Lords group last night. With other eyes fixed on the PM at the 1922 Committee, along the same corridor, only myself and Michael Savage of the Times were on hand to monitor the Lords in Committee Room 4. I've written about it in full HERE.
The meeting was packed with more than 150 peers (some just couldn't get in the door) but this wasn't quite like the PLP flare ups of late. Then again, Mandelson has always preferred the stiletto rather than the blunderbuss. He told Corbyn that 30,000 long standing members had left the party and that 'there are now two Labour parties' - the new members and the traditional 'family'. Jezza simply insisted that the party was more 'vibrant' than in a long time and was full of real debate.
Kinnock was perhaps more worrying for the Corbynistas as he expressed real fears about MP deselection (something he still carries the battle scars over). Again, Corbyn went out of his way to offer reassurance. Several peers told me they felt the meeting was constructive and that the new leader deserved a fair wind, not least as all the new members were invigorating the party.
Still, there were undercurrents other than Mandelson and Kinnock's. Tristram Hunt's dad Julian warned about a return to the 1980s if Trident was dumped. But it was former Oldham MP Bryan Davies who said white voters in the recent by-election felt Labour was now 'a London thing' out of touch with their values, and that Asian voters only turned out because they feared UKIP.
After the Lords meeting, Corbyn hot footed it over to Labour's HQ where he held his first Christmas drinks reception with the media. "This is on one level yours and my worst nightmare" he joked. In a change with precedent, he served drinks from behind the bar. He gave a short speech taking the mickey out of the Sun for his 'bowing' angle at the Cenotaph, jibed the Daily Mail over its psychoanalysis of his Xmas card and warned all hacks he'd 'never, ever' give an interview outside his house (he wanted to stop them trampling on the bulbs in his garden). Corbyn also said he stood for press freedom and revealed he was a member of the NUJ (just like Michael Foot, I think).
John McDonnell was on form, and Tom Watson joked that the Sun "call me a fat twat...but I don't take it personally". The alcohol flowed…
At 9.30am today, we're expecting a Written Ministerial Statement publishing Lord Strathclyde's review of House of Lords powers. The BBC was given a heads up last night and the Guardian and Telegraph have reports too, with the key detail being that peers will be given only one chance to reject some legislation before the House of Commons can insist it passes into law.
Strathclyde is set to announce the Lords will lose their right to an absolute veto on 'statutory instruments' - obscure bits of secondary legislation that allow laws to come into force. Last week, Lord Lisvane, a former clerk of the Commons, said secondary legislation was being used "increasingly for matters of policy and principle which should be the subject of primary legislation". He's got a point - but it's been happening for years under all Governments.
This all comes of course after the Lords gave Osborne a bloody nose on tax credits, though Labour insists its motion merely delayed the cuts and asked him to think again rather than blocking it.
On the wider issue of the Lords overreaching itself, the Government is very irritated the the Lords have inflicted defeats on the government on 30% of occasions over the past 15 years. Since the election that has risen to 70% (though this week's wins on 16/17 year olds, bankers bill and education votes have reduced that 'run rate'). Labour counters that since the election there have been 23 defeats in 38 votes but 16 of these "wins" have actually been on bills that started in the Lords.
There's no rush though from No10 for reform. The Government isn't keen on publishing its response to Strathclyde until the New Year.
BECAUSE YOU'VE READ THIS FAR…
Politicians were falling over themselves to make clunky Star Wars references yesterday. The PM had his rather flat gag at PMQs to ex-No10 man Oliver Dowden, declaring he was glad he'd not gone over to the Dark Side (was that a reference to UKIP??). Keith Vaz ended his session with Theresa May with this: "In the spirit of Star Wars, may the force be with you Home Secretary, this Christmas" (was that a reference to the police?)
But top prize for cringe went to George Osborne who decided to do a Downing St pooled TV clip delivering not once but twice his own line on the force. The Chancellor, who points out that he personally helped get Lucasfilm to make the latest movies in the UK, said: "So it's a great day for filmmaking in this country and it clearly shows the force is with us….It's a boost for our economy, it's a boost for our culture and our film industry and it shows, as I say, the force is with us."
Like lots of geeks, he also wanted borrow some Harrison Ford cool. "Like everyone, I'm a Han Solo fan." But at least he had the grace to laugh at himself when he did a similar clip for Channel 4 News in 2013, saying "it looks like the force is strong with this one".
Anyway, HuffPost will have more on this kind of thing later today.
The Guardian reports that Labour is taking advice from lawyers on whether benefit cuts under universal credit are illegal. Shadow Work and Pensions Secretary Owen Smith said it was discriminatory that a single mother working full time on the minimum wage could be almost £3,000 worse off under universal credit than a mother in precisely the same circumstances on tax credits.
Smith - one of the most talented young Shadow Cabinet ministers - was impressive in the chamber yesterday as poor Shailesh Vara, the junior work and pensions minister, had the unenviable task of confirming that the tax credits U-turn meant the Government's welfare cap will not be met for three years.
Smith pointed out Osborne was absent because he had "carelessly, ignominiously fallen into his own welfare trap" and "slipped on his own smirk". "Inexplicably, he's not here to account for it. Last spring he was quite definite that he should be. He said: 'The charter makes clear what will happen if the welfare cap is breached. The chancellor must come to parliament, account for the failure of public expenditure control'"
As the PM pointed out at PMQs yesterday, the UK has record levels of employment and plunging unemployment (though the slip in wages growth took some shine off the day). Things were so good that Lord Freud even told the Lords that the gender pay gap had now 'disappeared' for young women.
If you're reading this on the web, sign-up HERE to get the WaughZone delivered to your inbox.
Got something you want to share? Please send any stories/tips/quotes/pix/plugs/gossip to Paul Waugh (paul.waugh@huffingtonpost.com), Ned Simons (ned.simons@huffingtonpost.com), Graeme Demianyk (graeme.demianyk@huffingtonpost.com) and Owen Bennett