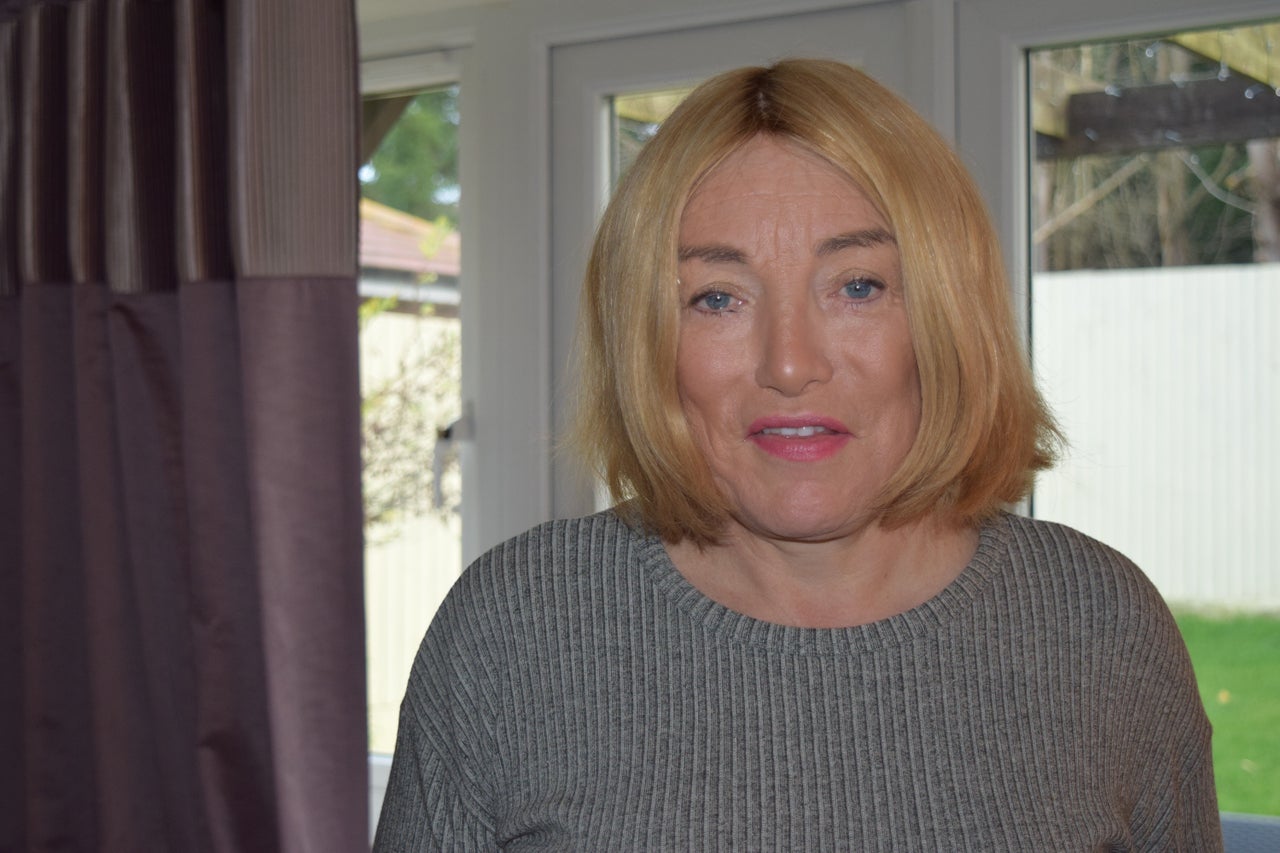 Despite being in considerable pain, Kellie Maloney is surprisingly composed.
Though she is standing and leaning awkwardly against the sofa in her daughter's living room in Kent, the 62-year-old, seen by many as 'Britain's Caitlyn Jenner', seems at peace.
As she shifts around the room to remain comfortable with her bad back, we discuss the source of that peace: her transition from male to female, which was completed on 24 March this year.
"That was the final piece of the jigsaw to find my real self, and I have to admit I was really happy," she smiles. "I'm not going to celebrate my birthday any more, I'm going to celebrate the day I had my gender reassignment."
Maloney became Britain's most famous transgender person in August 2014, when The Sunday Mirror broke the news that the male boxing manager and promoter Frank Maloney, already known for promoting fighters like former undisputed world heavyweight champion Lennox Lewis, was going to live her life as a woman.
She is relieved that health worries over her heart didn't prevent her from undergoing the final stages of Gender Reassignment Surgery. "I needed it. I don't think I could have lived as a female with a male body, but everyone's different," she says, speaking to The Huffington Post UK for its TransBritain series.
Since her exposé in the papers, and subsequent appearance on Celebrity Big Brother last year, Maloney has become a go-to spokesperson on transgender issues.
She is forthright with her opinions of other trans people, hitting out at those who she sees as "too militant and too active" and particularly those who have told her to stop her children from calling her 'Dad'.
"These people have got no idea of real life," Maloney says. "Cos I am their dad, I'll always be their dad. They've got a mum. I'm proud to be their dad and I'm proud that they still accept me, so I don't have a problem. If they want to call me dad, fine; if they want to call me Kellie, fine."
Her grandchildren call her granny or granddad, and Maloney takes a relaxed attitude if someone addresses her as 'he' instead of 'she'. "I don't get uptight about it – because for 50 years of my life everyone's known me as Frank Maloney, as a male. And it's going to take time for people. If someone misgenders me and I jump down their throat, they're going to turn against me."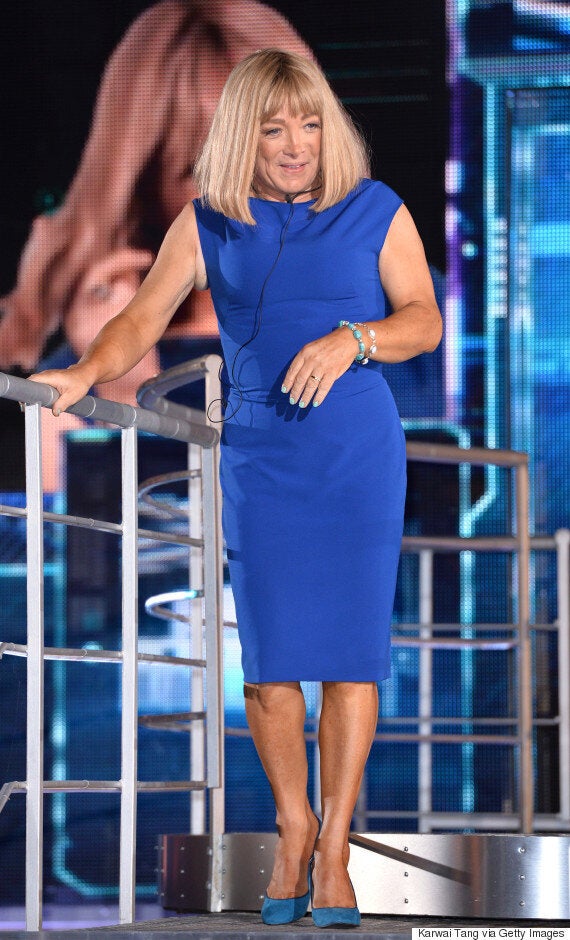 Maloney being evicted from the Celebrity Big Brother house
She firmly rejects the idea that being transgender is a "craze", a media perception partly fueled by Nadia Sawalha, a panelist on TV show Loose Women, who claimed that changing gender identity is considered "fashionable" among children, like self-harm.
Like Caitlyn Jenner in the US, Maloney was already in the public eye before her transition, so is viewed as a privileged oddity by many transgender activists.
"Maloney is quite removed," says campaigner Fox Fisher, who thinks she doesn't represent ordinary transgender people. "She kind of saw the trans community after she transitioned, and I think that a lot of people don't have the finances that she has and don't have the platform that she has."
Despite acknowledging that she is still new to the trans community, Maloney accepts she has become one of its most outspoken voices.
That said, she strongly rejects any comparison to Jenner: "I come from a normal background. Caitlin Jenner is a Californian Hollywood star, from a family of reality stars. We come from two different worlds. I describe myself as living in a goldfish bowl, thank heavens, and Caitlyn Jenner lives in an aquarium."
Living as a woman and finding her 'real self' has also allowed Maloney to make a radical break with elements of her reputation as Frank. "I had a good life, but I was a very angry person, and I'd say things that I shouldn't say about people," she says in her daughter's sitting room.
She recently spoke out against boxer Tyson Fury's comments on gay people and women, but Maloney herself was called a "dangerous extremist" and homophobe when she campaigned as the Ukip candidate for the 2004 London mayoral election, while still living as Frank.
In comments that led to politicians denouncing her, she said she didn't campaign in Camden because there were "too many gays". She later added that she didn't think gay people "do a lot for society", was unhappy with them "openly flaunting their sexuality", and would ban gay pride marches.
She later apologised for the remarks, at one point quoting US boxing promoter Bob Arum saying "Then I was lying, today I am telling the truth".
After transitioning, she is now a vocal defender of gay rights. "I understand we can learn a lot from the LGB community," she tells HuffPost Uk, "and I've got lots of friends in there since I've come out, and I go to lots of events. We can learn from them because they had a struggle, but their struggle, obviously, was about their sexuality."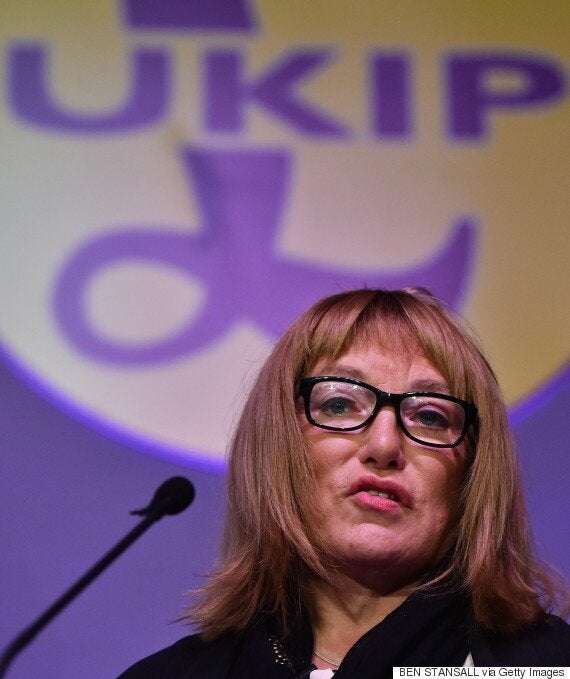 Nigel Farage 'lied' about his approach to gay people, Maloney says
She's also quick to explain that she no longer backs Ukip. "I never voted Ukip in the last election. I don't support them," she tells me - a considerable turnaround considering Frank stated his aim to become leader of the entire party in 2010.
The final straw was an apparent backtrack on gay rights from Ukip leader Nigel Farage earlier this year, she explains: "I made a speech at the Ukip convention in Margate, and I told Nigel I'd hope that Ukip would change its views on transgender and the gay community. Farage said to me, 'We will treat everyone the same' and I went 'Nigel that's all we want, and that's all the world would like.'
"But then a couple of weeks later he brought out this stupid manifesto called the Christian manifesto, where if you were a Christian, if you didn't want to marry a same sex couple you didn't have to. To me, that showed he was lying.
"When he did that I denounced Ukip and I've not been to any convention, not spoke for them, and I wouldn't no more."
She was "blinkered" in her world as Frank, she tells me, and it seems that getting to know trans people through transitioning - she goes on "trans weekends" and visits a support group, TG Pals - have opened her eyes.
Maloney's comments suggest that her former views sat comfortably in the hyper-competitive, macho world of boxing, from which she retired in 2013. "Throughout my life I always made the odd joke comment about a transsexual, or a ladyboy when there was a conference in Thailand, and the reaction of the guys around me was 'If I went with one of them and I didn't know, I'd kill them or I'd chop it off them.' I was like 'I can never let these people know about me'. That's why I wanted to transition privately. But unfortunately we had to go to plan B."
Maloney never sought her celebrity, she says. She had been living discretely as Kellie for 18 months after retiring from managing, "very privately, in a little house that my daughter owned".
"I was living there, minding my own business. No-one bothered me, everyone accepted me as Kellie if I went out. I was never questioned, no-one was ever rude to me."
That changed in February 2014, when two Sun journalists knocked on her door. "They'd been following me and they had pictures of me [dressed in female clothing]," she says, wincing. "They told me they were going to run this story on the Sunday about my alternative lifestyle."
She tried to deny the person in the photos was her ("but it was a bit hard because they had me coming out of my house, and walking my dogs") and then broke down after the hacks left. Lawyers got involved and the threat of an injunction stopped the publication - but The Sun was just the first of several newspapers that threatened to expose her.
So Maloney decided, with her three daughters, to make a deal with The Mirror and have control over the story, and her life changed. "I'd been out but I'd never socialise, I use to just got to a couple of trans weekends or my support group TG pals twice a month. Then all of a sudden I was thrown into the public eye."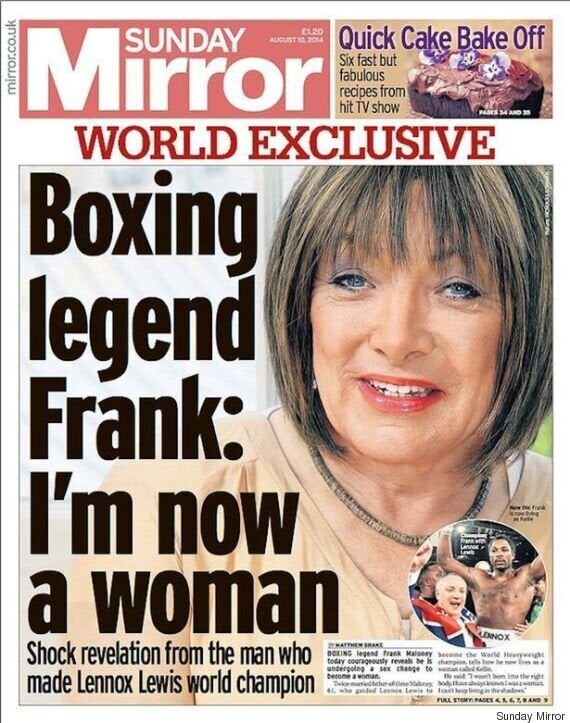 Maloney worked with The Mirror to break the news
She thinks she's been lucky not to suffer much discrimination. "There's a few, but nowhere near what I've heard others have suffered. I actually do think Big Brother helped me in my situation because the world got to see me - well, as my daughter says, being horrible. It helped me to lose Frank."
Despite a successful career in the spotlight, the "good life" as Frank as wasn't all easy. Aside from the torment of keeping her gender identity secret, Maloney suffered a heart attack in 2009, and a second the same year after discovering the body of Darren Sutherland, the Olympian boxer who Maloney managed, hanged in his London flat. The coroner heard claims that Sutherland was afraid of Maloney and feared leaving the sport because Maloney would "ruin him", but Maloney branded the inquest a "witch hunt".
Despite the pressures of working in boxing, Maloney began taking female hormones and transitioning while she was still working - the trigger was a family loss. "It was when my father died," she says, her already soft voice faltering.
When I ask whether her Dad have approved of her transition, she avoids answering directly. "My dad was a really… he helped me in my life. He pushed me in my career, was always supportive of me. And then, because of what I achieved, he put me on a pedestal.
"He was a real working class dad, went to work, made sure his family had food on the table, made sure the boys went to football – you know? He wasn't a bad person, but his world was a black and white world."
She later concedes he would have struggled to accept her as Kellie. "I think it may have hurt him. I really wanted to tell him. We were there on the day he was dying, and he called all his boys into the room."
She moved to tell him, but remembered the pain of telling her wife, Tracy: "I could see in her eyes, and I wanted to catch the words and bring them back in."
"I thought I can't tell my dad, I just can't tell him," she explains. "We went out that afternoon, and he died that night."
Despite the painful memory, but she feels she made the right choice: "I wanted him to remember me in a nice way."
She still regularly encounters friends who haven't met her since her transition, and reactions are mixed. Men find it more difficult than women to come to terms with it, she says: "They do try their hardest, but I can tell by their eyes that they are very uncomfortable. Their wives are great though."
"I think it's sad because I am still the same person. I've got one friend, we used to share so many secrets and I helped him when he had so many problems, and he won't even talk to me now."
She was "very concerned" about returning to spend time at her football club Millwall - the South London team historically associated with rowdy fans and violence between supporters.
"I've got some friends that are, I would say, very heterosexual cavemen. Very pleasant, always got a nice woman on their arms, Jack the lad, you know, that's the world that I've come from.
"One of them came up to me and he went: 'Fuck. This is really hard for me, I've grown up with you, I've only known you as Frank. I've been really worried about meeting you tonight because I don't want to offend you.' And I went: 'Do you know what, if it's easier, you call me Frank, and in time it will change, I haven't got a problem.' He said: 'Are you sure Kellie? I've just called you Kellie, haven't I?' And then he gave me a great big cuddle."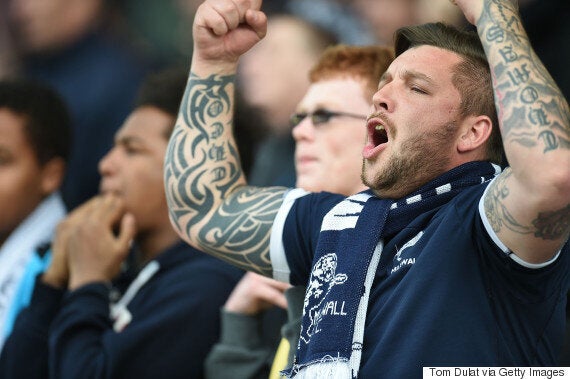 Maloney continues to support Millwall
Small gestures like this that make her feel accepted – she's thrilled that one male friend turned her down when she offered to buy him a drink, saying he'd "never accepted a drink off a woman". At a recent party with Millwall supporters, wracked with nerves, she was touched to be told, "All the girls are standing over there Kellie, I think you should go over there with the wives."
She defends her friends from any suggestion of sexism: "That's the world they're from, they don't let the women buy drinks. I'm not saying they're... they're great guys, you know, but it was really hard for them to accept me. Thankfully, they still talk to me about football, because I still like my sport. They invite me to Millwall and they are very protective of me now."
Humour and patience are the best tools when someone does refer to her as male, she explains: "I just say to them, 'You do understand that I'm now Kellie? I understand it may take a bit of time, I'm sure you'll get it right in the end.' I make a joke out of it and that seems to win people over."
As a newcomer to the trans world, Maloney is still learning about the complex variety of gender identities, including the label of non-binary – someone who identifies as neither male or female. "I've heard about that and I've met a couple of people. I don't understand it but - because of what I've been through - if they are happy and they aren't breaking the laws, then yeah, they aren't doing no harm to people. I think it muddies the waters a bit," she adds, "but I've learnt the trans umbrella is so big that it covers everything, and I think that's where it all gets so confusing for the public."
The answer to the discrimination faced by transgender people shouldn't always be through legislation, she argues: "I don't think it should be a civil rights issue, because I think we're all human beings and we should all just be treated the same and respected. Why do we need special laws?
"I understand things like your gender certificate being changed, but as far as work, pensions and health are concerned, and anything else, we should be treated the same - don't single us out."
While transitioning, Maloney attempted suicide several times, and has since known other trans people who have taken their lives - around half (48%) have attempted suicide according to recent studies.
There's a pause when I ask how she copes with such loss. "I can understand why they have [done that], because I attempted it a couple of times, but I think mine was more a cry for help, because I certainly wouldn't want to die. I wanna see my children grow up."
The public needs to be more aware of the high suicide rate among trans people, she says. "I don't think the National Health Service is set up right the way it is. There should be more support groups, and more groups to help people when they've transitioned, because your whole life changes."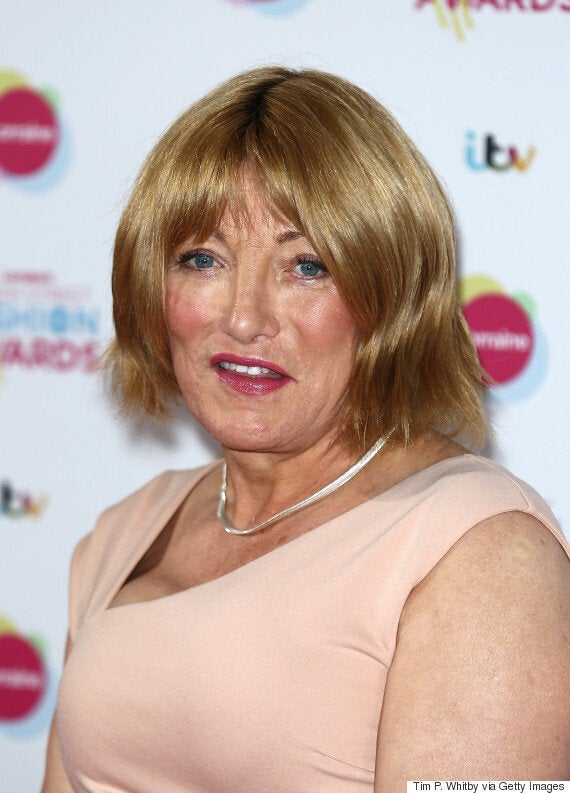 At a red carpet event in May
Much of Maloney's time has been devoted to learning to "do different things", and to study other women. "You have to learn to dress right, you have to learn how to behave," she says. "You can't sit there with your legs wide apart, you can't slouch in the chair. I used to study women a lot, always. But I'm very lucky because I've got three daughters."
"Three very critical daughters," her daughter Emma chips in, after joining us part-way through the interview. "I always pull you up on your walking."
"We've always kept it light-hearted haven't we?" Maloney says, turning to Emma. "We've made jokes about it. I know it sounds silly, but as a guy I would come home and just sort of drop my clothes on the floor. Now you come home and you want to hang your clothes up."
She is grateful for the guidance of one of her early therapists: "From the moment I told her she treated me as a female and told me if I was sitting wrong in her chair."
Maloney feels her small frame helped her to "pass" as female easily. "I've got a couple of friends that are trans and they are quite big and they are very conscious of their height. They sort of walk with their shoulders hunched and they are worried. I say 'listen, be yourself and the world will have to accept you.'"
"I've always believed that I was a woman, I've always known that I had to make this journey and I had to have an operation," Maloney says. "My daughters fully accepted me but they asked me to try and live between the two lives. We sat down together and they understood that I couldn't. Emma said, 'well it was either seeing my dad in a box or seeing my dad in a dress, and I'm happy to see my dad in a dress.'"
Emma also offers advice for Maloney on dressing as a woman in her early 60s: "You have to remember that," Maloney notes, "because you go through that stage: you want to be young. It's no good me dressing up as my 20 year old daughter or my granddaughter."
Her age made a huge difference to her experience of transitioning, she thinks. "I know someone whose daughter has just come out at 13. I think for young people it's great, because their parents help and accept them, and by the time they are 18 the world will only know them as males. They will never know this problem. For me, I go out and people sometimes call me Frank, I'm instantly recognisable, so it's sometimes quite hard to live a normal quiet life."
It's this apparent contradiction over her notoriety - both acknowledging her celebrity and denying it - that I ask Maloney about when we speak a couple of weeks after our first conversation.
"I don't walk around saying to myself I'm a celebrity, I'm not that sort of person. I mean, I'm seen as a celebrity because I was in Celebrity Big Brother. Other than that I've not done no other reality or celebrity shows. Saying that, I'm in Celebrity Mastermind soon. But I donated my fee to The Mermaid, the children's transgender charity. I would only use my celebrity situation if I think it can help others."
So surely parallels can be drawn with Jenner as both she and Maloney are the most well-known transgender people in their respective countries? "Yeah, but also now, I don't see myself as a transgender person, I see myself as a human being. I will not be labeled as a transgender person no more."
Though she can seem nonplussed about her influence (asked if she's happy that an actor playing a transvestite in Eastenders was inspired by her, she murmurs "I suppose so"), she does feel driven to advocate for transgender rights, as Jenner does.
"I do care about it, I care that everyone is treated as human beings, and that eventually that the word transgender will just drop and we'll see everyone's treated as human beings. I will work and advocate for that purpose, that's why I enjoy talking at schools and I enjoy talking at companies, and I enjoy talking at LGBT events."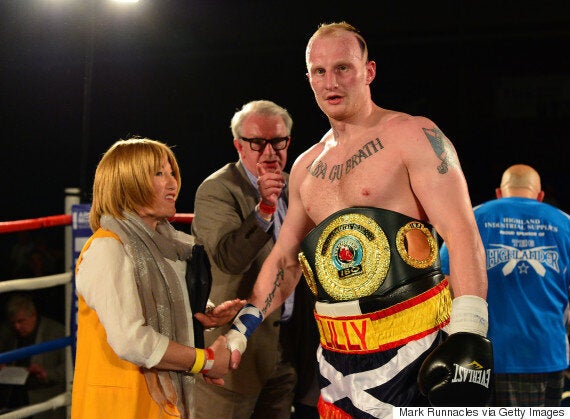 Maloney with fighter Gary Cornish
If she had the choice, she says she'd choose to live out of the public eye. "But I've accepted that and I've talked with my daughters – I don't do anything without talking to my daughters. I'm very protective of the family because they've been through a lot, that's what other people don't understand: it's not all about me, it's about what my children have been through, my ex-partner, my mother."
Her family has made the experience "easy" for her, though she doesn't feel she has the acceptance of her brothers, from whom she was already estranged.
"My daughters were told to grieve for the loss of Frank, which I know Emma didn't agree with. I'm still here, all I've done is medically correct a problem that was wrong at birth."
She is comforted when she hears stories of how her media profile has helped people. "I know a police officer that was transitioning, and her boss was reading about me and said 'Fuck, have you seen this? I never saw this coming. If it can happen to that guy it can happen to anyone.' She then felt able to tell him and she's still with the force."
Maloney's life now - focused on support groups, speaking in schools and appearing in the media, has taken a new turn. She has announced a gradual return to boxing management, and has just taken on some fighters. "I feel that I'm new, I'm starting at the bottom. But I've still got all the knowledge in my head," she says tentatively.
Her return to the industry underlines how complete her transformation has been - from a controversial Jack-the-lad figure to someone humbled and vulnerable - someone she may herself have made jokes about as Frank.
"I find some people [in boxing] help me, but if I'm honest, I find some behind closed doors make quite rude remarks and jokes, but because of the political situation they can't say it publicly," she admits.
"I think it's hard for a few of the older officials to accept me, but it's another world we'll have to break down, and hopefully I'm strong enough to do that, but in a nice way."
Useful websites and helplines: