The Telegraph has accused Jeremy Corbyn of cancelling Christmas - only he hasn't.
The paper reports that the Labour leader is refusing to issue a message on Christmas Eve but will instead wait until the New Year.
To hammer the controversy home it carries a quote from Conservative MP Andrew Bridgen, who said: "This is the new politics - Corbyn cancels Christmas.
Jeremy Corbyn has apparently cancelled Christmas so I felt this was appropriate pic.twitter.com/2byD4kND29

— Elliot Wagland (@elliotwagland) December 23, 2015
"It is just a hint of what the British people would have to look forward to under a Corbyn-led Government."
The roots of the 'scandal' appear to stem from an interview Corbyn did with The Huffington Post UK in which he said: "I don't want us to move into religious politics in Britain. I respect all faiths, I probably spend more time going to religious services than most people, of all types.
"I go to synagogues, I go to mosques, I go to temples, I go to churches, and I have many humanistic friends and I have many atheist friends. I respect them all."
A spokesman for Corbyn said:" Any suggestion that Jeremy doesn't like Christmas is ridiculous. There is no requirement for a leader of the opposition to issue a Christmas message and It was Jeremy who used his last PMQs to wish parliament and everyone a happy Christmas, including Mr Bridgen."
Additionally, the Daily Mirror's Jason Beatie made this point...
But he did write this @christopherhope https://t.co/TjEBzMOD5a

— Jason Beattie (@JBeattieMirror) December 23, 2015
And Corbyn also recorded this message for HuffPost UK readers:
And let us not forget this little controversy at the last PMQs before Christmas, when David Cameron acted like Corbyn didn't say happy Christmas... after he literally did:
Or that the Labour leader dressed as Santa on the Daily Politics:
And that he also sent out these Christmas cards: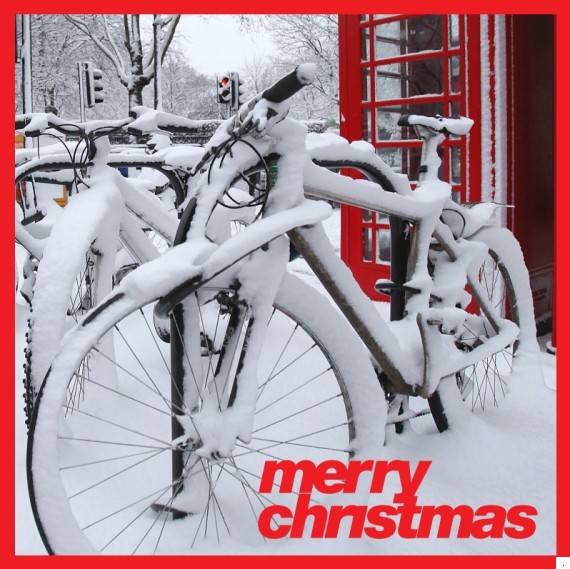 Despite all that, some people however appear to have taken the story at face value.
No Christmas message from Jeremy Corbyn - not surprising from a godless Communist #JogOnSteptoe

— George Smiley (@364690) December 23, 2015
Corbyn 'cancels Christmas' and refuses to issue festive message. Good news. I wouldn't want to hear it anyway! https://t.co/9YMo7rDc3M

— David Vance (@DVATW) December 23, 2015
Thousands more homeless this Christmas, but oh no, Corbyn won't do a Christmas message nobody would watch, shocking! https://t.co/40wvick6aG

— Gary Bickmore (@AVF_Scooby2000) December 23, 2015
Corbyn is a puritan who wants to cancel Christmas! Illustrated with two photos of the joyless fuck dressed as Santa. https://t.co/qVTzKfB1QQ

— Vile Troll Books (@viletrollbooks) December 23, 2015
Others however, pointed out the leap in imagination in the article.
Extrapolation of the week goes to Andrew Bridgen for claim Corbyn is cancelling Christmas https://t.co/AvLpf0gxnC pic.twitter.com/KZh129JTLF

— Jennifer Lipman (@jenlipman) December 23, 2015
According to The Daily Telegraph, Jeremy Corbyn has 'cancelled christmas'. Could the British press get any more cretinous? #Don'tAnswerThat.

— Antony Holt (@Hasselschmuck) December 23, 2015
Corbyn decides he won't issue a Christmas message to the nation and this is actually The Telegraph's take on it. pic.twitter.com/3ZvO94dnW5

— The Sun Apologies (@SunApology) December 23, 2015
Top story on the Telegraph website is genuinely "Corbyn Cancels Christmas"

— Farages Festive Face (@UKIPBIackpool) December 23, 2015
Help me I'm screaming. Jezzer is now the grinch for not putting out a christmas eve press release 😂😂 pic.twitter.com/GWQGF78vmZ

— Another Angry Woman (@stavvers) December 23, 2015
Jeremy Corbyn Interview (Part 1): On His First 100 Days, Leadership, Donald Trump, Bernie Sanders, Hillary Clinton And Tyson Fury

Jeremy Corbyn Interview (Part 2): On War, George Galloway, Trident, MP Reselections And More Of A Say For Labour Party Members

Jeremy Corbyn Interview (Part 3): On The Housing Crisis, Media Plurality, Climate Change, Religion, Bolivia and 'Corbynistas'