LATEST: Britain First's Jayda Fransen 'Invades' Halal Slaughterhouse
You may not be too familiar with it but a policy in Britain First's manifesto states: "Offer generous grants to those of foreign descent resident here who wish to leave permanently."
So it is rather awkward that the far-right group's deputy leader is of foreign descent, according to an amateur family history researcher.
A blog written for the Exposing Britain First group states: "I've been studying family history now for long enough to suspect that you aren't completely British. Fransen is not a British name. So I decided to have a little dig around.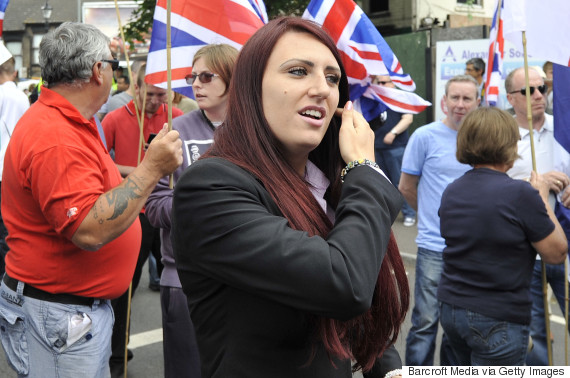 Fransen was recently re-elected to deputy leader
"Let's start with your paternal grandparents; John Joseph Fransen, or rather Jan Jozef Wynand Fransen. Born in the Netherlands in 1927, Jan came to England with the Dutch Naval fleet."
The writer also examines the maternal side of Fransen's family and comes to the conclusion it's highly likely they were Jewish.
The blog then goes on to outline the irony of Fransen heading such an anti-immigration group when so many of her close relatives were reportedly immigrants themselves.
Other policies the group support include:
– Make it an act of treason to implement any policy or measure, or sign any agreement, that facilitates and / or results in significant numbers of foreigners entering the sovereign territory of the United Kingdom with the aim of settling.
- Completely halt any further immigration except in special cases such as genuine marriages where strict citizenship criteria has been met.
– The reintroduction of competitive sports and Christian assemblies
READ MORE:
Fransen was the main focus of a recent BBC documentary on the group.
'We Want Our Country Back' aired on BBC Three and saw film director Miles Blayden-Ryall investigate the quasi-political Britain First as they tried to drum up support around the UK.
Response to the programme was mostly a mixture of disgust, bewilderment and outrage...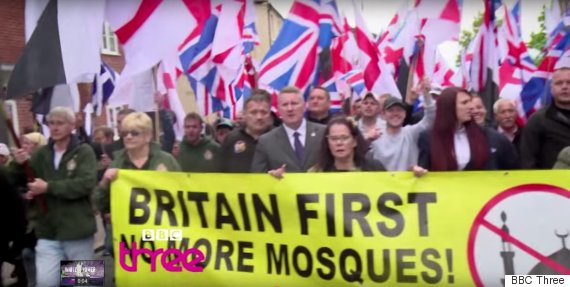 I recall this same type of racial hate in the 1930s & how politicians manipulating emotions of many to kill millions #WeWantOurCountryBack

— Harry Leslie Smith (@Harryslaststand) October 6, 2015
Cringing for the hardworking restaurant owners having to deal with the petulant facists storming their establishments #WeWantOurCountryBack

— Vicky Chandler (@VickyChandler) October 6, 2015
#WeWantOurCountryBack scream people who would be lucky to find the British isles on a globe within two minutes

— Will Black (@WillBlackWriter) October 6, 2015