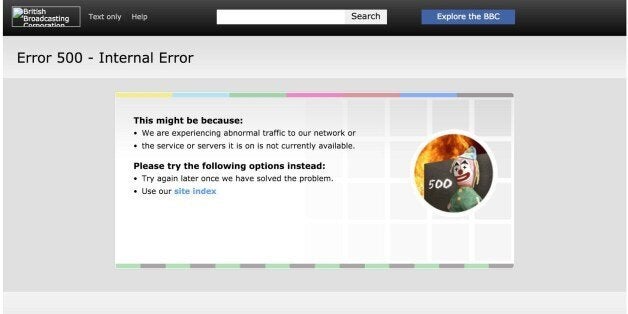 Thousands of people were left lamenting the downfall of Britain's national broadcaster - after an hour-long shutdown of the BBC website gave what some suggested was an insight into what life could be like if its licence fee were cut completely.
Dalek-voicer for the BBC's 'Doctor Who' Barnaby Edwards said he was "delighted" to see the entirety of social media losing its collective mind over the crash, adding: "It shows how important the BBC is to so many people."
And some of the corporation's journalists quickly piled in with their own jokes, including technology correspondent Rory Cellan-Jones and producer Henry Clarke Price.
But reacting, some users wondered if the BBC's website - which attracts 5,021,250 unique users per day - would act as a timely reminder of its salience to the public.
One user seemed more perturbed by the '404' page they were directed to upon trying to navigate to the BBC's website.
While another pondered whether a familiar BBC face might have been responsible for the website's downfall.
Others just used the crash as an opportunity to poke fun at the corporation.
A follow-up tweet from Cellan-Jones confirmed the website had suffered a DdOS - a distributed denial of service attack.
Popular in the Community