Thousands of police and an increased number of firearms officers will be patrolling London tonight during the New Year's Eve celebrations.
About 3,000 officers will be on duty in the capital as crowds gather to usher in the New Year and see the fireworks display.
Metropolitan Police spokeswoman Superintendent Jo Edwards said: "New Year's Eve is a major celebration in the diary and the Met has been working with colleagues to ensure celebrations run smoothly and the event is safe and enjoyable for everyone who attends.
"Our policing plan remains under constant review and the public can expect to see additional police officers in central London, which includes an increased number of firearms officers. Our plans are purely precautionary and not as a result of any specific intelligence."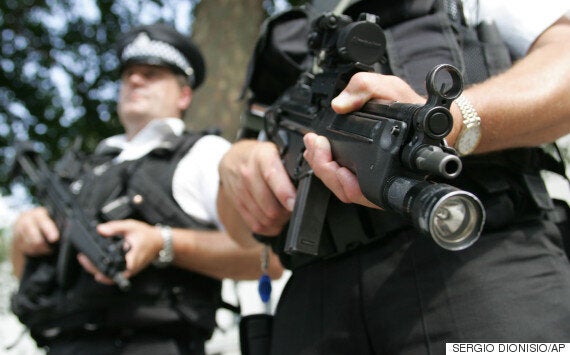 Thousands of police officers will be on duty in London tonight for the New Year's Eve celebrations
The Met Police said it had been working closely with the mayor's office, British Transport Police (BTP), Westminster City Council and others to ensure the event runs smoothly.
The mayor's fireworks display is ticketed for the second year and has sold out.
A police spokeswoman said that those without a ticket will not be allowed entry and people are advised to either watch the display at home or celebrate the New Year at one of the hundreds of other venues in the capital.
BTP will also have armed patrols on London's transport system tonight.
Superintendent Andy Morgan, silver commander for BTP, said: "New Year's Eve will undoubtedly be one of the busiest nights of the year for the emergency services and we will have officers on the ground at train and Tube stations across London.
"In order to provide further reassurance to everyone, we will also be extending our regular armed patrols and specialist support beyond normal hours.
"We would encourage everyone to enjoy their evening and to travel home safely, making sure you have your travel arrangements in place and know when your last train home is."
On New Year's Day, more than 8,500 performers representing 20 countries will take part in an annual parade through London.
The event, which includes marching bands, cheerleaders, clowns and acrobats, kicks off in Piccadilly and finishes in Parliament Square, taking in Lower Regent Street, Pall Mall, Trafalgar Square and Whitehall.
Raids on Sunday and Monday by Belgian officers uncovered military-type training uniforms and Islamic State propaganda materials. The prosecutors office said that no weapons or explosives were found.
The investigation revealed "the threat of serious attacks that would target several emblematic places in Brussels and be committed during the end-of-year holidays," the prosecutor's office said.
On November 21, after the Paris attacks that killed 130 and injured hundreds, the terrorist alert level for all of the Belgian capital was temporarily raised to its maximum level.
Many of the suspects in the Paris attacks carried out last month had connections to Belgium. The capital was placed on lockdown following fears that it could be the target of an "imminent" terrorist attack.
Last December 31, 100,000 people turned out in the Belgian capital to ring in the new year.