The majority of the UK's police forces still have a disproportionate number of white officers compared with ethnic minority officers, it has been revealed.
New figures showed that ethnic minority applicants have less chance of getting a job within the majority of forces than their white counterparts, the Press Association reported.
According to figures released to the Guardian under the Freedom of Information Act, more white applicants are appointed than people who identify themselves as black, Asian and minority ethnic (BAME) in 31 of the UK's 45 territorial police forces.
London's Metropolitan Police, Gwent Police and Hertfordshire Police were found to have the greatest discrepancies.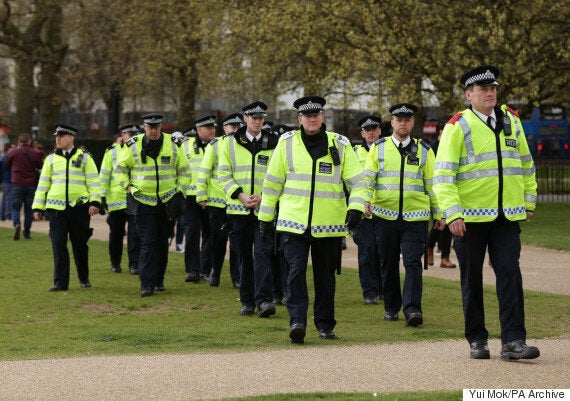 The UK's police forces are still disproportionately white
In the Met 28.1% of applicants were from BAME backgrounds, but they only made up 17% of appointments.
The data also revealed that 39 forces appointed a disproportionately low number of people from BAME backgrounds, compared with the make up of the population of the area they serve.
Again, the Met was among the least representative in this respect, along with the West Midlands and Bedfordshire forces.
These three forces also received a disportionately low number of BAME applications.
The community the Met serves is 40.2% BAME, while only 17% of the appointments between 2005 and 2015, and 28.1% of applications were from ethnic minority backgrounds.
Between 2006 and 2014 17.8% of the applications received by West Midlands Police were from people from BAME backgrounds. In the year 2014-2015 the group made up 13% of its appointments, despite 29.9% of the community it serves being from a BAME background.
The figures further reveal that three forces appointed only one BAME officer each in the years up to 2014 for which they provided data.
Three more appointed none, but these figures relate to only a short period of time.
Cheshire was the only police force that reported appointing a greater proportion of people from BAME communities than live in its local area.
While some forces provided data relating to 10 years' worth of records, others only released information relating to a portion of that period.
North Yorkshire, Staffordshire and Sussex police forces released no data at all.
Responding to the figures, the National Police Chief's Council workforce lead, Chief Constable Giles York, said: "Police chiefs have been vocal about the operational need for a workforce that reflects the make-up of our communities because we understand the benefits of a diverse workforce in creating better cohesion with the public that we serve.
"The rate of officer recruitment from black and minority ethnic communities is increasing; in recent years it has risen from 3.6% in 2006 to 5.5% in 2015. Forces have encouraged more black and ethnic minority people to join the police as officers, members of the Special Constabulary or as volunteers. We've also involved community representatives in advisory groups and panels so their voices are heard."
He added that police chiefs were committed to increasing diversity in the service, but there were no "quick or easy solutions within the current legislation".
In a speech to members of the National Black Police Association (NBPA) in October last year, Home Secretary Theresa May said no force in the country had a black and minority ethnic representation reflecting its local population.
She also highlighted that four forces - Cheshire, North Yorkshire, Dyfed-Powys and Durham - had no black officers, and attacked the situation at some forces, saying it was "simply not good enough".
Popular in the Community