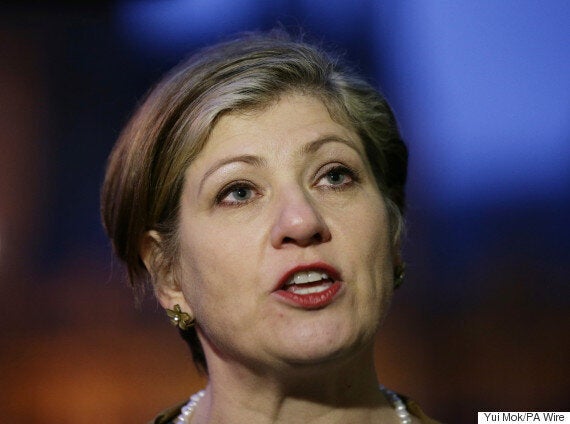 Emily Thornberry outside Portcullis House, London
Eagle has been moved to culture secretary. Hillary Benn, who was rumoured to be facing the sack, has remained as shadow foreign secretary.
After more than 30 hours of bitter infighting, Labour sources also revealed Europe spokesman Pat McFadden would leave the shadow cabinet, replaced by Pat Glass. McFadden was axed for criticising Corbyn's response to the Paris terror attacks.
Thornberry gained notoriety in 2014 after she was accused of "utter contempt" for the working class by tweeting a mocking picture of a St George Cross flag on a Rochester home, just hours before polls closes in the Rochester and Strood by-election.
Labour's new Shadow Cabinet:
Leader of the Opposition and Leader of the Labour Party
Deputy Leader of the Labour Party, Party Chair and Shadow Minister for the Cabinet Office
Shadow First Secretary of State, Shadow Secretary of State for Business, Innovation and Skills
Shadow Chancellor of the Exchequer
Shadow Chief Secretary to the Treasury
Shadow Secretary of State for Health
Shadow Secretary of State for Education
Shadow Secretary of State for Work and Pensions
Shadow Secretary of State for Defence
Shadow Lord Chancellor, Shadow Secretary of State for Justice
Lord Falconer of Thoroton
Shadow Secretary of State for Communities and Local Government, ShadowMinister for the Constitutional Convention
Shadow Secretary of State for Energy and Climate Change
Shadow Leader of the House of Commons
Shadow Secretary of State for Transport
Shadow Secretary of State for Northern Ireland
Shadow Secretary of State for International Development
Shadow Secretary of State for Scotland
Shadow Secretary of State for Wales
Shadow Secretary of State for Environment, Food and Rural Affairs
Shadow Minister for Women and Equalities
Shadow Secretary of State for Culture, Media and Sport
Shadow Minister for Young People and Voter Registration
Shadow Minister for Mental Health
Shadow Leader of the House of Lords
Baroness Smith of Basildon
Shadow Minister without Portfolio
Shadow Minister for Housing and Planning