A video has captured scenes of unfolding carnage as an annual running of the bulls event went wrong on the streets of Cusco, Peru.
Onlookers can be seen flocking and fleeing from the charging animals at the event, which saw eight people injured on Saturday.
The country's bullfighting industry is the biggest in South America, despite increasing protests from animal rights activists.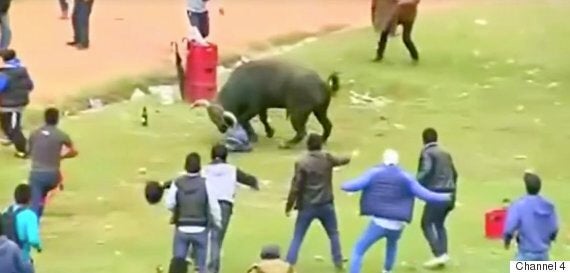 A bull causes carnage in Peru
During the footage people can be seen trying to assist the injured as bulls toss onlookers into the air, against nearby vehicles.
The event was part of a four-day religious festival held every year between 30 December and 2 January.
The industry in Peru organises about 540 bullfights a year, mostly in the provinces of Cajamarca, Lima, and Ancash.
Bullfighting is a divisive issue in Europe where animal rights campaigners have been campaigning to ban the sport in countries such as Spain.
It is estimated that more than £100 million of EU money is used to subsidise bullfighting in Spain - about £13.5million of which comes from UK taxes.
"Each year tens of thousands of bulls endure high levels of stress and then a painful death, all in the name of so-called entertainment."