The five things you need to know on Friday January 8, 2016…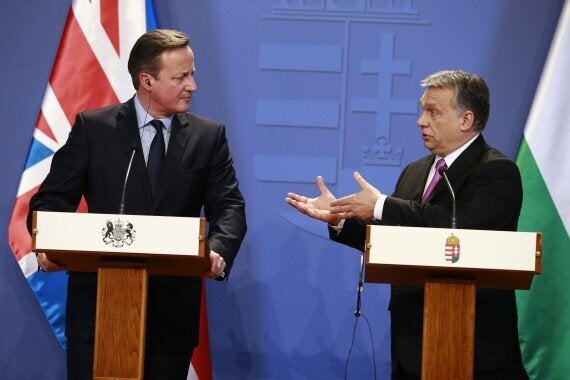 Nick Watt in the Guardian has an eye-catching story suggesting that the EU referendum looks more likely in September than June. Both Leave and Remain camps expect the later date because the PM's renegotiation deal - with continuing problems over 'non-discriminatory' welfare bans on migrants - may be more ready for the March summit than the February one.
Hungary's Viktor Orban, while jibing Cameron not to treat his people as 'parasites', hinted a deal on something less than a four-year benefit ban could be done. Yet as Watt points out, a March deal would mean a July referendum at the earliest and ministers have ruled that out because of Scottish school holidays. These few weeks' delay on a deal would mean months of delay for the actual referendum, and the risk of images of a fresh summer migrant crisis.
And the Government's handling of the parliamentary rules for a referendum suggests that it may have given up on a referendum before September. Ministers have not yet begun the process of introducing the secondary legislation to allow the referendum to take place - and the electoral commission says six months need to elapse between the introduction of the secondary legislation and the referendum. The Telegraph says we're 'on the brink' of a deal for February. So, let's see.
What about the Tory party's internal politics? At his New Year drinks on Wednesday, Liam Fox was in confident mood. In the Telegraph, Fraser Nelson has news that won't surprise but will still dismay Eurosceps: that privately David Cameron "has made up his mind to stay, and is letting the secret slip". He points to the looming civil war over the referendum, with one MP saying: "Osborne is a dead man walking: a remainer will never lead the Conservative Party." Fraser reveals Osborne "may well run on a joint ticket with a prominent Eurosceptic, to whom he'd promise the Treasury". But he's worried that Boris will opt for the 'Leave' campaign.
And this remains Boris' biggest call of his political career. Yesterday he irritated some in No.10 with another bit of Brexit footsie, telling the BBC there was 'a great, great future' for the UK outside the EU. Asked if he'd join the Leave camp, he said 'let's see' what Cameron comes up with.
It's Day Five of the reshuffle (I'm still running the clock, even though Corbyn allies say it's kinda really over, because they've still not replaced Angela Rayner in the whip's office) and the repercussions continue.
Ken Livingstone was swiftly contradicted by Labour HQ yesterday for saying Nato membership could be part of the defence review. And despite Hilary Benn digging in, it's Trident that really is at the heart of the Corbyn camp's victory in the reshuffle (Benn has zero remit on it I'm told). Though it's worth noting that Kevan Jones replacement Kate Hollern is an ex-unilateralist, not a current one.
The latest squall over the reshuffle though is the reaction of sources close to Corbyn at the news that Laura Kuenssberg and Andrew Neil worked together to get former Shadow Foreign Minister Stephen Doughty to announce his resignation live on air on the BBC just before PMQs on Wednesday. One source told DailyScrapbook: "These events question credibility of all involved ... raises questions at the heart of democracy."
In a string of tweets overnight Doughty explained the process, stressing he wanted to "explain my reasons without spinners getting in first". Call me old fashioned, but I can't see the problem in Laura K wanting him to choose the BBC first to reveal his decision. Yes it was for maximum journalistic effect ahead of PMQs, but that's what journalists do with good stories. The only blunder seems to be a clumsily worded (now deleted) blog written by Daily Pols Output Editor which suggested it was 'making the news', as well as a line about 'big political impact'.
Jez himself was pretty Zen yesterday, explaining the tantric reshuffle was due to 'people who talk at great length' (a jibe at Hilary Benn's several meetings?). He revealed to the regional newspaper Lobby lunch yesterday that he texted the final junior appointments, while he was on a rally platform about to speak on defending legal aid. He also had a delicious account of his own experience as a local paper reporter, and let slip perhaps the inspiration for his Geography Teacher's Stare: he taught geography while on youth work in Jamaica.
Meanwhile, media 'manipulation' means even Simon Danczuk's friends must be despairing of his latest conduct. The Sun reports him texting Sophena Houlihan to arrange a "funny" meeting, and suggesting a media agency will "pay you a fee etc take photos". Senior Labour sources suggest his initial offer to work for him is what will really matter in expelling him from the party.
Charlie Cooper has a corking splash in the Independent, revealing an email trail that suggests Department of Health 'sexed up' a warning from NHS medical director Sir Bruce Keogh about the junior doctors' strike threat.
The emails show how a controversial letter from Keogh - questioning whether doctors would respond to a Paris-style terror attack - was revised after inteventions from the DH. Sir Bruce was advised that "the more hard-edged you can be on this, the better". One email from an official makes clear that Jeremy Hunt wanted to see the final letter and "if you are happy to make these changes we will be able to get him [Hunt] over the line."
Sir Bruce who is nominally 'independent' and works for NHS England not the Government, angered thousands of junior doctors with his letter back in November. The BMA today says "this level of political interference is extremely concerning". Sir Bruce seems unrepentant, saying 'it was entirely appropriate' to 'coordinate' responses of DH and the NHS.
I wonder what Simon Stevens thinks of it all? Calls for Keogh's resignation could come next. Old hands won't be surprised at politicians trying to sex up a strike warning, but they may be surprised a senior medic would agree.
BECAUSE YOU'VE READ THIS FAR…
The papers are full of the latest advice that there's no 'safe' level of alcohol consumption. The Sun had a neat scoop yesterday with its splash on this (Dame Sally Davies doesn't brief newspaper hacks, she only briefs telly people, I'm told). Dame Sally told Good Morning Britain that when we home after a hard day we should "drink a glass of tea, or cup of tea, instead of a glass of wine and save a glass of wine for a special occasion." A glass of tea, now there's a new craze.
But the most interesting story politically is the ongoing sugar tax saga. It seems that Jeremy Hunt is behind the scenes pushing one and David Cameron yesterday gave his first serious hint that he was not entirely opposed to the idea.
Speaking in Hungary, Cameron said it would be better not to have to resort to new taxes but said that "what matters is we do make progress" on obesity. No.10 scrambled to insist that he was not backing a tax, oh no sirree. The PM may have been making a clumsy attempt to scare the food industry into voluntary action rather than a preference for a tax. But if any junior minister had expressed themselves the same way, I suspect they would have got a Downing Street reprimand. Jamie Oliver was swift to claim Cameron was on board, even if he wasn't.
Sugar drinks taxes are one thing, but what would surely make a big difference would be proper labelling. Can you imagine any parent buying a cereal/fruit bar/smoothie, let alone a can of Coke, if they saw a 8 sugar cube symbols on the packet/can? That's what may scare the food industry more.
The DWP is getting it in the neck from the National Audit Office and the Public Accounts Committee over the vexed issue of privatised disability work assessments. The FT is among several papers to point to the £76m cost to the taxpayer of the medical test failures, with private firms still struggling to meet performance targets.
PCS general secretary Mark Serwotka said: "This report, while disappointingly limited in its scope, casts grave doubts on the policy of privatising this very sensitive public service."
If you're reading this on the web, sign-up HERE to get the WaughZone delivered to your inbox.
Got something you want to share? Please send any stories/tips/quotes/pix/plugs/gossip to Paul Waugh (paul.waugh@huffingtonpost.com), Ned Simons (ned.simons@huffingtonpost.com), Graeme Demianyk (graeme.demianyk@huffingtonpost.com) and Owen Bennett (owen.bennett@huffingtonpost.com)