Andrew Neil has mocked Jeremy Corbyn supporters signing a petition condemning the BBC for how it handled the damaging resignation of one of the Labour leader's shadow ministers.
Corbyn's camp and the BBC have been at war in recent days after Labour MP Stephen Doughty announced his resignation from the front bench live on The Daily Politics Show on Wednesday, hosted by Neil.
Doughty had already decided to resign over Corbyn's shadow cabinet reshuffle but was talked into doing so on air by BBC Political Editor Laura Kuenssberg.
The resignation triggered a Twitter storm from Corbyn's supporters while journalists responded mocking the indignation, saying the BBC was merely doing journalism.
On Sunday, Neil tweeted to mock a petition set up demanding he, Kuenssberg and Daily Politics producer Robbie Gibb be sacked, implying the numbers of signatures was down to people signing it multiple times.
The petition, which currently has nearly 11,000 signatures, accuses the BBC of "conspiring" to inflict "maximum damage" on Corbyn with the timing of the resignation announcement. It was started on Thursday.
Gibb, Editor of BBC Live Political Programmes, said the BBC was committed to "producing impartial journalism" that "treats all political parties fairly," while rejecting the charge that the Corporation the resignation.
He noted that Doughty had "decided to resign his front-bench position on Wednesday morning, before speaking to any journalists."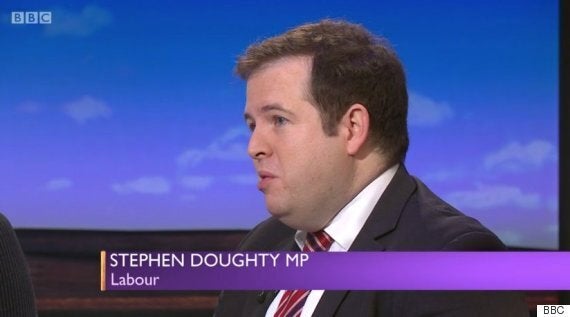 Stephen Doughty resigning
Earlier, Doughty told HuffPost UK: In a statement to HuffPost UK, Mr Doughty added: "To suggest that the BBC coerced me to resign is beyond ridiculous.
"As I have already made repeatedly clear - I had already made my own mind up to resign because of the appalling reason for Pat McFadden's sacking over his comments on terrorism, and because of his subsequent smearing by spin doctors who have spent weeks briefing proposed sackings of other senior Labour figures to journalists across the media.
"This new complaint suggesting some dark conspiracy theory is not only embarrassing, embarrassing, embarrassing - it is handing fuel to Tory enemies of one our most crucial national institutions that Labour members and voters rightly want us to protect.
"It also simply re-emphasises the reasons of both why and how I resigned. It is old politics of the highest order."
Related