The five things you need to know on Tuesday January 12, 2016…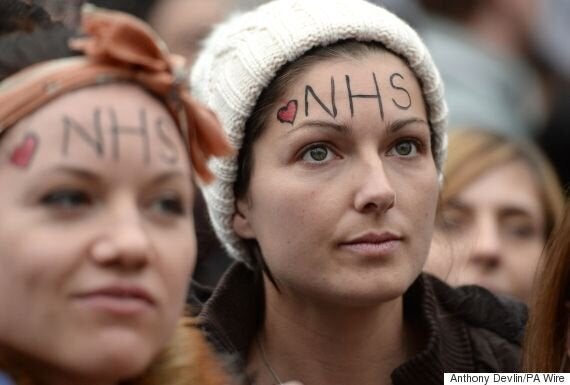 It's started. The first doctors' strike in 40 years began at 8am. Jeremy Hunt sounds defiant (and at some point today may offer the latest stats on how the strike turnout is going and patient impact).
As David Cameron made clear in a passionate and thoughtful speech yesterday on poverty in the UK, he's a PM who's always thinking about his legacy as compassionate Conservative. But as ever, the 'Cameroon' Cameron is fighting with the 'Stockbroker Belt Tory' Cameron. On poverty and family breakdown, his critics contrasted his words with cuts to many local schemes.
And on the NHS too the Cameroon Cameron - NHS are the most important letters in his life etc - battles with the Cameron who wants radical reform to public services, including a new mission for a '7-day' service. Cameron was notably conciliatory in his tone, if not his words, yesterday ahead of the strike.
A new Newsnight/Health Service Journal poll finds found two-thirds supported the strikes as long as emergency care was provided, with 16% opposed. But without emergency cover provided, support drops to 44%, with 39% in opposition.
Will Jeremy Corbyn turn up to a picket line today? He may be tempted. As for the Trade Union bill, which aims to tighten strike laws, former civil service chief Lord Kerslake last night told the Lords of the "worrying authoritarian streak" of this Government.
The Telegraph has an exclusive that Sir Bruce Keogh has written to hospitals to warn they may have to order doctors back to work if there is a threat to safety. That may well be important during the more serious A&E strike in February. Nick Clegg (remember him?) was on Today urging ministers to sort it: 'something's gone wrong here and the Government needs to settle this as soon as possible'.
The Shadow Cabinet meets today and after the surprise resignation of Cat McKinnell (who's no Blairite by the way) yesterday Jeremy Corbyn may wonder who around the table is next. Karl Turner was a smart replacement not least because he's a northern MP, unlike the equally able but London-based Andy Slaughter and Keir Starmer.
Yet it is on Trident policy that the next big policy split looms. Corbyn is determined to give members more of a say over policy and I suspect we will get an email consultation for them this summer. That would put pressure on conference and the policy forum but would it ultimately make a difference? Well, the unions are digging in and it looks like Unite is standing firm.
As I reported last night, the union (and crucially, Len McCluskey himself) has no plans to change its policy at its crucial meeting in July. Given its presence on the NEC and in the 50-50 conference votes, the equation is this: no Unite, no scrapping of Trident. That will come as a huge relief to many MPs, but Corbyn allies won't be giving up just yet.
The key question for some MPs remains this: given that he won't ever use nukes as PM, can't Corbyn undermine the entire policy to renew Trident simply by remaining leader? And will the PM stage a 'non-binding' vote on Trident renewal this summer?
In the Trade Union Bill debate in the Lords yesterday, the former PLP chairman and newly ennobled Dave Watts used his freedom to really have a go at Corbyn for the loss of Dugher and Kevan Jones. His words are worth repeating in full:
"My advice to my own party leadership is that they should take less notice of the London-centric, hard-left political class who sit around in their £1 million mansions, eating their croissants at breakfast and seeking to lay the foundations for a socialist revolution. It is not the job of the Parliamentary Labour Party to sit around developing ultra-left-wing policies that make it feel good; it is its job and responsibility to come forward with policies that will help us to win the next general election."
And to paraphrase The Jam (and the Kinks), I bet a few Labour MPs are this morning singing 'I wish I could be like David Watts..'
The FT splashes on Toyota saying it will not quit the UK if we vote for Brexit. Taking advantage of its new Nikkei ownership, the paper chats to chief exec Akio Toyoda, who says the firm will 'deepen its roots' in Britain come what may. Great news for factory workers, not so great news for the Britain Stronger in Europe campaign. There's a hint though that Toyota would reassess if the 'market' to the EU became a problem.
As for the Cabinet, No10 yesterday handed to us the PM's very latest memo to ministers on how their new freedom on Brexit would operate in practice. The PM's spokeswoman pointed out that the Government would 'not be bystanders' in the referendum and the note reflected that. The overall message was one of curbs on conduct, though with some flexibility.
Some ministers think they are effectively gagged in Parliament. During the renegotiation they must "say or do nothing that will undermine the Government's negotiating position". After it, Brexit backers will not be allowed any civil service support and their spads can only help in their spare time.
The only flexibility is that ministers will be able to say on the front bench that they will vote Leave, but they will not be allowed to criticise any specific policy and will in fact have to set out the official line. This is aimed at avoiding a 'Hilary Benn situation' where he flatly contradicted his own leader in the Syria vote. No minister will be allowed to speak from the backbenches to express his personal view - partly to avoid any Parliamentary theatrics Eurosceps may try.
BECAUSE YOU'VE READ THIS FAR…
4) CAMERON CAPTURE AND STORAGE
The PM is up before the Liaison Committee (the chairs of all the select committees) for another marathon sesh this afternoon. Among the subjects will be the environment and already shots have been fired over the Government's decision to bury in a deep dark hole its pledge on 'carbon capture and storage'.
A fund for CCS (an embryonic technology which hopes to bury fossil fuels under the ground, described as 'absolutely crucial' by the PM to the committee in December 2014) was in the Tory manifesto. But it was dumped by the Chancellor in the Autumn Statement. Select committee chairmen Huw Irranca-Davies and Angus MacNeil (who was on Today) are both on the warpath. The government said the CCS scheme had always been "subject to affordability".
Cameron may worry more about questions on flooding policy from Neil Parish, the EFRA Select chairman. At least the PM may be relieved that Sir Philip Dilley (wonderfully dubbed 'the Welly Wally' by the Sun) has quit as chair of the Environment Agency in protest at being asked to turn up to flooding incidents "at short notice throughout the year". It would have helped if he'd been less economical with the actualite over his wife's nationality…
Will he be grilled about the impact of his fire/police merger plans on flooding too?
The Housing and Planning Bill returns to the Commons today for its Report Stage and Shadow Communities Secretary John Healey has fired both barrels at the Government already. Writing for HuffPost UK, he points out how the bill could force councils to sell off nearly 200,000 council homes.
The bill forces authorities to sell their highest value homes, and increases discounts for council tenants granted the "right to buy", but could result in the loss of one in every eight council properties, Labour says. Many Tories will say that's a very healthy thing if tenants and others in housing need get the chance to own an affordable home. But Healey says they may well end up in the hands of overseas buyers or buy-to-let landlords.
Healey is particularly scathing about the redefinition of 'affordable' homes to include the PM's 'starter homes' valued at upto £450,000. Housing's another 'legacy' project for Cameron, but he knows delivering the promised new homes is one of the most difficult challenges of the entire Parliament.
As it happens, this is the first bill to be certified as English-only under EVEL. But Chris Bryant isn't falling for it and Labour MPs will be present but won't vote or substantially participate in the Legislative Grand Committee debate "to expose the procedure for the waste of time it is". "Grayling's damp squib EVEL proposals will be historic for all the wrong reasons," Bryant says.
If you're reading this on the web, sign-up HERE to get the WaughZone delivered to your inbox.
Got something you want to share? Please send any stories/tips/quotes/pix/plugs/gossip to Paul Waugh (paul.waugh@huffingtonpost.com), Ned Simons (ned.simons@huffingtonpost.com), Graeme Demianyk (graeme.demianyk@huffingtonpost.com) and Owen Bennett (owen.bennett@huffingtonpost.com)