BBC 'Question Time' has caused controversy before its first outing of 2016 even airs, with those invited to appear on Thursday's programme provoking widespread condemnation for being "too right wing".
Critics, including two Labour MPs and a number of journalists, have spoken out against what they believe to be a politically unbalanced panel, an all-too-familiar lack of diversity, and the fact that two employees of Rupert Murdoch's media corporation are set to appear.
Kelvin McKenzie, the former editor of The Sun, is joined by Camilla Long of The Times on a panel which includes Ukip's Patrick O'Flynn, the Conservative's Nick Boles, and Labour's Cat Smith.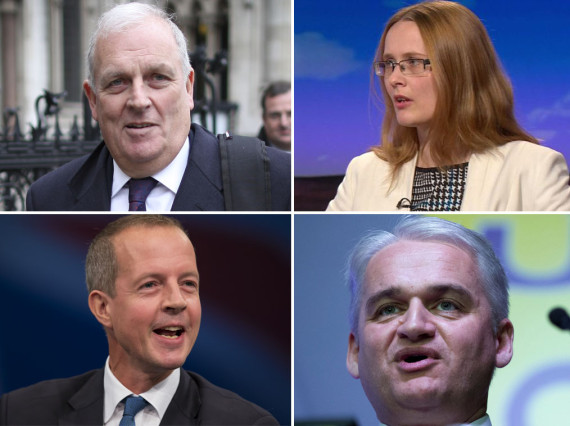 Thursday night's panel has drawn the ire of left-wing Labour supporters
Fervent debate amongst Labour supporters was sparked by the MP Clive Lewis who tweeted his observation that the panel appeared to lack left-wing voices.
.@NickBolesMP @oflynnmep @camillalong what a wonderfully balanced lineup @bbcquestiontime @CatSmithMP will still chew em up @bbc_bias #bbcqt

— Clive Lewis MP (@labourlewis) January 13, 2016
Wirral South Labour MP Alison McGovern also lent her voice to the criticism, advising her followers to complain directly to the BBC.
She used the #jft96 hashtag to highlight The Sun's coverage of the Hillsborough stadium disaster in which 96 Liverpool fans died.
If, like me, you feel the need to give the BBC some feedback on tonight's question time panel, call 0370 010 0222 #jft96 #ynwa #bbcqt #fb

— Alison McGovern (@Alison_McGovern) January 14, 2016
Tonight's #BBCQT shows the BBC have given up on impartiality. Don't reward their bias, watch or do something else.. pic.twitter.com/gPvaLKtGbO

— Devutopia (@D_Raval) January 14, 2016
Like McGovern, many were motivated by McKenzie's leadership of The Sun following Hillsborough, which saw the tabloid's coverage of the disaster blame fans.
.@bbcquestiontime @NickBolesMP @CatSmithMP @oflynnmep @camillalong I'll be boycotting this due to Kelvin. #DontBuyTheSun #JFT96

— Mal Bennett (@malbennett29) January 13, 2016
The infamous Sun front page labelled "The Truth" and its subsequent apology side-by-side.
the Sun-the Truth pic.twitter.com/fbKYGXzsoo

— may non (@maynon2013) January 9, 2016
Some Labour supporters placed the panel in the context of controversy over the BBC's decision to persuade Labour shadow cabinet member Stephen Doughty to resign live on its 'Daily Politics' programme.
Tonight's right wing #bbcqt panel a punch in face to licence payers & democracy. Especially on back of #Lauragate last week. Game over @bbc

— Reclaim The News (@ReclaimTheNews) January 14, 2016
Meanwhile, other commentators lamented the panels lack of ethnic diversity.
BBC has an obligation to diversity of:ethnicity;age;ability;region; religion.etc. Head of @BBCScotland agreed

January 14, 2016
Previous research conducted by Labour MP David Lammy found that as many as 60% of all Question Time panels over the last parliament lacked any black or minority ethnic voices.
However, those criticising the programme for political bias perhaps have short memories.
BBC panels and audiences have been routinely criticised for being too left wing, with Ukip leader Nigel Farage even deciding to censure an entire audience for bias during a General Election debate last year.
One journalist even argued that Ukip's Patrick O'Flynn shouldn't be immediately branded "right wing".
@steverichards14 @bbcquestiontime usually the other way round... and jury is out on O'Flynn: https://t.co/wmOO4yKFE9

— Harry Cole (@MrHarryCole) January 14, 2016
In fact, an analysis by the New Statesman last year found that, at least on a party-by-party basis, that claims of bias didn't really stack up, concluding there was a "slight, slight tilt to the right is barely worth talking about":
The 2014-15 season had 139 guests spread over 195 appearances (slots). The Conservatives fielded 26 guests who occupied 39 slots between them. For their part, Labour had 24 guests who also took 39 slots. As the programme always tries to balance out representation by the main two parties this shouldn't come as a surprise. The Lib Dems had 18 guests taking up 24 slots, Ukip 8 guests and 14 slots, Nationalists parties 10 guests and 14 slots (the SNP were 8 guests and 11 slots), and "Other" (Greens and Respect) were 3 guests, 5 slots.

In sum, that's 34/53 for the right (Conservatives + Ukip), 18/24 for the centre (Lib Dems), and 47/58 for the left (Labour + Nationalists + Others). A clear imbalance, no?
The BBC told HuffPost UK: "Question Time hears from a range of voices and usually consists of one senior politician from both the Labour and Conservative party, as well as representatives from other political parties.
"The rest of the panel is made of political commentators, journalists, and other public figures that add a different perspective and represent a range of viewpoints across the series."