Donald Trump declared Alex Salmond a "stupid man" and "an embarrassment to Scotland" on Thursday over the former first minister's decision to release Lockerbie bomber Abdelbaset Al-Megrahi in 2009.
Trump's attack came after Salmond, now the Member of Parliament for Gordon, commented on the Republican presidential frontrunner during an LBC radio phone-in show on Wednesday.
In the latest exchange in an ongoing spat between the property mogul and the SNP politician, Salmond accused Trump of overstating his investment in Aberdeenshire, suggesting that his ownership of the Turnberry golf resort could lose Scotland money.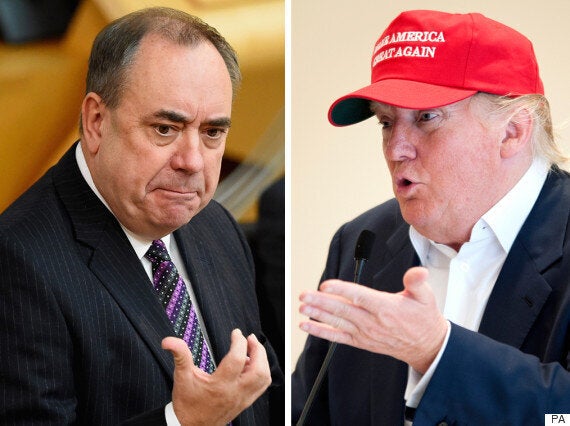 Donald Trump's statement is the latest artillery fire in a long running exchange with Scotland's former First Minister Alex Salmond
Trump responded by noting the underinvestment in Turnberry before he took over, while accusing Salmond of destroying sections of Scotland's landscape with wind turbines.
On the release of Al-Megrahi, which Salmond sanctioned on humane grounds, a Trump statement read: "Megrahi and others were laughing out loud at what a stupid man Alex Salmond is. Why would a terrorist that blew up an airliner with so many lives lost be released under any circumstances? Alex Salmond is an embarrassment to Scotland."
On his prestigious Turnberry golf course, Trump said the property was "not properly reinvigorated with the massive amounts of capital necessary," noting a £200 million initial outlay by the Trump Organization.
"In future years, far more money will be invested," he continued. "Prior to my investment in Turnberry, very little necessary capital was spent. When completed, Turnberry will go to the top of the list of world's greatest resorts."
The Republican frontrunner created the Trump International Golf Links at the Menie Estate in Aberdeenshire with the support of Scottish ministers, however a fall-out over a proposed offshore wind farm project, which Trump claims will spoil the view from the resort, ended up in court.
Salmond said on LBC: "I've kind of changed my mind about Donald Trump and there's two reasons for that. Having secured his development, which was controversial, he then objects to other developments, like the offshore wind demonstrator - which would be generating some badly-needed jobs in the north-east of Scotland."
"Secondly, his comments about banning all Muslims from America," Salmond added. "If anybody else was saying that sort of thing, if it was a preacher or something, he'd be banned from the UK for that sort of racist stuff."
On Turnberry, Salmond said: "As long as Donald Trump owns Turnberry I think it's impossible, actually, for the Royal and Ancient to take the Open there. And every time they don't take the Open to Turnberry, that costs the Scottish economy, and Turnberry, a hundred million pounds."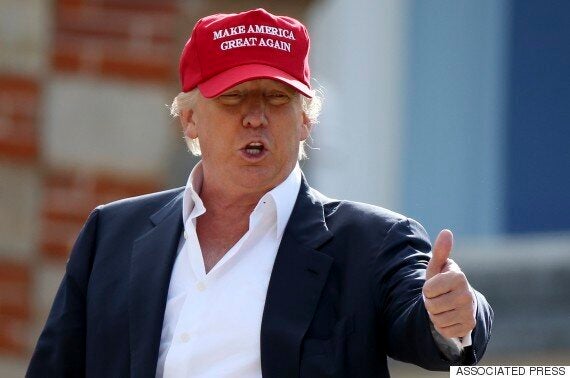 Trump at the Women's British Open golf championship on the Turnberry golf course in Turnberry, Scotland, Thursday, July 30, 2015
Salmond responded via his own statement on Thursday, which said the problem for Trump "lies not with his golf courses, but with him. The golf courses are excellent. 'The Donald' isn't."
He also challenged Trump to call into his radio show and have it out. "Although, I have to admit it is very easy to issue statement after statement, tit for tat. I suggest instead Mr Trump calls into LBC next Wednesday... where he can ask me anything he likes. If he has a beef I'll be happy to take his call. We'll see if debating here is as easy as debating over there!"
Trump is currently leading in national polls to become the Republican presidential nominee ahead of the election in November. The Iowa caucuses, the first stage of the primary process, start on February 1.
Popular in the Community