Carl Wood, William Lincoln and Hugh Doyle were found guilty over the largest burglary in English legal history.
Wood, 58, from Cheshunt, Hertfordshire, and Lincoln, 60, of Bethnal Green, east London, were both convicted of conspiracy to commit burglary, and conspiracy to conceal, convert or transfer criminal property.
Doyle, 48, of Enfield, north London, was found guilty of concealing, converting or transferring criminal property.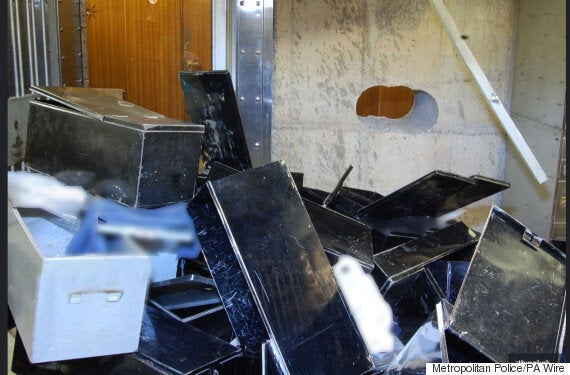 Ransacked deposit boxes after the Hatton Garden heist
They will be sentenced on 7 March.
A fourth man, Jon Harbinson, was cleared.
The heist saw a a gang of thieves carry out a ''sophisticated'' and meticulously planned break-in over the Easter weekend last year in London's jewellery quarter.
The raiders bored a hole through a thick concrete using a heavy duty drill, then plundered 73 safety deposit boxes containing jewellery and other valuables.
An estimated £14 million worth of valuables were stolen.
Four men had already pleaded guilty over their parts in the raid.

(L-R) John Collins, Daniel Jones, Terry Perkins and Brian Reader all admitted their role in the raid
Ringleaders John "Kenny" Collins, 75, Daniel Jones, 60, Terry Perkins, 67, and the group's oldest member Brian Reader, 76, pleaded guilty to conspiracy to commit burglary last September.
Another thief, known only as "Basil", who let his co-conspirators into the building by opening the fire escape from inside, has not been identified.