When a group of Muslims in Preston heard that the English Defence League (EDL) was planning a march through their local area, they came up with a rather unusual idea: it invited them to dinner.
The Light Foundation, which aims to break down barriers between communities in the city, said that it wanted the EDL to come for a meal and a chat.
They came up with the idea after the EDL announced it planned to hold a march on 20 February in the city.
Nadeem Ashfaq, the Light Foundation's founder, said that he wanted to discuss the group's claims that Preston is "another creeping Sharia city".
He told The Huffington Post UK: "The EDL have been saying that an area in Preston called Deepdale is a 'creeping Sharia' place where there are Muslims going around radicalising other Muslims and that there are certain areas where non-Muslims can't go. That's complete nonsense because we have regular interfaith dialogue meetings in the centre of Deepdale, a place called St George's Road, where we have Muslims and non-Muslims sitting for meetings where we discuss a whole host of different subjects.
"It's just absurd lies that Deepdale has a no-go area.
"We've said to the EDL: Look, let's sit down and let's talk about these issues and let's do it over some food. We can listen to your concerns. We're here to listen to you and hopefully you can listen to us and understand that when we say there aren't any no-go areas in Preston, that is the truth."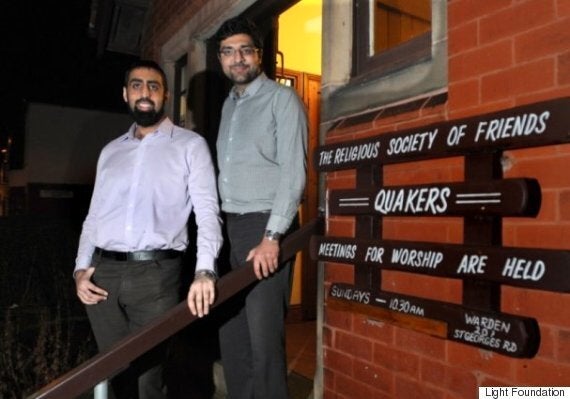 Arfan Iqbal (L) and Nadeem Ashfaq from the Light Foundation, help to organise interfaith events in Preston
Ashfaq explained that both groups have been using the local newspaper, the Lancashire Evening Post, as a mediator for discussions.
He continued: "We will respect them and treat them as VIP guests. We would ensure their safety and security. All we'd need them to do is invite their leadership to come and see us and we can talk about any issues."
"At the end of the day, we want to develop a relationship with them. For example, if they have any issues or concerns about Islam or Muslims that they want to discuss, they have a contact in the Muslim community.
"We're a young organisation in that we have young directors, so we don't mind engaging in controversial conversation so long as we can sit down and talk about it in a sensible fashion with the intention of creating relationships and removing misconceptions."
The foundation already holds monthly interfaith events in Preston, which offer a space for the local community (including non-Muslims and new converts) to learn more about Islam and each other.
Ashfaq added that the foundation had been told that the EDL was considering the invitation.
This is not the first time that a Muslim group has used hospitality in the face of criticism from the EDL.
They also invited the protesters to play a game of football.
Popular in the Community