The moment a journalist was attacked by three men, one wielding a knife, inside the Calais Jungle has been caught in a distressing video.
Dutch reporter Teun Voeten, 54, was victim to what he described as an unprovoked incident inside the camp, whilst filming for an upcoming documentary with his colleague Maaike Engels.
The pair chose to post the clip to Facebook and YouTube, which saw angry viewers calling for refugees to move from the camp in France.
"Apply for asylum in France or in another country where they traveled through or else [go] back home," one comment read.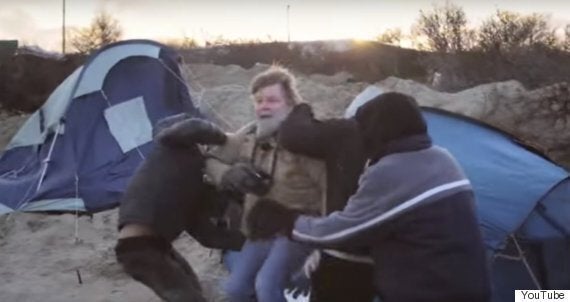 A still image of Teun Voeten being attacked from the video clip
But Voeten told The Huffington Post UK he posted the clip to fulfil his aims of being objective.
"I show all sides, good or bad, I have no agenda and I have been documenting conflicts for 25 years," he said.
"I do not want to push any agenda, left wing or right wing. I was simply documenting what happened and I know that some publications are using it to their own agenda, but I was simply documenting the sides" he told HuffPost UK.
The Dutch journalist said he had been attacked three times in the camp since September and wasn't clear on the intentions of the ambushers.
SEE ALSO:

Aylan Kurdi Memorial Funds Go To Help Other Refugees Crossing Aegean

Refugee Children Are Attacking Serbian Police But It's Not Quite What You Think
"I am a journalist, I was attacked - maybe they wanted the camera, maybe it was because they were angry, maybe it was because I was a white guy, I don't know why they attacked, I am just a journalist doing my job," he said.
Voeten stressed the complexity of the situation from inside the camp while venting his frustrations about the clip.
"We adhere to very high journalistic, moral and epistemological standard and sometimes get annoyed when we are accused of fuelling right wing agendas," he told HuffPost UK.
The video was captured on 15 January from inside the Calais refugee camp.
A number of UK organisations have reported on the footage, including Breitbart and the Daily Express.


After its release film-maker Engels wrote on her Facebook page: "Within every community, among the good ones, you'll always find a couple of assholes. 'The Jungle' is no exception. But I guess living under such deplorable conditions the less creative, intelligent and ambitious are very likely to become small criminals, because they've got nothing higher to aim at."
Related