The five things you need to know on Monday January 18, 2016…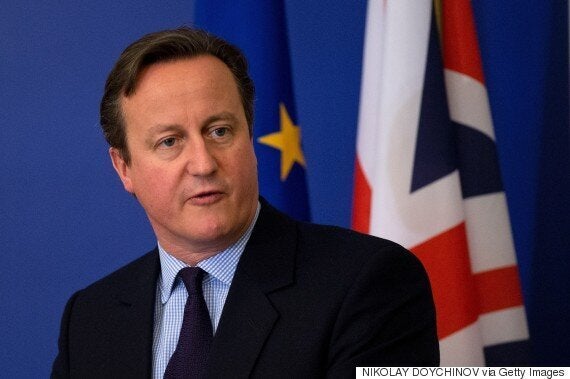 The PM's big announcement today is on Muslim integration, with his Times article setting out a £20m fund for women to learn English and hints at spouse visa renewal being affected by language skills. David Cameron, acting on the advice of Louise Casey, sees a link between isolation of mothers and Islamist extremism, and also wants a review of Sharia courts and an obligation on local authorities to stamp out segregation of women.
On the Today programme, the PM had a pop at the BBC for using the phrase 'Islamic State'. He said 'I'm not blaming' the women, but it was often the men to blame. He explained half way through spouse visas, there would be "tough" new language tests. He admitted '[language lessons] budgets did come down in the past' due to austerity cuts.
When it comes to the EU referendum, the main linga franca seems to be German English. All attention in Whitehall and Westminster is focused on whether the PM can come up with some fattened or skinny rabbits out of the hat at the February summit and it seems Angela Merkel is proving helpful.
The FT, following up on the Sun and Times at the weekend, confirms that Merkel told Cameron that he could solve his welfare ban issue by reviewing the "definition of a worker" in EU law. An earnings threshold (backed by IDS and Theresa May), rather than residency, could help the Germans, French, Austrians, Dutch and Danes all protect their ruling parties from anti-immigration parties. The PM on Today didn't deny he'd asked Michael Gove to look at Boris's plan for a German-style constitutional court.
Lord Lawson says even if Cam gets 100% of his demands, it would be 'inconsequential'. He also said yesterday a Cabinet minister would lead the Leave campaign. Did he mean Chris Grayling? Or Theresa May? The Indy says Grayling was on the point of quitting two weeks ago but sought reassurance from David Cameron that he would not be sacked in a "revenge reshuffle" after the EU referendum.
There's lots of EU referendum action today, with the In camp sending out millions of leaflets. Vote Leave is warning of the lessons of the Cologne-style sex attacks. Britain Stronger in Europe last week managed to get Nick Soames and Emmeline Pankhurst's family to condemn a Vote Leave video featuring Churchill and Pankhurst. I understand a similar bid by the In campaign to get the Nelson Society to condemn the video for featuring Admiral Nelson fell on deaf ears.
Jeremy Corbyn's Marr interview certainly yielded several news stories, including his words on legalising secondary strike action, finding a "reasonable accommodation" with Argentina over the Falkland Islands, and 'a [diplomatic] route through' to ISIS. This wasn't what Alistair Campbell once called 'the Masochism Strategy', it was just the Labour leader answering a straight question with a candid answer. None of the things he talked about are party policy, but suggest where he wants to go.
When Corbyn meets Barack Obama in the spring in London, the US President may wonder what kinda limey he sees before him, not least on nuclear weapons. Corbyn's words on Trident sounded like an actual policy development, as he floated the 'Japan option' of keeping Trident subs without nuclear warheads. Labour used to joke about the Coalition's 'aircraft carriers without aircraft' but this is something else.
Lots of papers seize on the nuclear line, with the Sun splashing on 'Off His War Head'. Some military experts say the plan would have all the costs of Trident with none of the deterrence benefits, others point out that the plan isn't dissimilar to Sir Nick Harvey's 'cupboard' proposal. Labour's leader in the Lords Angela Smith was diplomatic on Westminster Hour last night, while making clear she backed Trident. "I'd like it to continue. But Jeremy has never wanted it to continue. He's been completely honest and true to his beliefs."
Unite's Len McCluskey, who on Saturday warned of the 'devastating' impact on jobs of not renewing Trident, said the no-nuke subs idea could be one option to be discussed. But the FT has the most striking quotes: from Unite shopstewards at Rolls Royce and BAe. One warned 10,000 Unite members would quit the union if it ditched its support for Trident. Another pointed out: "there is no requirement for more Astutes [conventional weapons subs, unlike Vanguard or their Successor replacements]. That would not be the answer."
It's Defence Questions in the Commons at 2.30pm. Step forward Shadow Defence Secretary Emily Thornberry.
It's the PLP tonight and the hot topic is the motion to change standing orders that seeks to remove Corbyn's PPS Steve Rotheram from the party's ruling National Executive Committee. Some in the party believe only conference can change the rulebook on this and it's just a first step.
The leader has yet to decide if he's attending, but John McDonnell is. The Shadow Chancellor could talk about his free 'New Economics' seminars across the UK (reported in the Guardian), featuring some top economists on his team such as Joseph Stiglitz and Ha-Joon Chang.
McDonnell's popularity among some of Labour's grassroots continues, but there's been a bit of a row over his role in Stella Creasy's Walthamstow CLP. He was invited to a curry night fundraiser (with the FBU's Matt Wrack) later this month, sparking unease among allies of Creasy as she couldn't attend the event herself (she'll be at another Labour event in Scotland). I understand McDonnell has now asked for the curry night to be re-arranged. In her Fabian speech this weekend, Creasy made clear how far she was from the McDonnell vision of Labour.
Ken Livingstone ain't going away either. In his Times Saturday interview he said: "If we win the next election, there will be over 100 new Labour MPs and they will be more like us [him and Corbyn]. The new candidates will transform the scene."
BECAUSE YOU'VE READ THIS FAR…
I've long argued that Simon Stevens is more powerful than most Cabinet ministers and in today's Guardian interview he's proving it. The NHS chief exec has a plan to impose his own 'sugar tax' on sugary drinks and snacks sold in NHS hospitals and other sites by 2020. Cunningly, the tax may be put on the vendors not the buyers. And the expected proceeds of £20m-£40m a year will be used to improve the health of NHS staff.
It's a nice tee-up for Thursday's backbench debate on childhood obesity which will be led by health committee chair, Sarah Wollaston. Pubic health minister Jane Ellison upset a few Tories with her plain packs cigarettes ban, and her response to the debate be interesting. The PM himself got in a pickle over this recently, but told Marr last week 'this Tory is not a nanny'. Will sugar-cube or sugar-spoon labelling rather than tax be the more radical answer?
At 4.30pm in Westminster Hall, its Trump Time. The Petitions Committee debates two e-petitions on Donald Trump - one saying he should be banned from entering Britain, one saying he should not be banned. Paul Flynn, the Labour MP, will lead the debate but he has said none of the MPs on the committee actually agreed with banning Trump but felt it was important to respect the calls fora debate from more than half a million people who signed the ban petition.
He's told PoliticsHome this morning how much he respects the US as a nation: "They have sacrificed the blood of more of their sons and daughters in defence of democracy in more other countries than any other nation on earth." But he adds Trump needs to be taken on an education tour of the UK to show him there are no no-go areas.
A Trump election is no joke to many in Labour, particularly on its left pushing to quit Nato. I note that in Ken Livingstone's Times interview on Saturday, the former Mayor said of Trump: "If someone like him became president, you want western Europe to say bye bye to the Americans." He also added for good measure: "I wish Obama was as effective a leader as Putin".
If you're reading this on the web, sign-up HERE to get the WaughZone delivered to your inbox.
Got something you want to share? Please send any stories/tips/quotes/pix/plugs/gossip to Paul Waugh (paul.waugh@huffingtonpost.com), Ned Simons (ned.simons@huffingtonpost.com), Graeme Demianyk (graeme.demianyk@huffingtonpost.com) and Owen Bennett (owen.bennett@huffingtonpost.com)