The member of Parliament for Bradford West has invited Donald Trump to visit her constituency during a debate over whether the Republican presidential candidate should be banned from entering the UK.
Naz Shah, a British Muslim, rejected the idea of banning the Republican from the country and said she thinks she would "have a proper laugh with him."
The Labour MP was speaking at a debate after an online petition to ban him from the UK gathered over 570,000 signatures, surpassing the 100,000 required to trigger a debate in Parliament.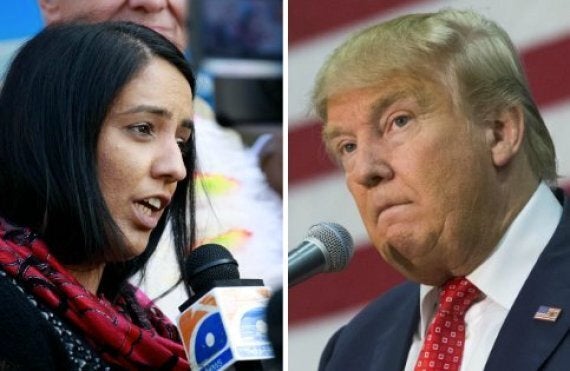 Naz Shah says Donald Trump should visit Bradford
Shah said: "I, as a Member of Parliament for Bradford West, would give an open invitation to Donald Trump to visit my constituency.
"And the reason I'd give him an open invitation to visit my constituency is I'd take him to the synagogue, I'd take him to the church, I'd take him to the mosques, I'd invite him for a curry - we are curry capital of Britain."
Later speaking to the Independent the MP said: "I'd have a proper laugh with him. I think I'd probably crack a few jokes about what Trump means to the British people. I think I'd challenge him."
The petition was launched after Trump made a number of anti-Muslim remarks and said the people of faith should be banned from entering the US.
In the aftermath of the comments Home Secretary Theresa May said the reports were "divisive, unhelpful and wrong".
During the colourful debate some MPs - drawn mainly from the Labour Party and Scottish National Party - likened Trump to a "hate preacher" whilst others argued a ban would only serve to "fuel to the media circus and would be a headline around the world".
Conservative MP Victoria Atkins said his plan to close the US borders was "bonkers", before reaching for a British colloquialism.
She told MPs: "If he met one or two of my constituents in one of the many excellent pubs in my constituency then they may well tell him he is a wazzock for dealing with this issue in this way."
Shah's call for Trump to visit Bradford comes at a time when nearly one quarter of the city's population (24.7%) are Muslim.
The Yorkshire city has a history of race tensions - especially with those who are anti-Muslim - riots in 2001 put the race tension in the spotlight.
It occurred as a result of heightened aggravation between the large British Asian communities and the city's white majority, and escalated by confrontation between the Anti-Nazi League and far right groups such as the British National Party and the National Front.