Cherie Blair despaired of the term "Blair Babes," used by the media as a catchall for the intake of female MPs following her husband's election win in 1997, as it suggested they were "sex objects."
Some 120 women, twice the number from the 1992 general election, were elected to the Commons in '97, including 101 female Labour Party politicians. A picture of the new prime minister flanked by women gave rise to the term "Blair Babes" in the press.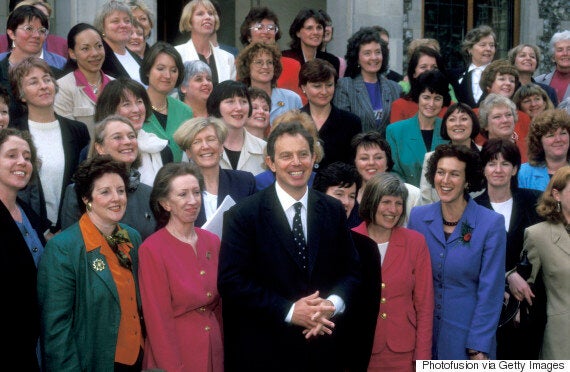 Tony Blair and the newly elected Labour women MP's in '97
"When they all came in to parliament, there was this rather disparaging remark that they were all 'Blair Babes'," the human rights QC told HuffPost on Wednesday at the World Economic Forum in Davos. It implied "they were there to be looked at, not to do," she added.
During a 20-minute interview, the lawyer, who runs the 'Cherie Blair Foundation for Women,' said her husband's administration was "ahead of its time," especially ensuring females were fully represented in government.
"There are so many things that I'm proud of that he did in No. 10," she reflected. "When he was leader of the Labour Party, he instituted an all-women shortlist, which meant for the first time in history there was over 100 women MPs in parliament."
She said the former prime minister also "practiced what he preached," by making a third of his cabinet female, while highlighting the empowering role of minimum wage legislation, which was "a huge thing for women."
"We brought in parental leave, there were a lot of family-friendly policies, and we changed the whole thing around domestic violence," she added.
"The Labour governments we had right up to 2010 did a lot," Blair continued. "For example, we are seeing this year in the UK companies are going to have to put in their annual report what the gender pay balance is in relation to their workforce."
"That was a policy introduced under the last Labour government in 2010. It wasn't implemented during the coalition government, but has finally come into effect now."
"You can see how ahead of its time in relation to women Tony's government was. And that's partly due to the fact there were so many women MPs."
Watch the full interview below.