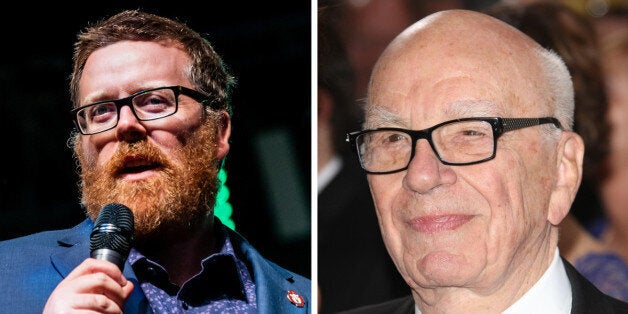 Frankie Boyle has hit out at the Guardian after the newspaper deleted parts of his latest column which described media mogul Rupert Murdoch struggling "to sire another generation... by squeezing out his sperm like stale toothpaste".
The graphic, imaginary depiction of Murdoch's sex life appears to have caused Guardian editors to splutter, as they ordered its deletion hours after the column was published online.
Boyle immediately reacted to their decision by re-publishing the offending paragraph, while asking: "Who can say why the Guardian removed a paragraph I wrote about Rupert Murdoch after it went up?"
He quickly launched a #JeSuisFrankie campaign, musing: "I think that the Guardian should at least have enough of a sense of irony not to censor a column about media bias."
As the hashtag began to trend across the UK, fans of the controversial comedian and now burgeoning political commentator chimed in with their support.
Boyle speaks of special interests guiding much of the media and politics, writing: "Of course, the representation of Labour in corporate media is going to be everything Cameron could hope for because he, Murdoch and pretty much everybody they know works for the same boss: financial and corporate interests.
Boyle later confirmed that his copy had been "agreed and published" before it was amended.
A spokesperson for the Guardian told HuffPost UK: "Frankie is always near the knuckle. On this occasion, however, we felt that some of his piece went a bit too far."