News outlets and social commentators took no time to point out the comedy value of Sarah Palin's endorsement speech for Republican candidate on Tuesday night.
"No more pussyfooting around ... He's going rogue left and right, man, that's why he's doing so well," and "Right wingin', bitter clingin', proud clingers of our guns, our god, and our religions, and our Constitution," are just two quotes from her appearance at a Trump rally in Ames, Iowa.
But an unofficial campaign team for Hillary Clinton were particularly keen to remark on the linguistics of the former-governor.
"Congrats to the YouTube commenter who wrote your remarks," they wrote in a tweet.
.@SarahPalinUSA Congrats to the Youtube commenter who wrote your remarks.

— The Briefing (@TheBriefing2016) January 20, 2016
Meanwhile Clinton's main account didn't offer the same put-downs, but did use it as an opportunity to gain more supporters:
Sarah Palin's got Trump's back. If you want to keep Republicans like them out of the White House, add your name now: https://t.co/sL83uGwu1q

— Hillary Clinton (@HillaryClinton) January 20, 2016
The media also swarmed around the event, the front page of US newspaper The Daily News documenting the bizarre occasion with one line, "I'm With Stupid".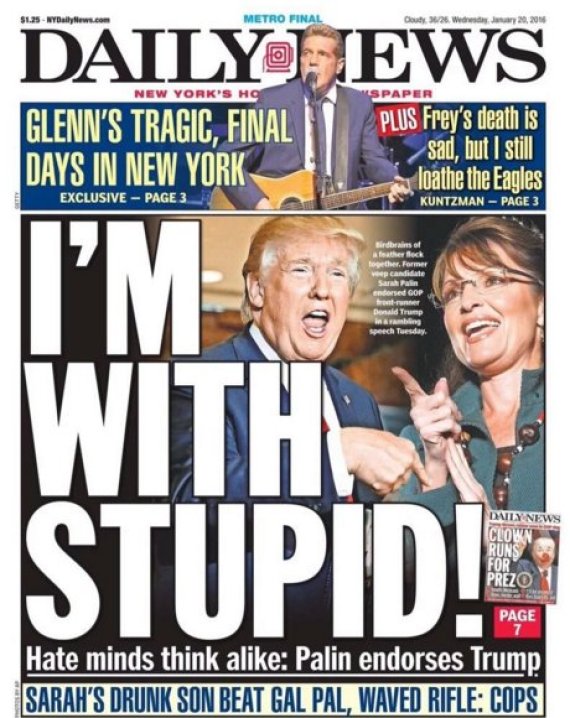 The Daily News - "I'm With Stupid"
Journalists and celebrities also jumped in on the occasion, causing a Twitter storm in reaction to the speech.
And now a visual metaphor for Sarah Palin's endorsement of Donald Trump today. pic.twitter.com/V9EjlNYY0Z

— Will McAvoy (@WillMcAvoyACN) January 20, 2016
Hearing Sarah Palin endorsed Donald Trump is like learning the two worst people you went to school with married each other. Duh, but yikes.

— Josh Gondelman (@joshgondelman) January 20, 2016
Sarah Palin endorsing Donald Trump is like cancer endorsing cigarettes.

— Emerson Collins (@ActuallyEmerson) January 20, 2016
Sarah Palin makes Donald Trump sound like Cicero

— Ben Jacobs (@Bencjacobs) January 20, 2016
Sarah Palin mocks the idea that Donald Trump is "not conservative enough": What would [the GOP] know about being conservative?

— Caleb Howe (@CalebHowe) January 20, 2016
Sarah Palin endorses Donald Trump. It's like history is giving us an IQ test.

— John Fugelsang (@JohnFugelsang) January 19, 2016
Whilst one Vine recorded a snippet of the speech and wrote "Sarah Palin summed up Donald Trump supporters better than any of us have been able to do so far, I'll give her that".
The event saw Palin, 51, boom "You are ready to make America great again!" whilst rallying supporters, telling them that he would "kick ISIS' ass" and not "apologise" for America.
SEE ALSO:
Palin gained notoriety as the unexpected vice-presidential selection of John McCain in 2008, giving the campaign early momentum with populist and Tea Party supporters. However, a series of gaffes, including the inability to name a newspaper, ultimately derailed the Arizona senator's bid for the Oval Office.
In recent months, Palin has been increasingly complimentary about Trump. At a CNN event in December, Palin said she wouldn't endorse "right now" but defended the mogul against "media distortion" over his Muslim ban comments.