News outlets and social commentators took no time to point out the comedy value of Sarah Palin's endorsement speech for Republican candidate on Tuesday night.
"No more pussyfooting around ... He's going rogue left and right, man, that's why he's doing so well," and "Right wingin', bitter clingin', proud clingers of our guns, our god, and our religions, and our Constitution," are just two quotes from her appearance at a Trump rally in Ames, Iowa.
But an unofficial campaign team for Hillary Clinton were particularly keen to remark on the linguistics of the former-governor.
"Congrats to the YouTube commenter who wrote your remarks," they wrote in a tweet.
Meanwhile Clinton's main account didn't offer the same put-downs, but did use it as an opportunity to gain more supporters:
The media also swarmed around the event, the front page of US newspaper The Daily News documenting the bizarre occasion with one line, "I'm With Stupid".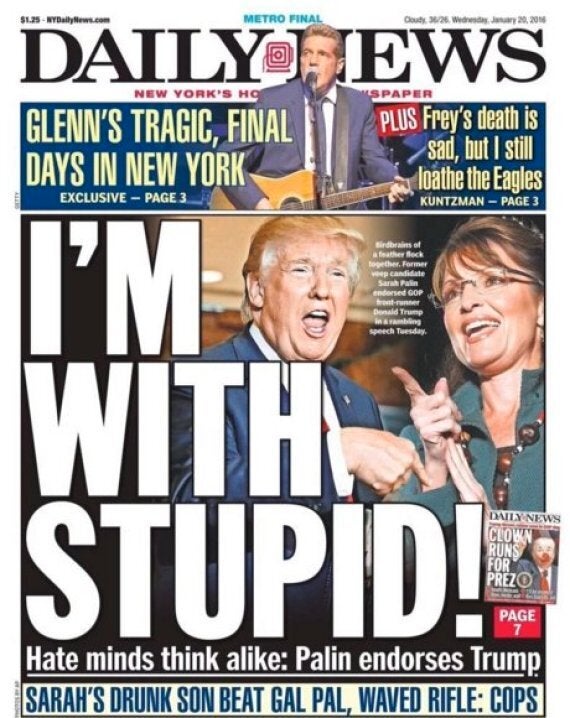 The Daily News - "I'm With Stupid"
Journalists and celebrities also jumped in on the occasion, causing a Twitter storm in reaction to the speech.
Whilst one Vine recorded a snippet of the speech and wrote "Sarah Palin summed up Donald Trump supporters better than any of us have been able to do so far, I'll give her that".
The event saw Palin, 51, boom "You are ready to make America great again!" whilst rallying supporters, telling them that he would "kick ISIS' ass" and not "apologise" for America.
In recent months, Palin has been increasingly complimentary about Trump. At a CNN event in December, Palin said she wouldn't endorse "right now" but defended the mogul against "media distortion" over his Muslim ban comments.
Popular in the Community