David Cameron is reportedly considering plans to admit several thousand migrant children into the UK within weeks, as pressure continues to mount on the government to provide greater assistant to young people who have fled their war-torn homelands.
Downing Street said ministers were looking at calls from charities for the UK to admit at least 3,000 unaccompanied young people who have arrived in Europe from countries including Syria and Afghanistan, and who are at serious risk of falling prey to people traffickers, the Guardian reported.
The newspaper said the gesture would be in addition to the 20,000 refugees the UK has already agreed to accept by 2020.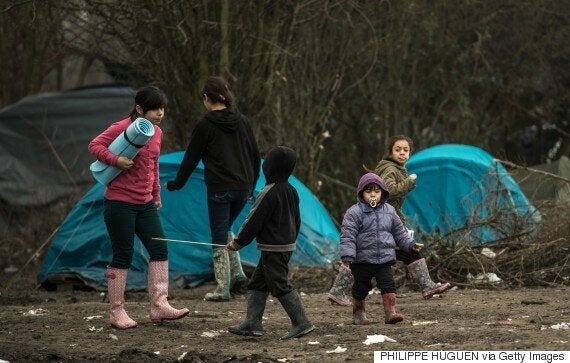 David Cameron is said to be considering admitting at least 3,000 migrant children into the UK; children walk through the migrants camp of Grande-Synthe, near Dunkirk, earlier this month
Labour leader Jeremy Corbyn on Saturday called for Cameron to offer children not just a refuge in the UK but proper homes and education, following a visit to refugee camps in Calais and Dunkirk.
He said: "We must reach out the hand of humanity to the victims of war and brutal repression.
"Along with other EU states, Britain needs to accept its share of refugees from the conflicts on Europe's borders, including the horrific civil war in Syria.
"We have to do more. As a matter of urgency, David Cameron should act to give refuge to unaccompanied refugee children now in Europe – as we did with Jewish Kindertransport children escaping from Nazi tyranny in the 1930s. And the government must provide the resources needed for those areas accepting refugees – including in housing and education – rather than dumping them in some of Britain's poorest communities."
The Guardian reported that with one week of January to go, about 37,000 migrants and refugees had already arrived in the EU by land or sea, roughly 10 times the equivalent total for the month last year.
EU nations are still deeply divided over how to respond to the migrant crisis, with several, including Germany, France, Sweden and Austria, setting up emergency border checks under special powers that expire in May. Austria has also placed a cap on the number of refugees it will take. Aid agencies believe this is creating confusion and panic among migrants who are now trying to act before Europe's doors close.
Liberal Democrat leader Tim Farron urged the UK to admit more child refugees. He told the Guardian: "Those who have made it to European shores now face cold winters, harsh conditions and are vulnerable to traffickers. We must open our hearts to those in need."
Shadow Home Secretary Andy Burnham has reportedly said such a gesture would "endear Cameron to other EU leaders" at a time when he needs their support.
Popular in the Community