'BBC Breakfast' presenter Bill Turnbull apparently outed himself as a 'Game Of Thrones' devotee during Tuesday's show, after making a slip-up live on air.
On Tuesday, he and co-host Louise Minchin had Kit Harington on the sofa to talk about his latest role in the play 'Doctor Faustus', but Bill couldn't help but refer to him by his 'Game Of Thrones' character's name, Jon Snow.
READ MORE:
At the end of the interview, he told the actor: "Thanks very much, Jon", before quickly realising his mistake and correcting himself, much to the amusement of Louise.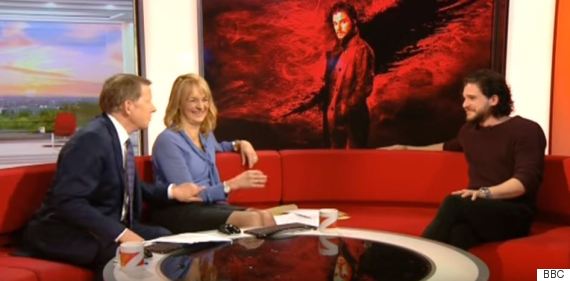 Oh dear
Apologising profusely for the "terrible" gaffe, he then tried to make a joke of it, remarking: "What's that line? I know you, Kit Harington."
Watch the full interview above, with the name confusion occurring around the 6:54 mark.
Before his unfortunate slip-up, Bill took the opportunity to grill Jon Kit about his character's fate as, despite the fact Kit Jon violently died in the last series finale, there has been much fan speculation about whether he'd be back for series six later this year.
Jon Kit was giving nothing away, though, teasing simply: "I think anyone who wants to know what happens in season six has to wait until it comes out. All I can tell you is Jon Snow is dead. He died at the end of the last season."
Speculation was particularly rife when Kit Jon appeared in a recent trailer for the sixth series of 'Game Of Thrones', having already been spotted in Belfast, where the series is filmed.
'Game Of Thrones' returns to screens in the spring.
LIKE US ON FACEBOOK | FOLLOW US ON TWITTER