On Saturday 20-members of the far-right political party confronted local Muslims while marching through Bury Park carrying wooden crosses in an act charity Tell Mama said was aimed at stirring up "unrest". The group videoed their interactions, which Tell Mama claimed were done to "paint themselves as defenders of Christian values, something that they are far from". The video has been viewed more than 21 million times on Britain First's Facebook page, and another 800,000 on YouTube.
Tell Mama, which opposes anti-Muslim hate and Islamophobia, has called for authorities to put a stop to the group's marches. It said Britain First "continue to walk into areas, stir up unrest and walk away leaving local communities to pick up the pieces".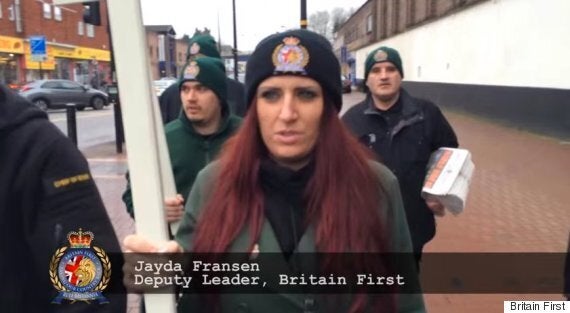 Britain First deputy leader Jayda Fransen has warned of an impending "civil war" with British Muslims
And that's exactly what happened after Saturday's march. Christians from Luton took to the streets on Sunday, handing out roses and reassuring Muslims that Britain First's attitudes weren't reflective of their faith.
Britain First's deputy leader Jayda Fransen on Tuesday insisted her party "did not spread hate" and vowed that 2016 would be "Britain First's year". UK towns, she said, could expect an unprecedented level of action by the party.
On Saturday the group will protest in Dewsbury, which it has dubbed the "Islamist capital of Britain".
In a call to arms ahead of the event, Britain First wrote: "Islamic terrorism and extremism is a worldwide problem, affecting tens of millions of people.
"Join us in Dewsbury, a well known nest of Islamism, to protest against the scourge of hate preachers, extremism, terrorism, halal slaughter, FGM, child brides, radicalisation, "Trojan Horse" infiltration of our schools, grooming gangs and sharia courts."
In an interview with the International Business Times Fransen claimed that in recent months the group had "grown enormously, with membership swelling by the thousands". (Around 60 people attended the group's national conference in November and 20 people attended their event in Luton on Saturday).
Fransen said: "We now have Britain First brigades across the country and it's common knowledge our social media reach is bigger than any other political party.
"People can expect a large amount of action for 2016, it's going to be our year. We have so much planned and there are now so many people in our group at an activist level. Our country and Europe is heading for a civil war. Our leaders have sold us out and the way to save us is to head for the streets."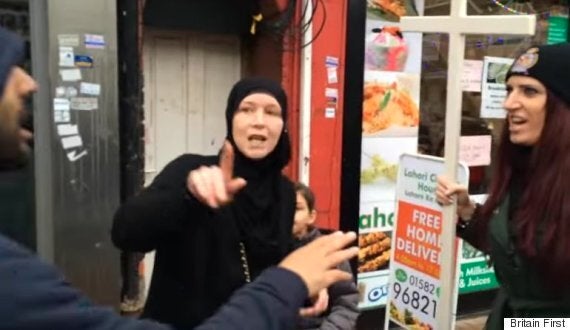 Fransen confronts a Luton women about her hijab during Saturday's 'Christian march'
Britain First wouldn't reveal its membership numbers to the IBTimes, instead highlighting its social media presence. It's Facebook page has over 1.2 million "likes" – more than the Conservative and Labour parties combined.
Fransen said the group hoped to transfer this popularity to street-level activism, starting with their event in Dewsbury.
The newspaper quoted her as saying: "The indigenous people in Britain don't want their towns turned into Muslim ghettos. It doesn't look like Britain anymore.
"Dewsbury has Islamic extremists coming out of the woodwork so we want to march through the town centre. I'm not concerned about any negative reaction. I'm concerned about my country. We always behave impeccably on the marches, it's the opposition to us that's the problem."
Despite making no arrests during Britain First's Luton march, police later launched an investigation to "determine whether any offences were committed during the course of Saturday's events". Anyone with information is asked to contact Bedfordshire police.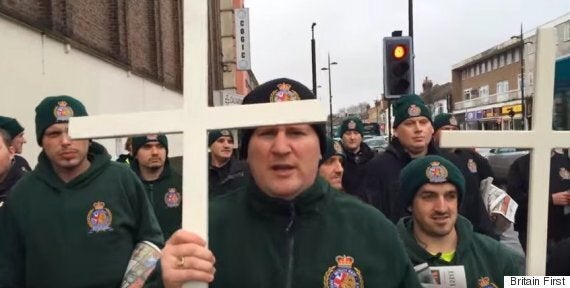 Britain First leader Paul Golding leads the 'Christian Patrol' through Bury Park in Luton
Related