Hate crime witnessed by 27% of people in past year, new poll claims
A fifth witnessed abuse based on religion and 25% on race or ethnicity
Of those who failed to intervene, almost 70% later regretted it
Research carried out to coincide with Holocaust Memorial Day
"They said: 'You're Jewish'. And they started hurling abuse at me," says Michelle Annis, a British Jew from Manchester, describing a visit to a local Marks & Spencer. Her children have been called "fucking Jews" on public transport. In not one of those cases did anyone intervene.
This did not happen 70 years ago but in 2013, shortly before Annis, her husband and two daughters emigrated to Israel over what she regards as the rising tide of anti-Semitism in Britain. "You no longer felt comfortable, living in a Jewish area, sending your children to a Jewish school. Attacks on Britain are on the increase," she tells HuffPost UK by phone from Israel.
As people commemorate the victims of genocide today on Holocaust Memorial Day, a survey has found that more than a quarter of us witnessed a hate crime within the last year and, of those who failed to intervene, 69% later regretted it.
Of the 12% of survey respondents who said they had been victims of hate crime themselves in the last year, 60% of them said not one of the witnesses present intervened when it happened, research by the Holocaust Memorial Day Trust (HMDT) found.
More than a fifth of Britons - 22% - have witnessed hate speech over someone's religion and overall 27% of us witnessed a hate crime - violence or hostility directed at someone over their identity, such as race, sexuality, religion or disability - in the last 12 months, according to the survey.
The Metropolitan Police recorded 14,110 religious or racially-motivated hate crimes in London in 2015, up from 11,549 in 2014.
The HMDT is now encouraging people not to stay silent when they witness such incidents with the "Don't Stand By" theme to today's commemorations.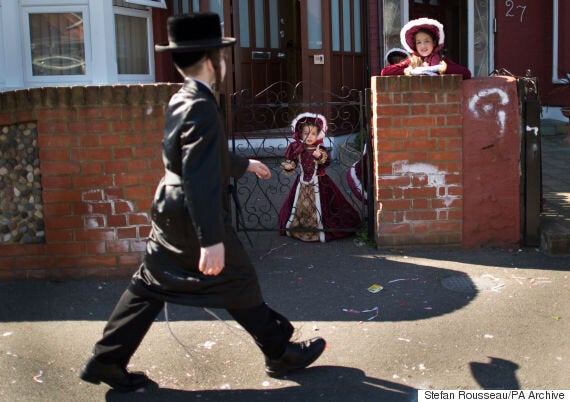 London has seen a large increase in reported religious and racially-motivated hate crimes
Annis' family lived in Whitefield and her children attended the Orthodox King David High School. She told The Huffington Post UK she had suffered anti-Semitic abuse in Manchester city centre while walking past a stand manned by activists opposing Israel.
"I tried to enter a store with my daughter and they said 'you're one of them, aren't you?' I said: 'Pardon?'. They said: 'You're Jewish'.
"And they started hurling abuse at me." She also described one incident where her children were called "fucking Jews" on a bus in the city.
When asked if anyone said or did anything to intervene in either incident, she said: "Everyone was very quiet. You have to remember that the average British person doesn't want to get involved. Why should they? British people don't get involved with other people. Someone hurling abuse at someone? They don't get involved."
She added: "I don't think people get involved until it gets far too worse, otherwise we'd have never [have] had the Holocaust, would we?"
Annis, 53, now lives in Ra'anana near Tel Aviv. She emigrated with her husband Michael, a pharmacist, after their daughters Alyssa and Danielle finished their first year of high school and A Levels respectively.
HMDT chief executive Olivia Marks-Woldman explained that remembering the atrocities of the Holocaust and subsequent genocides is largely about finding ways to make sure they can never happen again.
"We know that silence and indifference in the face of discrimination and hatred allows persecution to take root, so we want to encourage people to stand up and speak out, in the way many brave souls have in the past."
When asked whether and how people should intervene, Assistant Chief Constable Mark Hamilton, the national police lead for hate crime, told HuffPost UK: "Every situation is different and members of the public should always consider their own safety, as well as the risk to the victim, before intervening.
"However, we can all do something by urgently reporting any incidents to the police and showing our support for diversity and tolerance."
"The police recognise that most hate crimes are never reported despite their devastating impact," he added. "Being yourself is not a crime. Hate crime is."
In October, research by Faith Matters found that bystanders were not intervening in Islamophobic hate crime and warned this tolerance was making abuse "normal".
At the time, Fiyaz Mughal, director of attack reporting service Tell Mama told HuffPost UK the lack of intervention "doubles the impact of alienation and isolation" among Muslims.
He said: "A lot of victims - this not just a one-off - are saying no one is helping them when they're in trouble or when they are targeted. That's a concern.
"Victims are saying 'I wish somebody had called the police, I wish somebody had just asked me if I was okay.' It doesn't mean getting involved in the fray, just giving that reassurance. But people were just walking past."
The HMDT survey found that verbal abuse, such as name calling, was cited as the most common form hate crime took.
Three quarters of those who witnessed something in the last year said it was verbal.
A total of 30% witnessed harassment, 20% witnessed threats of violence and 14% had seen actual physical attacks.
A total of 28% witnessed abuse online. More than three-quarters - 77 % - said communicating abuse online was just as bad as shouting it in the street.
The survey also suggested younger people seem more willing to challenge a hate crime by confronting the person responsible.
Seventeen percent of 16-24 year-olds said they had intervened in what they witnessed, compared to 13% of 25 to 34 year olds and 7% of 35-44 year olds.
Censuswide conducted HMDT's survey, speaking to 2,007 UK adults between December 2 and December 7, 2015