Giant letters reading "London Calling" was sprawled across the artwork, with Jobs being used as substitute for the letter "I".
Vandals smashed the protective glass case that was placed over the painting, which was left by the anonymous street artist last month to highlight Europe's migration crisis.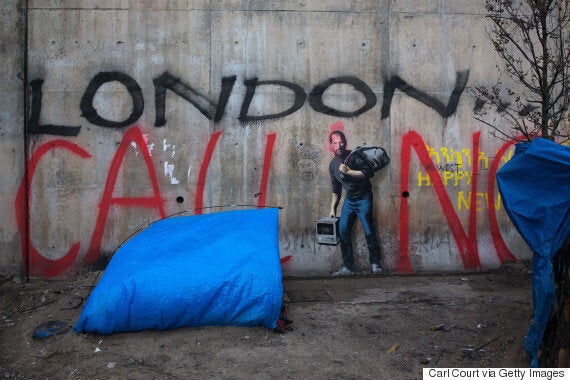 Banksy's mural of Steve Jobs in the Calais 'jungle' has been defaced
The original artwork depicts the Apple founder, who was the son of a Syrian migrant, with a black bin bag thrown over his shoulder and carrying an original Apple computer in his hand.
It shows that the founder of the multi-billion pound company was only able to achieve his phenomenal success because America "allowed in a young man from Homs" to enter the country after the Second World War.
Banksy said in a statement at the time: "We're often led to believe migration is a drain on the country's resources, but Steve Jobs was the son of a Syrian migrant.
"Apple is the world's most profitable company, it pays over $7 billion a year in taxes - and it only exists because they allowed in a young man from Homs."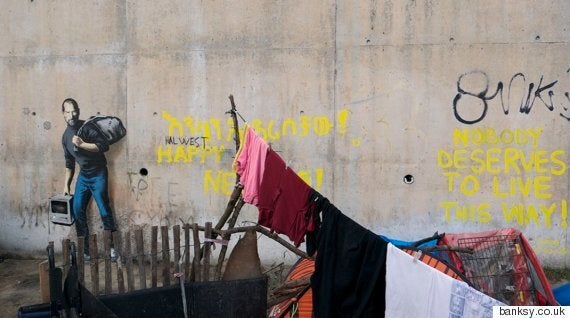 Banksy's artwork of Steve Jobs before it was deface
One migrant who emerged from a tent beside the concealed artwork said: "If you haven't got five euros (£3.60) then go away."
The fixtures were dismantled and shipped from Somerset across the Channel to their new home in the "Jungle", where thousands are living as they try to enter the UK.
Popular in the Community