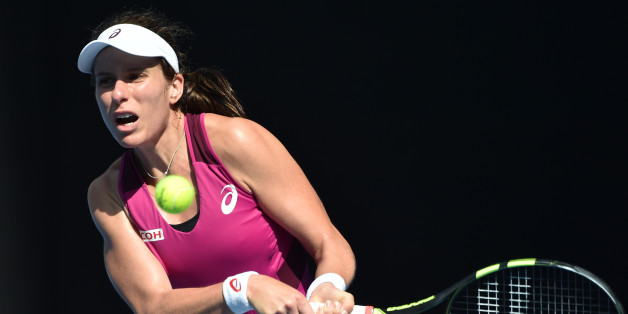 SAEED KHAN via Getty Images
Thursday's Daily Mail front page raises a number of questions: Are house husbands attractive? Are yellow frills on a pink apron a crime against culinary fashion?
Also, is the paper a bit hypocritical for placing a headline about migrant children alongside a British sporting icon who is also an immigrant?
WE MUST NOT ALLOW MORE IMMIGRANT CHILDREN IN. (Inset: hands off our tennis star who immigrated here aged 14) pic.twitter.com/A5t7CV7784

— hrtbps (@hrtbps) January 27, 2016
Well, not really, as The Huffington Post UK political reporter Owen Bennett tweeted:
Yes the juxtaposition is funny, but the main splash is reflecting the PM's position and isn't an editorial pic.twitter.com/3F02WevhSP

— Owen Bennett (@owenjbennett) January 28, 2016
While debate rages on about whether Britain should accept 3,000 refugee children, a comparison to Australian-born British tennis player Johanna Konta's journey to the UK appears a bit of a stretch.
The 24-year-old became a British citizen in May 2012 after migrating here with her parents in 2006. She also settled for a while with her mother, a dentist, and her hotel manger father, in Spain to pursue her tennis training.
There's also the small matter of her Hungarian passport ("I'm pretty much the female Jason Bourne," Konta joked yesterday) which would give her residency in Britain even without a UK passport under EU rules.
Konta had a stunning run of success at the Australian Open but was unfortunately beaten in the semi-finals - the first British woman for 33 years to get that far - by Angelique Kerber.
What is in little doubt though, is that immigration has been at the heart of many of Britain's sporting successes: