Facebook has taken action against Britain First, removing a video from the group's account of its Luton 'Christian Patrol', which had gained over 25 million views.
Tell Mama, a hate-crime reporting hotline, on Monday applauded Facebook for removing the video and called on the wider community to help the website be aware of "hateful material".
On 23 January, around 20-members of the far-right group marched through Bury Park while carrying wooden crosses and confronting local Muslims about trying to "take over" Britain.
During the march, Britain First wrote that they had faced "ferocious hostility from local Muslims", and said their video was a "shocking look into the Islamisation of our beloved country".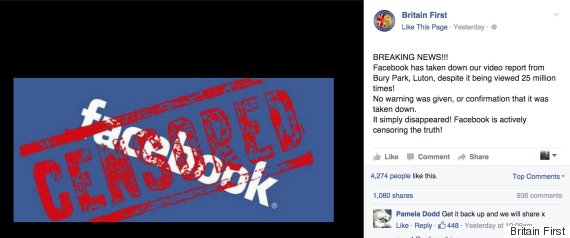 Britain First claim to have been "censored" after Facebook removed a video of the Luton 'Christian Patrol'
However, both Christian and Muslim groups widely condemned the group's actions. Tell Mama, which opposes anti-Islam hate and Islamophobia, said the group had "inflamed" tensions in the town by "agitating" locals and compared their march to that of the Muslim Patrol in 2013 - a group of Islamic vigilantes - who harassed and attempted to shame members of the public in London's Whitechapel and Tower Hamlets in January 2013, and were accused of homophobic attacks. Several members of the group were later arrested.
Christians handed out roses on the streets of Luton the following day and reassured local Muslims that Britain First's attitudes were not reflective of local Christians, and on Saturday every major Christian denomination in the UK denounced them.
Britain First on Sunday posted on their Facebook page that they had been "censored".
The party wrote: "Breaking news!!! Facebook has taken down our video report from Bury Park, Luton, despite it being viewed 25 million times!
"No warning was given, or confirmation that it was taken down. It simply disappeared! Facebook is actively censoring the truth!"
The post received 4,000 likes and 1,000 shares, and almost one thousand comments urging them to re-post it.
One commenter wrote: "Put it back 25 million cant be wrong !!!! and we are entitled to the truth we get enough lies from the Government !! Repost and I will gladly share."
Britain First leader Paul Golding uploaded the video to his own Facebook page at 10.30pm Sunday.
Facebook is yet to issue a comment on removing the content to The Huffington Post UK, but the Britain First Facebook page was not visible at all on Monday.
A spokesperson for Tell Mama said while Facebook needed to take responsibility for monitoring content, that was not always possible when posts are viewed millions of views, as "Facebook can't monitor every comment".
"The key is to keep up the pressure and to push-back. This type of content attracts asinine and hateful views and it is up to everyone to challenge it and report it."
Bedfordshire police did not make any arrests during Britain First's march, but in the days after announced that they had launched an investigation to "determine whether any offences were committed during the course of Saturday's events".
A spokeswoman for the force on Monday said the investigation was "on-going" and said it was not launched as a result of public condemnation of the march, rather it was "live from the beginning of the incident".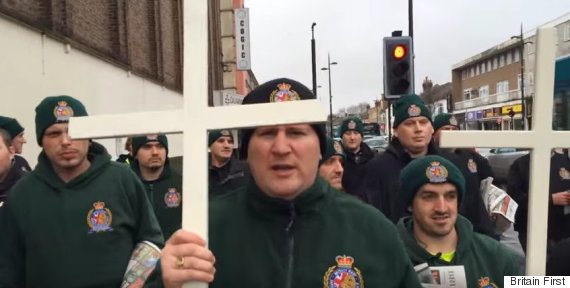 Britain First leader Paul Golding leads the 'Christian Patrol' through Bury Park in Luton
Tell Mama, who last week called for the state to do more to challenge Britain First's marches, said police were always "quick to respond" to events involving the political party, but said they needed to better balance the group's right to protest with the potential for them to cause public disorder. The Tell Mama spokesman said when groups like Britain First were clearly "exploiting" this right, there needed to be consequences. On Saturday a confrontation over immigration between the far right and anti-fascists in Dover turned violent. Three people were arrested and weapons including a knife, knuckle duster and hammers were seized.
In August Facebook apologised to Britain First after removing a social media post from their page which mocked the so-called Islamic State.
Facebook removed a post showing what was intended to be the Islamic State flag reproduced as toilet roll that was uploaded by Britain First leader Paul Golding. It was captioned: "Soon to be stocked in the Britain First shop." Facebook initially said it had to remove the post because it did not meet its community standards, but later said the post was removed by "mistake".
SEE ALSO