The Daily Express has been criticised by pollsters for publishing the results of an "exclusive" online vote from its own website on Friday's front page.
The Richard Desmond-owned tabloid declared it was a "shock result" that "92% want to quit the EU."
But the chief executive of one of Britain's biggest polling companies, Ben Page, derided it as a "marvellous example of voodoo polling of self-selecting sample".
"Shocking New Poll Reveals 100% Of Daily Express Readers Are Daily Express Readers," one Twitter user suggested as an alternate headline.
While another was left surprised the anti-EU advocate percentage wasn't higher still.
Ukip, the eurosceptic party backed in last year's general election by the Express, were seemingly so keen to distance themselves from the findings they derided them for tarnishing the 'Leave' movement's reputation.
"Stupid. Damages credibility of the whole movement. Sort it out @Daily_Express," the tweet read.
It was deleted swiftly after being posted.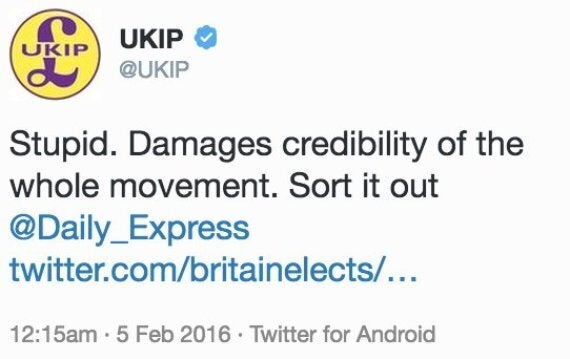 daily-express-website-poll-eu-ridiculed
And The Sun's head of PR, Dylan Sharpe labelled the stunt "remarkable".
A politics professor, Matt Goodwin, warned it was just the start of a long period of "madness" in the turbulent run-up to Britons deciding whether to leave or remain in the EU.