The search to find a stranded whale "thrashing" in shallow waters off the Norfolk coast has been called off.
On Tuesday, rescuers launched an operation to help the animal after it was seen just 300 to 400 yards off the coast of Mundesley.
There were growing fears that the whale could be the seventh to become stranded on Britain's coast, following a spate of beachings in the past few weeks.
But after there were no sightings for 90 minutes, the Maritime and Coastguard Agency made the decision to call off the search.
The whale was reported to the coastguard at about 10am on Tuesday.
Keith Griffin, station officer for the Happisburgh and Mundesley Coastguard Team, said: "We've carried out an extensive search and are confident that if the whale was in that search area, we'd have found it.
"Low tide has now passed so with a bit of luck it will return to deeper waters and stand a chance of survival," reports Sky News.
The death of the whale in Hunstanton last week followed the discovery of four washed up on the Lincolnshire coast and another at Hunstanton last month.
Article continues below slideshow: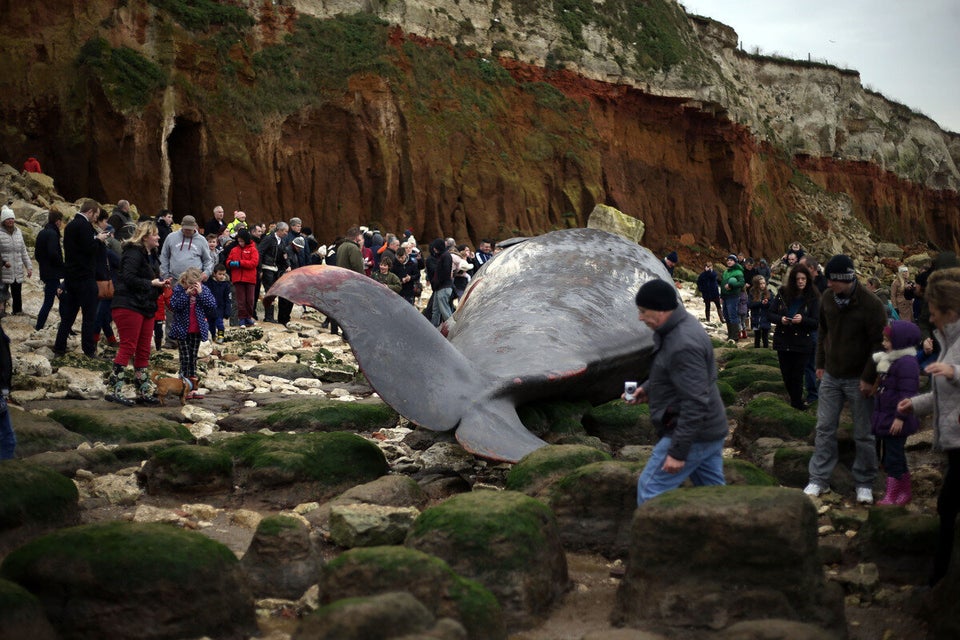 Sperm whale beached in Norfolk
Others have been found in France, the Netherlands and Germany.
It remains unclear why the whales came ashore and how they died.
The Cetacean Strandings Investigation Programme is working to establish the causes of the whale deaths.
One theory is that the male whales could have taken a wrong turn while heading south to find females or been lured by food.
Stephen Marsh, operations manager at the BDMLR, told the Press Association that if the whale had become stranded, the whale was unlikely to survive.
He said earlier today: "If it does strand the story will be very similar to what we've had recently - the whale will have very little chance of relaunching and, if it does, its chances of survival will be very low."
Popular in the Community