Health Secretary Jeremy Hunt could "impose" disputed new contracts on junior doctors "by Monday," according to ITV News. The broadcaster has learned that the minister may be "just two or three days away from forcing the controversial contracts through."
On Wednesday, the Government's chief negotiator, Sir David Dalton, warned talks were at "the end of the road" should the British Medical Association not endorse his latest offer by Wednesday afternoon. No endorsement came.
Thousands of doctors walked out on Wednesday morning, the second 24-hour strike this year over disputed contract changes that doctors argue would mean a reduction in pay. The disagreement centres on whether Saturday should be classified as a normal working day. Junior doctors currently get paid a premium rate for working overnight Monday to Friday and all day Saturday and Sunday.
The government wants to restrict weekend and overnight hours to time-and-a-half and time-and-a-third, with premium pay kicking in at 5pm on a Saturday. The government claims the new contracts will deal with a "weekend effect" in which mortality rates go up on Saturdays and Sunday. Opponents argue those statistics are flawed.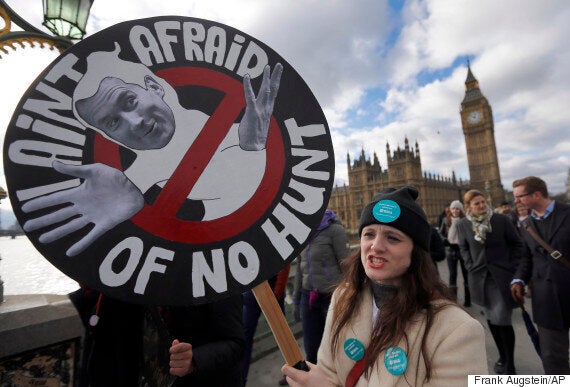 Junior Doctors show placards as they demonstrate over a bridge near the Houses of Parliament in London, Wednesday, Feb. 10, 2016
Should the health secretary impose contracts on medics the NHS could face mass resignations. An online poll by The Independent revealed that 922 out of 1,045 doctors were prepared to quit should Hunt force the issue.
On Wednesday Hunt told the BBC doctors were being offered a "fair deal,"
"The job of health secretary is to do the right thing for patients and we have now had eight studies in the last five years that have shown that mortality rates at weekends are higher than they should be," he said. "My job is to do something about that. I think it's a good deal, it's a fair deal."
Decrying the industrial action as "very damaging," the health secretary noted that 43 percent of junior doctors had ignored the strike.
NHS England later confirmed 43 percent (out of 26,000 doctors on a typical day) had turned up for work on Wednesday. Doctors working in emergency care were not asked to strike.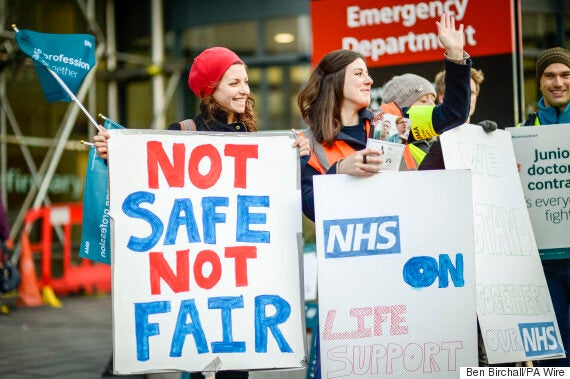 A picket line outside Bristol Royal Infirmary, Bristol, as junior doctors go on strike for 24 hours in a dispute with the government
Reflecting on the walkout, Dr Johann Malawana, chairman of the BMA's junior doctor committee, said: "With thousands of junior doctors attending more than 160 pickets and 'meet the doctor' events across England, today's action is a resounding rejection of the Government's threat to impose an unfair contract, in which junior doctors have no confidence."
"If the Government want more seven-day services then, quite simply, they need more doctors, nurses and diagnostic staff, and the extra investment needed to deliver it," he added.
Wednesday's action is the second junior doctors strike this year. The first action in January led to the cancellation of thousands of non-emergency operations and procedures.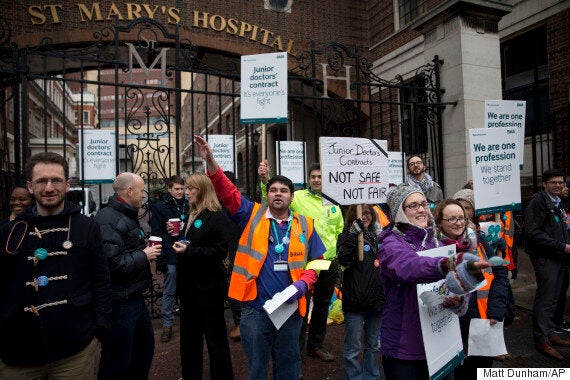 Junior doctors stand on a picket line with placards outside St Mary's Hospital in London, Wednesday, Feb. 10, 2016
Labour's Shadow Health Secretary Heidi Alexander used the walkout to attack the government, calling Hunt's "handling of these negotiations" a "complete and utter shambles.