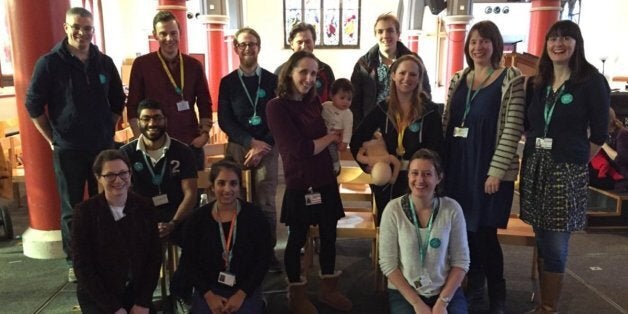 Groups of junior doctors have been praised for offering a "constructive and positive" approach to the strike by NHS workers taking place across England today.
While thousands brandished banners to protest proposed changes to staff's pay and working hours, teams of medics ditched the picket line to teach their skills as health workers - by offering the public life-saving CPR lessons.
More than 20 junior doctors attended a packed-out playgroup for parents and their newborns, equipped with mannequins to teach people how to perform the vitally important technique.
Bernadette Lomas, a 34-year-old Manchester Royal Infirmary junior doctor specialising in child and maternal anaesthetic, co-organised the initiative, saying she wanted to raise awareness of Wednesday's walkout but also give something positive back to her local community.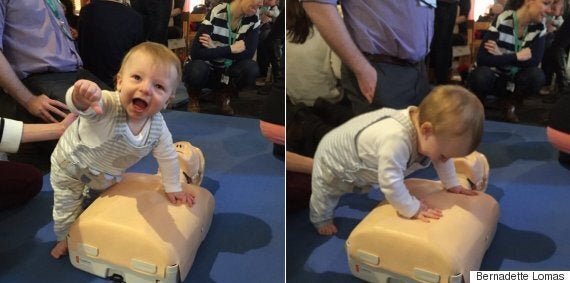 One young toddler enjoying themselves at today's class
"We have had a hugely positive and uplifting day- much needed in the midst of the deep sadness, frustration and anger we are experiencing," she told The Huffington Post UK.
"Our aim was to give something positive back to our community directly, and from the comments we have had so far I'm really heartened to say that we have certainly achieved that, and more.
She added that the morning's events had proven popular with mothers, fathers and their children, with toddlers in attendance now armed with life-saving skills.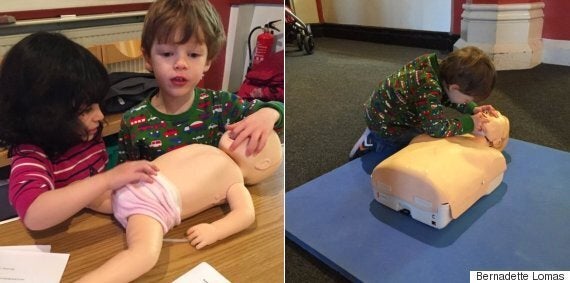 Two kids learn CPR together on a baby mannequin
"Many people have said they will book onto courses and spread the word to friends and family.
"Also it has been wonderful to have people completely unprompted give their heartfelt support to junior doctors and the NHS."
Comments posted on a Facebook event for today's session, hosted at a "community cafe" in Emmanuel Church in Didsbury, Manchester, with a turnout of around 50, all hailed the doctors for their initiative.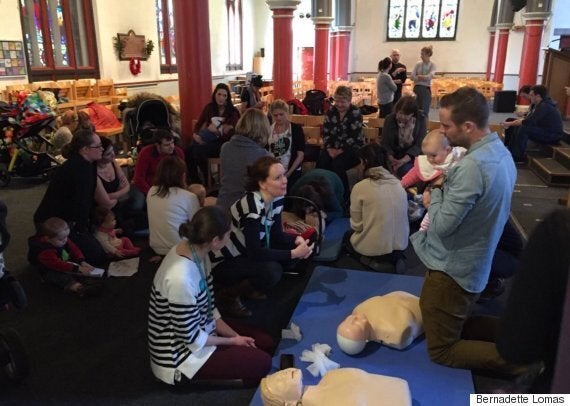 View from the crowd: 50 flocked to the event
"Thank you for the first aid refresher and cuddling my baby so I could have a practice. You'll find lots of support from me and mine," wrote one user, Emma Bennet.
"Thanks so much to all of the volunteers today. You were all really lovely and I've learnt some important life-saving skills that I hope I never have to use," another attendee Roberta Agar added.
Elsewhere, in London another group of striking medics offered passing commuters and members of the public quick-fire 5-minute CPR courses.
Staff from Barts Hospital, the oldest hospital in Europe, took to the streets to continue using their skills as health workers.
A group of striking staff hailed the event, held just outside St Paul's Cathedral, as an "amazing day".
One passer-by praised the NHS workers, saying theirs was a "great way to get [the] message over" about junior doctors' plight to health secretary Jeremy Hunt.
There are more than 55,000 junior doctors in England - a position covering people who have just graduated from medical school through to those with more than a decade of experience.
They represent a third of the medical workforce, and just over 37,000 are members of the BMA, which called the strike.