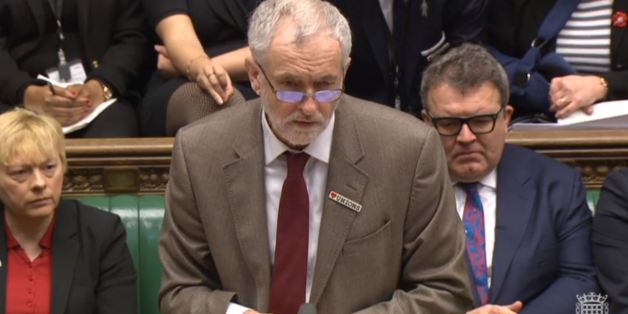 It's mid-February and Valentine's Day is just around the corner, but will David Cameron and Jeremy Corbyn be able to put their differences aside just because love is in the air? Not a chance.
Here's everything that happened at PMQs today, without all the shouting...
Jeremy Corbyn surprisingly managed to avoid making jokes about David Cameron's mum:
Jeremy Corbyn at #PMQs : "I have a question from a Mrs Mary Cameron in Oxfordshire…"

— HaveIGotNewsForYou (@haveigotnews) February 9, 2016
First time "your mum" could be a legitimate comeback in #pmqs .....

— David Lockhart (@DaveyLockhart) February 10, 2016
For the first time, MPs laughing at Jeremy Corbyn's crowdsourced questions weren't doing so maliciously, but rather because it sounded like it was coming from Labour's Chief Whip:
Email from Rosie causes laughter but good natured for once - #housing #pmqs

— NEWTEKJournalismUK (@NEWTEKWORLDNEWS) February 10, 2016
And Corbyn chose to finally start accessorising his trademark PMQs suit:
Corbyn's badge... #pmqs pic.twitter.com/K0Mq1ZmHcR

— Alain Tolhurst (@Alain_Tolhurst) February 10, 2016
Everyone who wasn't fixated on Corbyn's badge were wondering why he didn't mention the ongoing Junior Doctors' strikes...
So nout from Corbyn on #JuniorDoctorsStrike. Was he worried about associating himself with action? #PMQs

— Ian Silvera (@ianjsilvera) February 10, 2016
Or any other open goals from the past week:
This week we've had #JuniorDoctorsStrike, Cameron's mum signing letter against cuts & Tories auction fundraiser. All ignored by Corbyn #PMQs

— Nitish Ramparsad (@NitishRamparsad) February 10, 2016
In fact, nobody did:
Is there a #doctorsstrike on today? You wouldn't know it from #PMQs.

— Andrew Woodcock (@AndyWoodcock) February 10, 2016
But that was because Jeremy was focusing on taking Cameron to task on housing:
Last Lab Govt invested £22bn in decent home improvements.Contrast Tories who just voted agnst making homes 'fit for human habitation' #pmqs

— Clive Lewis MP (@labourlewis) February 10, 2016
He rolled out some numbers Cameron couldn't ignore...
Corbyn: '1 house built for every 8 sold under this government' #pmqs

— Owen Bennett (@owenjbennett) February 10, 2016
Then Angus Robertson said something, but nobody was really paying attention.
Angus Robertson you are so boring. #pmqs

— Luc Chignell (@TheOfficialLucC) February 10, 2016
The subtitle people lost control again...
#PMQs is going as well as usual pic.twitter.com/11V87NKqlW

— TechnicallyRon (@TechnicallyRon) February 10, 2016
But, as usual, it was all just much of the same:
I've missed #PMQs. Let me guess. Shouting. Avoiding answering questions. Jeering. Punch. Judy.

— Robert Dickinson (@ro88age) February 10, 2016
SEE ALSO: