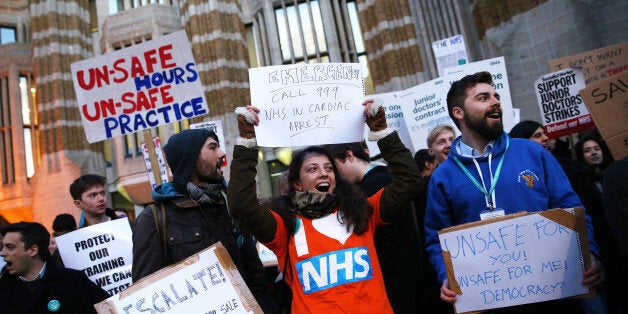 Ministers "slipped out" an announcement that it is to close 86 courts in England and Wales just minutes after Health Secretary Jeremy Hunt announced yesterday he would controversially impose a new contract on junior doctors.
Officials also released controversial details of a key welfare reform, student loan repayments and cuts to health spending on the same day.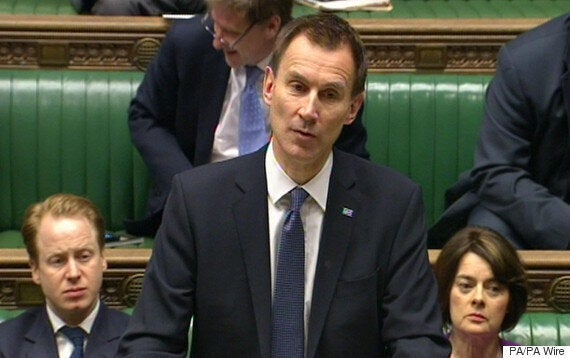 Jeremy Hunt announced he would impose a new contract on junior doctors before 12pm, and the courts closures were "slipped out" as a written statement half an hour later
Hunt's announcement to Parliament was hugely controversial and dominated the digital, print and broadcast news agenda yesterday. By contrast to Mr Hunt's oral statement to MPs, the Ministry of Justice announced the courts closure programme by way of a written statement.

What's more, both announcements were made in the last day Parliament was sitting before the half-term recess, and MPs return to their constituencies - undermining the prospect of parliamentary scrutiny.
The justice announcement, which means the doors of one-fifth of courts and tribunals will shut, was among 16 statements ministers published yesterday.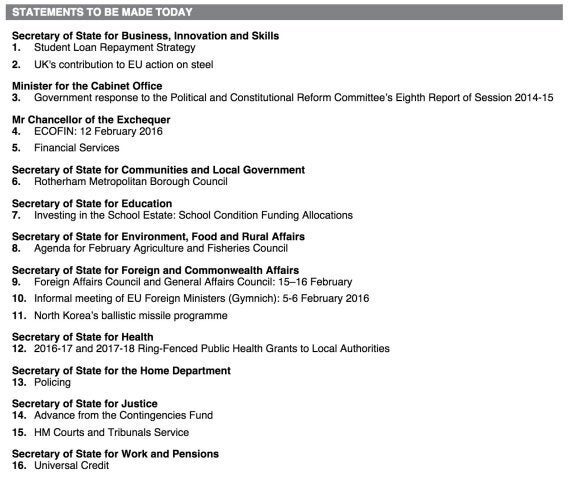 Among the most controversial within the pack was the expansion of the single Universal Credit benefit, the Government's flagship welfare reform which will roll six payments into one.
Labour warned as only a handful of areas have been moved onto the new regime there is a "perverse postcode lottery" whereby some working families are £3,000 worse of than others.
The Public and Commercial Services Union, which represents many court workers, said the proposals would restrict access to justice.
General Secretary Mark Serwotka said: "With courts closures and cuts to legal aid, access to justice has been significantly restricted by the previous government and now this one. We do not believe it is in the interests of justice to leave our communities without easy access to courthouses and tribunals."
A spokesman for the union made clear it believes the Government used the junior doctors' row and parliamentary recess to provide cover.
He said: "We actually originally expected the courts announcement to be made on Wednesday, but then we heard it was going to be Thursday, the last day before the recess.
"Jeremy Hunt announced he was imposing the junior doctors contract just before 12pm, and the courts closures were slipped out as a written statement half an hour later.
"It's deceitful, and an insult to Parliament and the public to announce such important and life-changing decisions in this way."
"Burying bad news" or "taking out the trash" is an oft-used political device, blitzing news organisations with announcements at an inconvenient time to lessen the impact of some of them. Politicians and civil servants, though, always deny there is a conspiracy.
Hunt imposed the new contract on junior doctors, effectively the nuclear option, after talks with the British Medical Association broke down amid a series of 24-hour strikes, leading to thousands of operations to be cancelled. The contract will see Saturdays between 7am and 5pm become part of a junior doctor's normal working week for the first time.
The announcement prompted demos at Whitehall, though Hunt's PR-operation unravelled as 14 of 20 senior NHS bosses he suggested supported the plan revealed that, in fact, they didn't.
Justice Minister Shailesh Vara said: "Our courts and tribunal system is in need of urgent reform. Maintaining our underused and dilapidated court buildings costs the taxpayer £500 million a year but some courts sit for less than half the time available.
"This is simply unsustainable. Closing these courts in poor quality buildings will raise £40 million to re-invest in the justice system, and save hard-working taxpayers £27 million per year.
"The decision to close a court is never taken lightly, but in the digital age I am confident we have measures in place to ensure access to justice is not diminished."