Without the internet, Rebecca believes her bullies would have lost interest beyond the school gates.
But in the always online world of social media, her aggressors were able to track her down and continue their abuse outside the classroom.
"I was getting bullied verbally face-to-face at school but I was also getting bullied online after school," says Rebecca, now 17. "There were people who would call me up and say mean things to me, and then they would go onto Facebook and write statuses that weren't very pleasant about me.
"But I didn't want to get off social media because everyone used it and I didn't want to be out of reach. I wanted to have my own online space."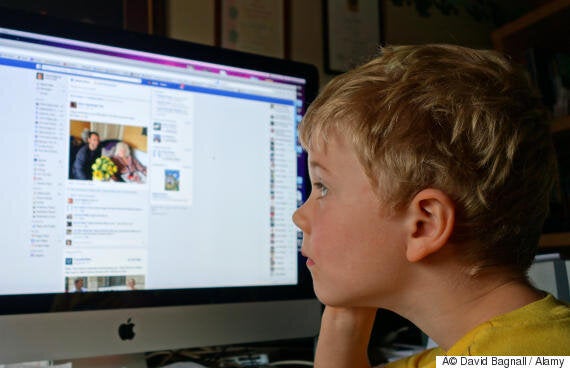 Children are spending ever more time on social media (picture posed by model)
Yet as children spend more ever more time on social media, experts fear cases such as Rebecca's will become more common.
A potent mix of cyberbullying, increased anxiety, stress and sleep deprivation are increasingly linked to mental illness in children, campaigners, doctors and psychologists have told The Huffington Post UK.
Sites such as Facebook, Twitter and Snapchat take up an increasing amount of children's spare time, latest research suggests.
An exclusive poll for our Young Minds Matter series, guest edited by The Duchess of Cambridge, of parents found four-fifths (81%) of those surveyed blame social media for making their children more vulnerable to mental health problems.
But, according to charity YoungMinds, children have become so used to the pressures of social media they don't recognise the anxiety it's causing them.
"If you ask young people, I don't think they're aware of the stress they're dealing with in terms of this online addiction," the charity's director of media and campaigns, Lucie Russell, said.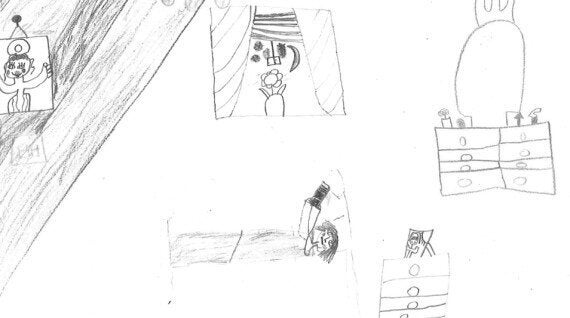 Sleep deprivation is increasingly linked to mental ill health in children (illustration: credit)
Countless reports of cyberbullying and trolling suggest aggressive behaviour is worryingly common on social media, leaving young people open to abuse.
"They are living their lives in the public domain, there is a constant need for reassurance, asking 'am I OK?' and 'do I look OK?'," Russell says.
"A lot of what young people do online makes it a very public way of growing up.
"Being online makes you more open to people finding you, bullying you, trolling you. People often think it's not as bad as bullying face-to-face but one of the horrible things about it is the pack mentality.
"Whole groups are devoted to abuse, particularly on Facebook."
British children spend an average of three hours a day on the internet, up by an hour on a year ago, the 2016 Childwise Monitor report found. Among 15- to 16-year-olds, the figure rises to almost five hours.
Most admit to visiting social media sites for much of their time online.
But, as younger children adopt social networking into their daily routines, they become more and more exposed to the risks to their mental health, experts believe.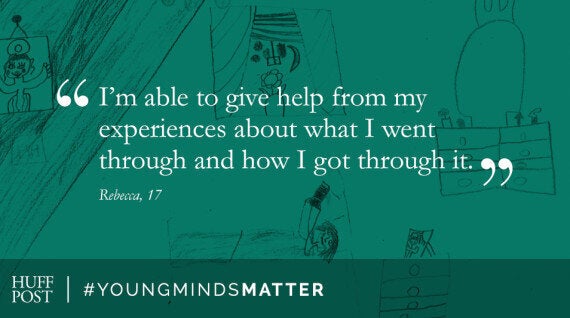 Rebecca now mentors other young people who are experiencing cyberbullying
Last year, a University of Glasgow study of 460 Scottish school pupils found children as young as 11 regularly used Facebook and Twitter. Some did so on multiple devices well into the early hours.
Researcher Dr Heather Cleland Woods says that her team expected to find that notifications would disrupt sleep through the night. But they quickly learned some children were using social media through the night.
"With adolescents we know there is a link between social interactions and self-esteem, that they spend lots of time online and that a lot of that time is spent on social networks," she tells HuffPost UK.
"During our study we saw the heaviest users of social media display negative consequences.
"We asked the pupils series of questions and found that poorer sleep was linked to emotional investment in social media.
"The more emotionally invested in social media they were, the poorer sleep they had.
"And we know that sleep impacts our health and that anxiety and depression are very closely related to sleep quality."
In particular, the 'post first, think later' mentality has some experts deeply worried.
"Young people often act first and think of the consequences afterwards; they do not consider how an act now can affect them in future years," Dr Hayley van Zwanenberg, a consultant child and adolescent psychiatrist at Birmingham's Woodbourne Priory Hospital, told HuffPost UK.
"This can have a profound effect on the self-esteem, mood and anxiety levels.
"By posting pictures or comments on social media they open themselves to scrutiny from many more peers than they are used to when doing this in a classroom - and their comments and pictures are now permanent."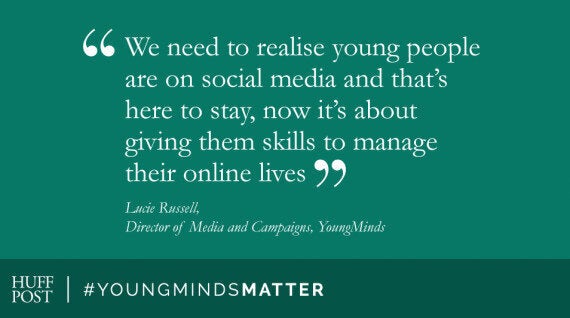 Lucie Russell is director of Media and Campaigns at YoungMinds
For parents, the research gets even more sobering.
Almost half of 11- to 16-year-olds say they were bullied on social media, according to a study published by GirlGuiding last year (PDF).
The girls' biggest concerns were mental health, cyberbullying and not being able to get a job but felt that their mothers and fathers had more prosaic worries such as smoking, drug and alcohol use, and unplanned pregnancy.
Dr Cleland Woods believes that such research raises many questions about the links between social media and child mental health.
"There is a relationship there," she says, "although we can't say quite how these things are linked exactly without further study."
The message for parents is clear: your children will carry on using social media and it will take vigilance and resolve to ensure it does not threaten their mental health.
"We need to realise young people are on social media and that's here to stay," Russell says. "Now, it's about giving them the skills to manage their online lives and the resilience to bounce back."
After seeing her sister similarly affected by cyberbullying, Rebecca now mentors other young people suffering distress at the hands of others online.
"I decided that because of my own experiences it would be beneficial for me to be involved in mentoring other people about social media," she says. "I'm able to give help from my experiences about what I went through and how I got through it."
Young Minds Matter is a new series designed to lead the conversation with children about mental and emotional health, so youngsters feel loved, valued and understood. Launched with Her Royal Highness, The Duchess of Cambridge, as guest editor, we will discuss problems, causes and most importantly solutions to the stigma surrounding the UK's mental health crisis among children. To blog on the site as part of Young Minds Matter email ukblogteam@huffingtonpost.com
Related