The five things you need to know on Friday February 12, 2016…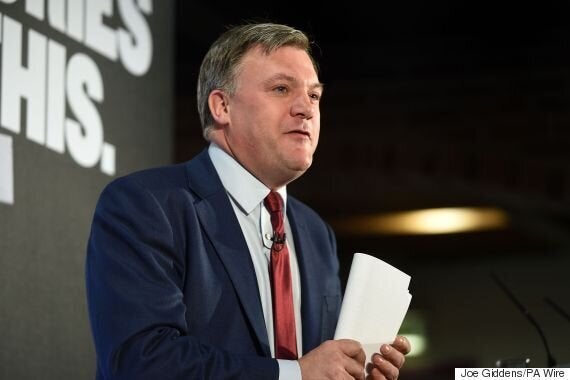 David Cameron is off to Hamburg to make his final Big Speech ahead of next week's crunch EU summit. With Angela Merkel in the audience, will he praise her and the EU in a bid to woo more concessions? Or will he play hardball, warning everyone this is the last throw of the dice before Brexit? Most likely, he'll try and do both.
What Boris will do remains to be seen. And today one of his old foes re-enters the domestic political ring for the first time since the election: Ed Balls has told me that Boris risks putting his own personal ambition ahead of the UK national interest if he backs Brexit.
Speaking from the US, where he's now a visiting fellow at Harvard, Balls praised long-time adversary George Osborne for having the statesmanship to put nation before party. Read the full story HERE.
Balls says: "Whether the UK stays in the EU is much more important to Britain than who succeeds David Cameron as the next Conservative leader…Say what you like about George Osborne, at least he's putting the country's interests before his own on this issue, in contrast to some of his rivals."
And in a Wall St Journal piece overnight, Balls made a more US-focused and international case for staying in the EU. But both the Out and In camps may seize on that article: Balls warns that Cameron's current deal does little to tackle the real reforms needed on freedom of movement and says border controls have to be reintroduced even after our EU referendum.
As for the real cause of Europe's migration crisis, at least there's some good news overnight on Syria. The US, Russia and others have unveiled a ceasefire between Assad and the rebels (not ISIL) to start in one week. But who'll take the refugees already on the Turkish border?
2) MAGGIE MAY, OR MAY NOT
The battle for the ghost of Margaret Thatcher gets more ghoulish every day. Earlier this week, Sir Bill Cash produced a letter from the late PM which he'd been told to keep private until there was any doubt she was in favour of the 'European Project'. The letter said the Maastricht Treaty was "contrary to British interests and damaging to our parliamentary democracy".
Well, today, the In camp have their own letter and No.10 is kinda pleased. The Times reveals that Mrs T wrote another letter to her former foreign policy adviser Lord Powell, saying: "The majority of the British people want to be in Europe and so do I."
The Telegraph splashes its front page with a letter from 130 Conservative councillors warning Cameron that he is risking the "long term future of the Conservative party" if he ignores grassroots party members in the EU referendum campaign. The PM's urging his MPs to ignore their own constituency associations really seems like a throwaway remark that could linger in some activists' memories longer than any other Cameron 'legacy'.
James Blunt's tweet to his million followers yesterday - "I'm officially handing over my Cockney Rhyming title to @Jeremy_Hunt" - went viral pretty swiftly. No.10 were expecting a backlash of course, and boy did they get one.
When the list of 20 names appeared yesterday morning, I tweeted that they would surely be on any hit list for BMA demos. It's not quite clear what the chief execs thought they were signing, given the letter's wording that Hunt should do 'whatever necessary' to get his new contract. But several of them want to make clear while they want a new contract, they don't agree with Hunt imposing it. One chief exec, Andrew Foster, even claims the letter he signed was not the one that appeared.
BECAUSE YOU'VE READ THIS FAR…
The Guardian's Nick Watt reports Whitehall sources confirming suspicions that the Government will delay a decision on Trident until after Labour's party conference this autumn. As rehearsed frequently in the WaughZone, Michael Fallon's desire to push for a March vote was always resisted by some in No.10 who saw a bigger opportunity to exploit Labour's divisions as much as possible (as well as the Treasury wanting to look more closely at the procurement process).
When the PM made his announcement last November that the costs of Trident had increased, he refused to give a timetable and in doing so cast doubt on a vote taking place in the first part of 2016. Yet the real reason for delay is Cameron wants nothing to get in the way of his EU 'In' campaign push.
Today, Watt reports that sources believe any vote would get in the way of the EU referendum expected in June (and let's be honest much of Whitehall is already slowing down in anticipation). But there's one get-out: if the EU referendum is delayed to September, a Trident vote could take place in July: after Emily Thornberry's interim defence review report.
Possibly as early as today, ministers are expected to unveil details of the consultation on cuts to the 'Short Money' that funds opposition parties. John Penrose, one of the politest ministers in the Government, got quite a kicking in the Commons yesterday as few Tories turned up to defend him from a Labour pounding over Osborne's planned 19% cut.
As revealed by HuffPost this week, the backlash from smaller parties in particular has unnerved many Tories and there's the whiff in the air of another Treasury U-turn. In the Autumn Statement, this was presented as a done deal, not a 'consultation' so that at least suggests some movement.
Quite what that movement will be remains to be seen. Maybe there will be less pain for smaller parties (already they will take disproportionately smaller cuts in policy development grant), maybe the overall cut percentage will come down? Labour sources dismiss as 'nonsense' suggestions that they threatened to withdraw 'usual channels' over the row. But as the Sun already compares this to the Chancellor's U-turn on tax credits, let's see how Osborne spins this one.
Our latest CommonsPeople podcast is out HERE. Lots on the junior doctors contract, Trident, Brexit, and Google tax. Oh, and our usual ace Quiz Of The Week: guess who earns more - or less - than a junior doctor's starting salary?
If you're reading this on the web, sign-up HERE to get the WaughZone delivered to your inbox.
Got something you want to share? Please send any stories/tips/quotes/pix/plugs/gossip to Paul Waugh (paul.waugh@huffingtonpost.com), Ned Simons (ned.simons@huffingtonpost.com), Graeme Demianyk (graeme.demianyk@huffingtonpost.com) and Owen Bennett (owen.bennett@huffingtonpost.com)