People who expected fireworks when they heard the fiery rhetorician of Britain's hard Left would grill the doyen of the populist Right must have been left disappointed when the pair agreed with each other on just about everything they talked about.
During the interview on his show 'Sputnik', broadcast on Russia's RT network, Galloway, who supports a Brexit, called the Ukip leader "the man who, more than any other, has brought us to the point where we're going to get a vote on whether to stay or go".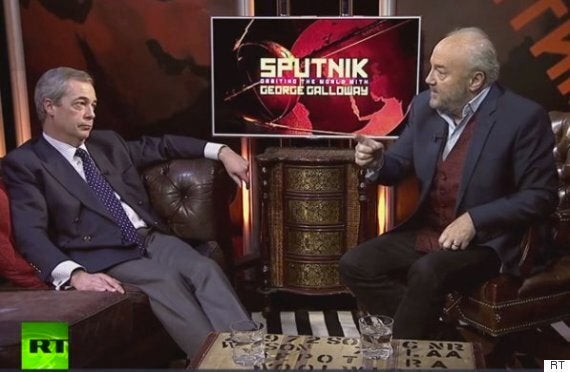 When Nigel (left) met George (right)
"There may or may not be fireworks in the next 25 minutes," the former Labour MP predicted. There were not.
Galloway listened and agreed with Farage's claims that we should focus more on the Commonwealth than the EU, that the belief the EU is more popular in Scotland is a "myth put out by the Edinburgh media" and that "our political class no longer think we're capable as a people of running our own affairs".
Farage predicted David Cameron's planned referendum would take place on June 23. He said leaving the EU would let Britain better control its economic policies, about which "you and I could argue cats and dogs", he told Galloway.
But they distinctly failed to argue cats and dogs during the 26-minute interview.
Farage said the eurosceptic groups Leave.EU and Vote Leave had done "reputational damage" to each other in their fight over who should lead the Out campaign.
He listed the backers of the group he belonged to, Grassroots Out (GO), prompting Galloway to approvingly remark "some old trade union boys" and say he would "probably" join it.
Speaking on a TV network often accused of pro-Putin propaganda, Farage said he believed the EU had "provoked" Vladimir Putin into annexing Crimea from Ukraine, adding: "I'm not a friend or fan of Putin as an individual... (but) a European Union with a big, active foreign policy can actually be quite a danger."
Galloway replied: "Yeah... I respect Putin and I think he's very popular in Russia and that's the point, he's the leader of Russia."
"Of course," Farage said.
Galloway told Farage he was "shocked" he had failed to win Thanet South, the seat he stood for at last year's General Election. He then predicted Britons would vote to leave the EU in the referendum and asked the Ukip leader for his prediction.
Concluding, Galloway said: "We're both, as it happens, on the same page, at least on this one."
Related