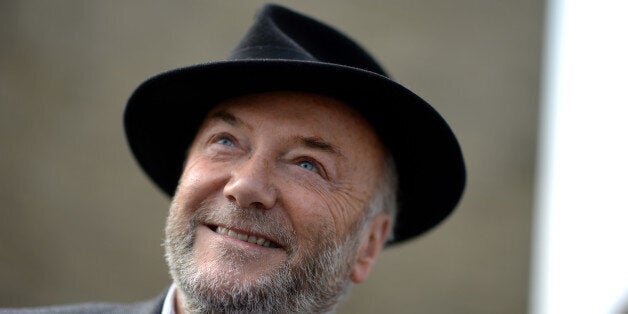 George Galloway believes he is the "spiritual son" of left-wing hero Tony Benn, who he has posthumously appointed as the leader of the campaign to get the UK out of the EU.
In an interview with The Huffington Post UK, the former Bradford West MP spelt out his case for why the UK should vote Leave in the upcoming referendum, attacking the way the German-dominated EU "crushed" the anti-austerity government in Greece.
Galloway, who is running to be London Mayor, claimed the biggest mistake Jeremy Corbyn has made since becoming Labour leader is abandoning his years of euroscepticism.
Speaking in a coffee shop in Neasden, north-west London, minutes before taking to the streets to campaign, Galloway claimed some on Labour's frontbench were even more left-wing than him.
Galloway also responded to Labour MP Jess Phillips's claim that he was a "rape apologist" after he spoke in defence of Wikileaks founder Julian Assange.
Reflecting on Corbyn's support for the UK staying the EU, Mr Galloway – wearing his trademark hat – said: "I think it was a very big mistake. Even tactically - it deprived Labour of the ability to cause difficulties for the Government which is usually one of the articles of faith of Her Majesty's Opposition.
"It was, as it happens, the most popular strand of Jeremy Corbyn's politics that he was eurosceptic. How could he be otherwise?
"Like me, he is the spiritual son of Tony Benn."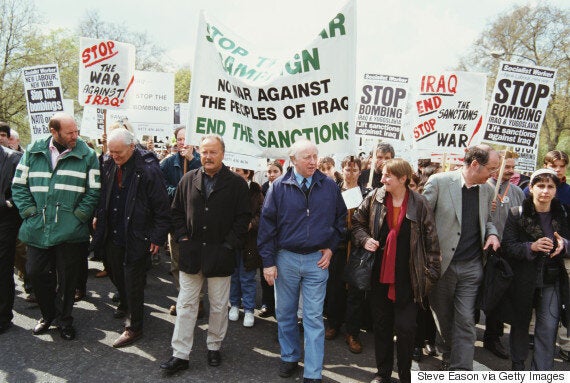 George Galloway with Tony Benn and Arthur Scargill on an anti-war march in 1999
Setting out his own reasons why he is calling for the UK to leave the EU, Galloway said: "The Greece debacle, where a left wing government resisting austerity and the ruin of working people and their families in Greece, were elected and then crushed by the overwhelming power of a German-dominated European Central Bank and other financial instruments and organs of the EU and no matter that they voted and they voted again and they voted again they are crushed by that same austerity."
He added: "Mr Benn, who I campaigned with in 1975, made the peerless – then, as now – case.
"If the European Union could be reformed that would be one thing, but it structurally, architecturally, is designed in a way that it cannot be reformed.
"There is no democracy in the European Union, the European Parliament is a joke."
Galloway is one of the country's most recognisible politicians, and through out the interview and his subsequent speech outside the London Fatwa Council, people approached and asked for photographs.
As well as performing a dance routine while wearing a skin-tight red leotard, he also memorably asked fellow contestant Rula Lenska: "Would you like me to be the cat?" before miming licking a saucer of milk.
When asked by the Huff Post UK if he regretted appearing on the show, and specifically the "cat" incident, Galloway replied: "I don't actually. That was a decade again so it's a bit thin gruel as a criticism now.
"I did it for charity, people do all kinds of things for charity and it's usually approved of - when Jeremy Vine dressed up in women's lingerie.
"It's generally thought to be a good thing, but some people want to use it against me.
"But the truth is, that last man I took a picture with said 'I've been following you since I was a child' and the first thing he cited was Big Brother, so for a generation of people it's not a bad thing to have been in it.
"I wouldn't do it again."
In the mayoral election, Galloway believes he is "without a doubt" the 'true Labour' candidate in comparison with Sadiq Khan, who is actually representing the party.
"I was 36 years in the Labour party," says Galloway, before adding: "I'm not even frankly all that left wing, I'm not as left-wing as you probably think I am. There are people on the Labour frontbench now who are more left wing than me. I don't want to name names. I've never been communist or a Trotskyist or any other kind of 'ist'.
With the Labour leadership seeming to move towards his view of the world, especially on foreign affairs, does Galloway wish he was back in the party – and the House of Commons.
Galloway replied: "The only time I missed it was during the Syria debate and vote."
He then added: "If things had been different, if I hadn't been expelled, you could say I'd be the Shadow Foreign Secretary instead of Hilary Benn.
"On the other hand if I had not been expelled, not defeated Labour twice in elections, not emerged as a leading critic of Western foreign policy and so on, perhaps I wouldn't have been considered for that position. It's a paradox but that's the way the cards fell."
As for rejoining, Galloway said: "If they rescind my expulsion we can talk about it, that's what I've said repeatedly."
One of those was Birmingham Yardley MP Jess Phillips, who branded Galloway a "rape apologist" after claiming – in reference to the Julian Assange rape accusations – that "not everybody needs to be asked prior to each insertion."
The Huff Post UK asked Galloway whether he regretted making those comments.
He said: "I made them many times and I'm not minded to respond to Jess Philips, whose role in life seems to be to slander and insult people."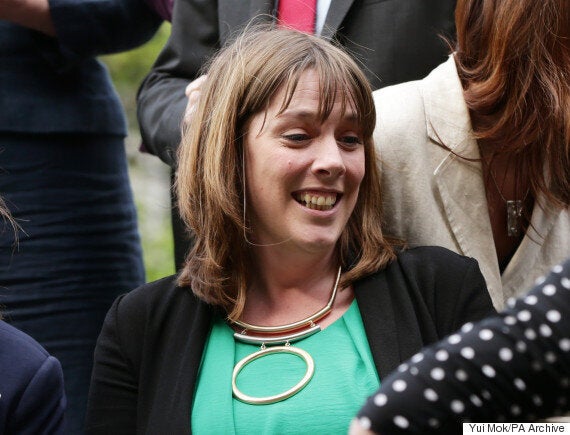 Jess Phillips accused Galloway of being a 'rape apologist'
At a hustings event in the run up to the vote, Galloway claimed Shah had lied about her age when she was forced to marry.
He said: "You claimed – and gullible journalists believed you – that you were subject to a forced marriage at the age of 15. But you were not 15, you were 16 and a half. I have your nikah in my pocket."
Shah threatened to sue Galloway for defamation, and when Huff Post UK asked if he regretted making the comments, he replied: "There's not much I can say about that as the police are investigating that whole thing."
Turning to the London Mayoral contest, Galloway believes the biggest challenge for the capital is dealing with the security threat posed by Jihadists.
He said: "Since Paris, which may I remind you happened only a matter of weeks ago, this issue has entirely disappeared from the agenda.
"Yet the grim inevitability of such an attack is no less real than it was in the immediate aftermath of it when security services and others were telling us it was virtually inevitable."
Galloway would have more armed police on the streets of London to counter the threat, as well as setting up more "visual checks" around likely terrorist targets.
He said: "The causes of terrorism are the wall to wall Islamophobia, Islamicophobic hatred, that's the biggest radicaliser you know – it's not even foreign policy. It's the sense amongst Muslims that they are hated and reviled in the mass media by right wing politicians."
It is a point he repeats to crowd of around 30 to 40 people when giving a speech outside the London Fatwa Council building in Neasden High Street, before telling the predominantly Muslim crowd: "You've seen me in Parliament, you've seen me on Question Time, on Newsnight, on the news, I'm always defending you. I'm always defending you. It's Wajib! Wajib! [An Islamic term meaning obligation]
"I'm not asking you to thank me for it, but I am asking you to vote for me. I'm asking you, and your wives, and your children and your parents to vote for me."
Popular in the Community