If you thought all those sickly declarations of love from certain friends on Facebook this Valentine's Day were hard to stomach, you might want to look away now.
READ MORE:
'Dragon's Den' star Duncan Bannatyne is so loved up at the moment that he felt it necessary to share some vomit-inducing intimate snaps of him celebrating 'Bannatyne's Day' with his 36-year-old model girlfriend Nigora Whitehorn.
And yes, you did read that correctly. 'Bannatyne's Day'. His words. No, really…
Happy Bannatyne's Day pic.twitter.com/AtzJU8b4yt

— Duncan Bannatyne (@DuncanBannatyne) February 14, 2016
Another pic shared by Nigora on Instagram shows the the multi-millionaire with a bunch of red roses on his chest as he snuggles up to his girlfriend.
In another, the couple pose with another huge bouquet of roses. Nigora captioned the snap: "My heart is perfect because you are inside."
My heart is perfect ...because you are inside ❤️ https://t.co/vHJHEyLVcw

— Nigora Whitehorn (@wnigora_nigora) February 14, 2016
Unsurprisingly, the pair's love-fest didn't go down too well on Twitter…
Duncan Bannatyne must be stopped. pic.twitter.com/EQd2l6SVjm

— Jamie Ross (@JamieRoss7) February 14, 2016
@JamieRoss7
Roses are black.
Violets are black.
I've stabbed out my eyes.
Please God make it go away.

— Finn Darby (@FinnTD) February 14, 2016
@JamieRoss7 oh Jesus God. Can you not at least give us some kind of warning before you post that stuff. #byebyebreakfast

— the woozle (@the_woozle) February 14, 2016
@JamieRoss7 'what first attracted you to the hairy shouldered, multi-millionaire Duncan Bannatyne?'

— Martin McDonald (@marty_mcd) February 14, 2016
@JamieRoss7 pic.twitter.com/x3aQDwgqia

— Olly Richards (@olly_richards) February 14, 2016
This isn't the first time the couple's loved-up displays have been mocked.
Back in December, Duncan was trolled after tweeting a snap of him locking lips with Nigora, which he captioned: "Good morning. Have a beautiful day. I know I will'.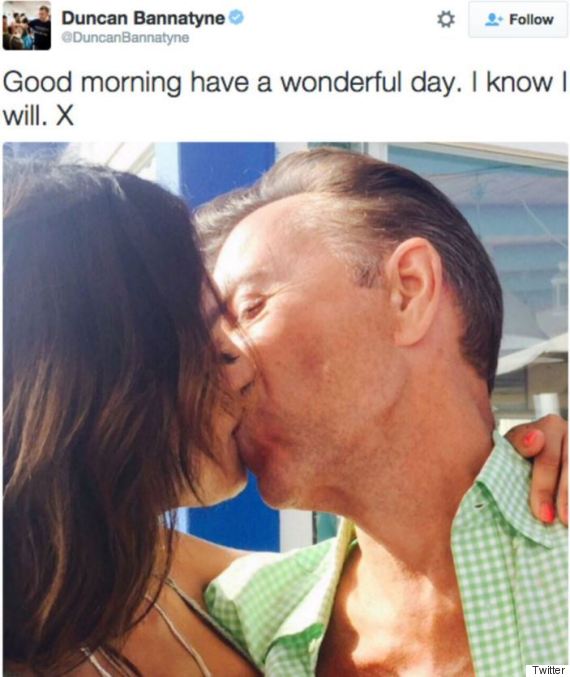 Just weeks earlier, Nigora hit out at Duncan's fellow 'Im A Celebrity' campmate, Lady Colin Campbell, following her comments about the size of his *ahem* manhood.
"On the physicality of Duncan, I hope I don't cause offence to anyone, but I've never had better," Nigora told us. "Duncan is not just the top man in business he is also the best lover any woman would wish for."
LIKE US ON FACEBOOK | FOLLOW US ON TWITTER