An impressive toddler has been rock climbing for more than a year, having started before she knew how to walk.
Ellie Palmer, now two, will regularly climb up a 30ft wall and even has a website where she's known as "Little Zen Monkey".
Dad, Zack Farmer, said she started following in her parents' footsteps and climbing when she was just eight months old.
"When I was pregnant I was climbing with her up until three days before I delivered," mum Rachael Farmer said.
"I continued training after she was born and she started watching other climbers in the gym then began playing on the holds herself."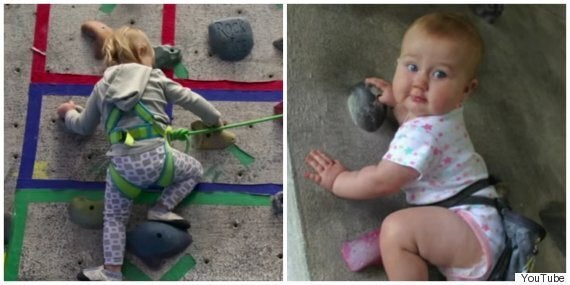 Ellie Farmer started climbing properly when she was eight months old
The toddler soon wanted to climb up and down everything, meaning her parents had to make modifications to her crib to ensure she wouldn't climb out.
The couple put a video on Facebook of Ellie climbing up a small wall with rock climbing holds in her room, but weren't prepared for the reaction it would get.
"The internet took over and made it extremely popular, it was a total surprise for us," Mr Farmer said
"We wanted to reach more people, people who wanted to figure out how they could get more active with their kids, so we set up a website Little Zen Monkey.
"It was awesome to see other people doing it, too."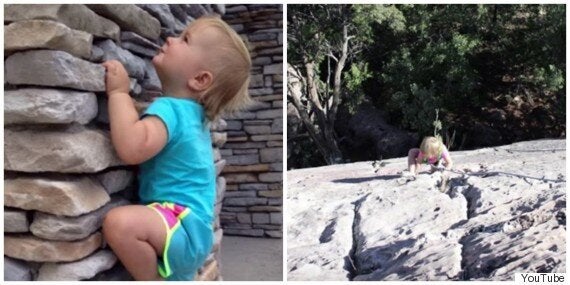 Ellie Farmer's parents wanted to encourage others to keep their children active
The couple said they have received positive comments on their climbing videos, but many have questioned how dangerous it is.
They reassured people that Ellie's climbing is always very controlled, with a large crash pad of 16 inches of foam.
Although she might be an avid climber, the Farmers said Ellie is still a toddler at heart - playing games, reading books and always laughing.