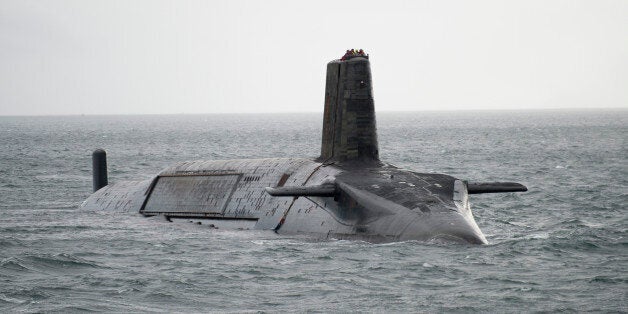 Detailed plans to replace Trident submarines with a cheaper, aircraft-based nuclear deterrent are being considered as part of Labour's defence review, HuffPost UK has learned.
The proposals, drafted originally for a Liberal Democrat think tank, aim to save the taxpayer upto £13bn while taking Britain 'a step down the nuclear ladder'.
Central to the plans, which are expected to be presented to Shadow Defence Secretary Emily Thornberry next week, is a switch from submarines to air-dropped nuclear weapons, a type of deterrent last relied on by Britain in the 1950s and 1960s.
But with Ms Thornberry keen to find a 'third way' between renewing Trident and outright unilateralism, the air-borne deterrent is seen as one possible solution that cuts costs while saving jobs.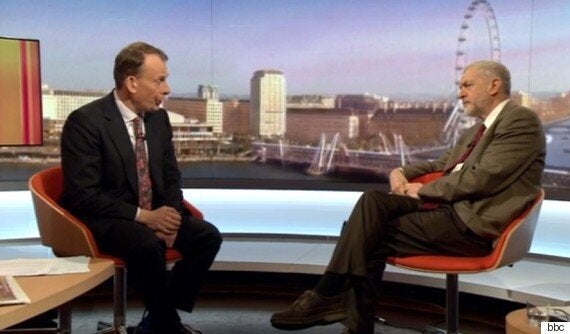 Jeremy Corbyn, interviewed by Andrew Marr
Under the latest plans, 135 new F35C Joint Strike Fighter 'stealth' planes would be adapted for 'dual use' to deliver B61-12 nuclear bombs, and operate from air bases and the UK's two new aircraft carriers.
The planes could not provide round-the-clock capability but could mobilise rapidly in the event of nuclear crisis, the plan suggests.
And a bid to offer reassurance to trade unions such as Unite, the package would include the order of five new Astute class nuclear-powered submarines to ensure work for skilled manufacturers in towns like Barrow.
The Astute subs would not carry the Trident nuclear system but would expand the range of the UK's conventional capacity, with the possibility of adaptation for nuclear weapons if needed at some point in the future.
Crucially, four new Successor submarines, the main source of the £41bn cost of renewing Trident, would not be ordered.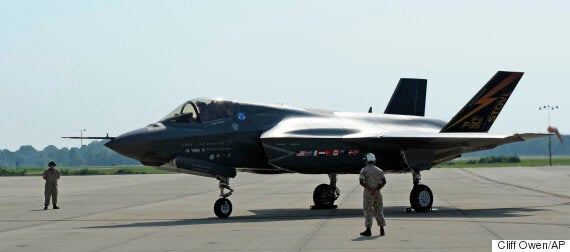 The F35 Joint Strike Fighter
As part of a wider shift to boost conventional rather than nuclear defence, four extra Type 26 Royal Navy frigates would also commissioned, along with the conversion of both new aircraft carriers, six new early warning aircraft and four carrier-capable cargo aircraft.
Eight land-based maritime patrol aircraft would replace the Nimrods scrapped in 2010, and updates to RAF Voyager tankers would be bought.
The plans are designed to protect the UK's current industrial base that manufactures nuclear submarines and atomic weaponry.
Work for BAE's Barrow submarine building yard, Rolls-Royce at Derby and AWE in Aldermaston would continue with the new orders, Mr Fenwick says.
He also argues that the adaptable Astute class submarines would allow the UK to return to Trident if it needed to in the future, but in the meantime save the nation billions.
Critics claim that an exclusively air-based deterrent is less secure than having a submarine permanently patrolling the deep seas, because Russian air defences are much more sophisticated than in the 1960s.
And although the Americans and Russians both have nuclear-armed aircraft, they operate them alongside, rather than instead of, submarine patrols.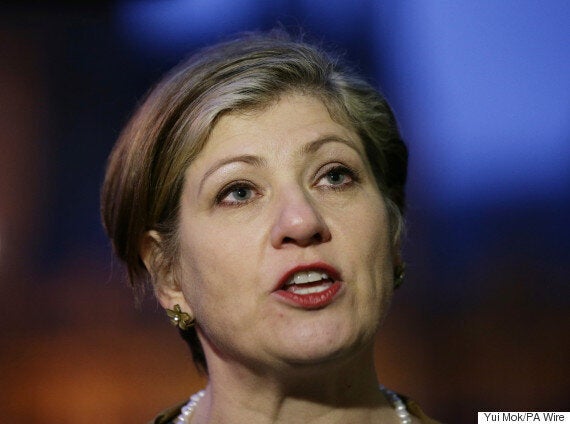 Shadow Defence Secretary Emily Thornberry
But Mr Fenwick believes that his air-based plan will meet the "minimum deterrence" criteria used in Whitehall, which is the ability to destroy 10 cities other than Moscow or St Petersburg, or to deliver 30 warheads against Russian targets.
Former Labour leader Ed Miliband said just months before the general election that "we've got to have the least-cost deterrent we can have", and some believe that he would have explored the airborne option as Prime Minister.
Several Tories, including foreign affairs committee chairman Crispin Blunt, have expressed support for an air-borne nuclear option amid fears that advance sonar techniques and a new generation of underwater drones could render 'stealth' subs obsolete.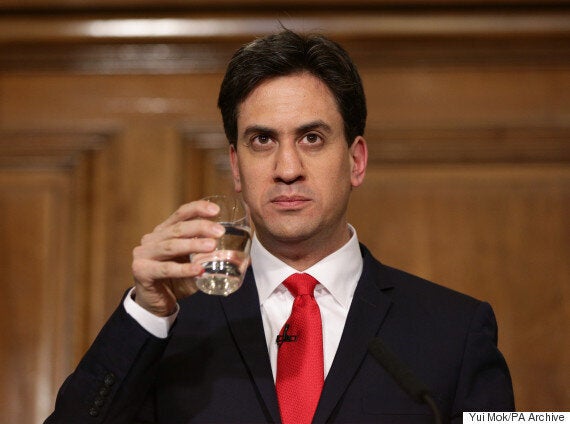 Ed Miliband said in January 2015 he wanted 'the least cost deterrent'
Mr Fenwick describes himself as a 'multilateralist' who wants to move away from Trident as part of a long-term plan to get to a 'nuclear free Europe' and global cuts in warhead numbers.
A former Treasury official and NAO defence analyst, he is a member of the Lib Dems and sits on the party's 'Trident policy working group', which is less well-known than Labour's own review but got underway last month.
The Lib Dems aim to have a policy paper to put to their conference this year and will then spend a year reviewing it.
Mr Fenwick's airborne plan was not part of the last Coalition government's 'Alternatives to Trident' review.
Ms Thornberry has suggested she will produce an interim report by June, to be considered by Labour's National Policy Forum ahead of any party conference motion on Trident this September.
David Cameron has already ridiculed one option floated within Labour of commissioning the new Successor nuclear subs, without nuclear weapons, to act as a 'Trident taxi service' to ferry troops.
Britain relied on airborne nuclear weapons when Vulcan V-bombers carried out the role in the 1950s and 1960s.
The last UK free-fall tactical nuclear bombs were decommissioned in the late 1990s.
Popular in the Community