Donald Trump has branded Pope Francis "disgraceful" for claiming the Republican presidential frontrunner was "not a Christian" over his pledge to build a wall across the US-Mexico border.
Returning home to Vatican City from a trip to Central America, the Pope said: "A person who thinks only about building walls, wherever they may be, and not building bridges, is not Christian."
Trump attempted to respond with quite the same level of gravitas, quipping at a rally in South Carolina "For a religious leader to question a person's faith is disgraceful."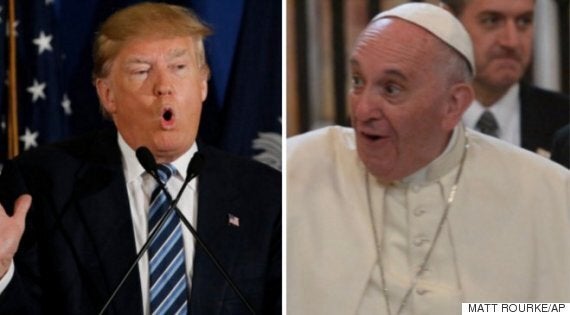 The two religious heavy-weights exchanged terse comments
"No leader, especially a religious leader, has the right to question another man's religion or faith," he said.
But it seems Trump himself has form when it comes to questioning other's religious beliefs - especially when that involves political point-scoring in the race to the Oval Office.
Take this tweet from 2013, in which he calls out competitor Ted Cruz for not being a proper Christian:
In a separate statement posted late last night, Trump also promised that, in the obvious event of an Isis strike on the Vatican, Pope Francis would wish and pray the millionaire property magnate had attained office.
"If and when the Vatican is attacked by Isis, which as everyone knows is Isis's ultimate trophy, I can promise you that the
"Pope would have only wished and prayed that Donald Trump would have been President because this would not have happened. Isis would have been eradicated unlike what is happening now with our all talk, no action politicians."
And it seems Trump's rebuke to the Pope went down well with his supporters.