The date for the EU Referendum has been announced - and it's in the middle of this year's Glastonbury festival.
The vote to stay in the European Union or leave it will take place on 23 June, when around 135,000 people will be at the second day of Glastonbury 2016, Prime Minister David Cameron has confirmed.
But thousands could miss out on voting in the historic referendum, as there will be no polling station at the festival.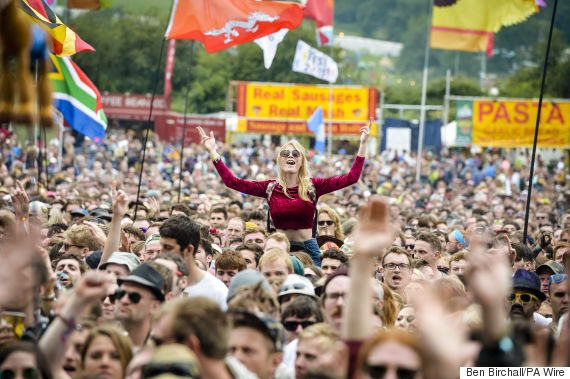 The vote is during this year's Glastonbury
The official Glastonbury Festival account tweeted that it wouldn't be possible for festivalgoers to vote at the event, but they could register for postal votes:
It won't be possible to have an #EUreferendum polling station at Glastonbury 2016. You can register for postal votes https://t.co/N6rF44BKVT

— Glastonbury Festival (@GlastoFest) February 20, 2016
Festival attendees can also nominate someone to vote on their behalf.
Emily Eavis, one of the event's organisers, tweeted to encourage people to register for postal voting:
Register for postal votes now... https://t.co/2AtFs156fs

— Emily Eavis (@emilyeavis) February 20, 2016
The Electoral Commission said people won't be allowed to vote in person at the festival, as rules state they much be registered to cast their ballot in their local area, not at Glastonbury.
"The legal framework for referendums wouldn't allow for a polling station to be set-up at Glastonbury for people to vote in person," the commission said in a statement.
"As similar to other elections, each person would have to vote in their local area and if they want to vote in person, they would have to vote at the polling station they have been assigned.
"It wouldn't be possible to turn-up to just any polling station and vote because the local authority wouldn't have the voter on their local electoral register and therefore would be unable to check if you were entitled to vote."
Coldplay are headlining the well-known music festival, which starts in Somerset on 22 June.
SEE ALSO:
Some revellers weren't too happy about the clash:
Holding the EU referendum at the same time 150,000 people are at Glastonbury? Nice one UK government

— Hannah (@_hannahbrowne) February 20, 2016
Though others who are going to the festival have been spreading the word:
#EUreferendum coincides with Glastonbury so reading up on postal votes #adulting

— Evan (@evanwilliam23) February 20, 2016
EU referendum set for June 23rd. Glastonbury weekend. If you're going to #glasto2016 make sure you register for a postal vote!

— Rachel Thomas (@halohoney) February 20, 2016
And some people thought the referendum clash could make for quite an interesting festival:
My favourite bit of the referendum coverage will be @ColinGPaterson at Glastonbury trying to ask Coldplay what they think of the results

— Callum May (@callummay) February 19, 2016
@GaetanPortal @callummay @ColinGPaterson #EUreferendum results on the pyramid screens? See you by the cider bus

— George Mann (@SGFMann) February 19, 2016
Referendum will be 23rd June. Cameron to do last-minute campaigning from Glastonbury's main-stage. #Brexit #EU #Cameron

— Karl Minns (@karlminns) February 20, 2016
A Glastonbury spokesperson told the Bristol Post, before the referendum date was announced, that the festival would "look to put provisions in place" if there was a clash.
The referendum will also be during the European football championships. The group stages will have been completed by 23 June.