Former defence secretary Liam Fox has hinted he is considering standing to be leader of the Conservative Party once David Cameron steps down.
Fox, who is campaigning for Britain to leave the European Union at the referendum, was asked on the BBC Victoria Derbyshire show if he would give the leadership another shot. He replied with a grin: "Never say never again."
"We'd have to wait and see," he said. "At my age, at 54, nowadays in British politics that's almost geriatric. According to the media you've got to be in your 30s or 40s."
He added: "There's a big debate to be had in this country about age but this is not the point to have it."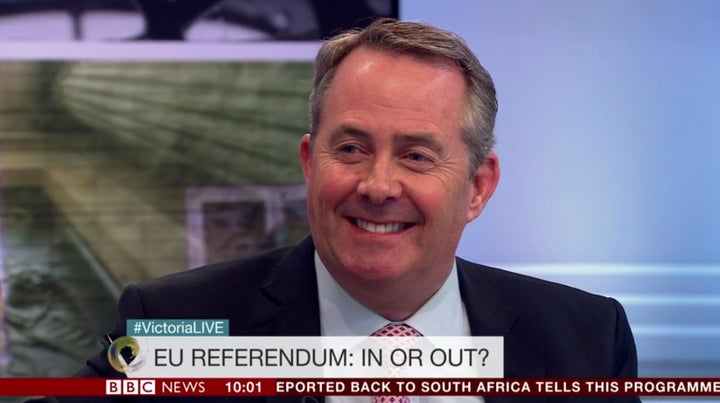 Fox stood against Cameron in the 2005 Conservative leadership election but failed to make it into the final round of voting.
Earlier this month, a survey of Conservative Party members conducted by ConservativeHome revealed Fox was the grassroots favourite to take over from Cameron, with 21% of the vote.
Cameron has said he will stand down as Tory leader before the 2020. This means the next prime minister will be chosen by Conservative MPs and party members as the new leader will take office before the general election.
Fox was appointed defence secretary by Cameron in 2010, but resigned from government in 2011 over allegations he had allowed a close friend and lobbyist access to the Ministry of Defence.
Boris Johnson's decision to back Brexit has been seen by some as a move to garner the support of Tory members in the leadership race. George Osborne, possibly Boris' main rival for the leadership, is backing Cameron and the 'Remain' campaign.
However asked if Boris' decision set him up to take over as prime minister before 2020, Stanley Johnson replied: "Who can say?".