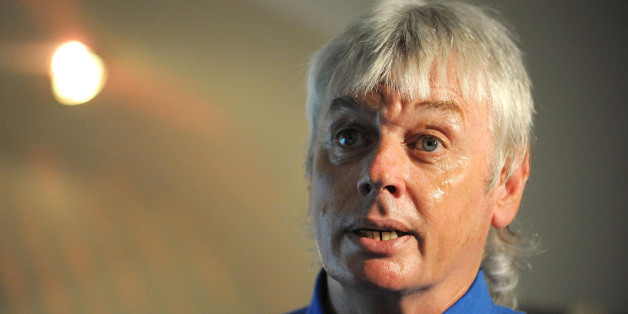 Anna Gowthorpe/PA Archive
David Icke, arguably the world's best-known conspiracy theorist, has come out in favour of leaving the European Union, labelling the bloc a "dictatorship".
In series of tweets and posts on his website, the broadcaster hit out at the "dark suits running your life" and that real reform is "completely absent" in David Cameron's deal.
Explained: Everything You Always Wanted To Know About The EU Referendum But Were Afraid To Ask
A former professional goalkeeper and television presenter, Icke gained international notoriety in the 1990s when he claimed a race of shape-shifting lizards were masquerading as Presidents and monarchs.
More memorable among British audiences was his appearance on the late Sir Terry Wogan's website, where he contended he was the son of God.
June 23 – NO to EU dark suits running your life (and they have hardly begun if we stay in): https://t.co/1KQCrXfyzj pic.twitter.com/aLOf6GUb11

— David Icke (@davidicke) February 21, 2016
His most recent post is a straight take: "A vote in regard to whether Britain should withdraw from the European Union is an epic event; one which if in the affirmative would profoundly shape its destiny for a generation.
"My first impression is that David Cameron has not obtained the 'unique' status which he promised to extract from Brussels to mollify those who favour continued membership under a looser arrangement."
But a day earlier, as Cameron detailed the deal to his Cabinet on Saturday and revealed the June 23 date of the referendum, he came off a much longer run-up, noting how Cameron compares unfavourably to the Margaret Thatcher (or the "Mad Handbag") when taking on Argentina's "fascists" to seize the Falklands.
He writes: "It seems to me entirely apt that this morning's Cabinet session is the first one to take place on a Saturday since the Invasion of the Falklands in 1982.
"There's no physical invasion this time, but the threat to our sovereignty lies just across the Channel….as opposed to the South Atlantic. And whereas last time – whatever one thinks of the Mad Handbag – we had a PM who we just knew was going to give Galtieri's fascists a good kicking, this time we have a Prime Minister who (without being forced to by public, UKIP-driven pressure) would never have gone through this 'renegotiation' charade in the first place."
He then spells out the facts as he sees them: "We are being asked to decide on the deal before it's been ratified.
"Real reform of EC dictatorship is completely absent from the proposals
"The Government's primary argument for staying is what might happen if we didn't
"The only other 'reason' is that we've obtained 'a good deal'."
EU referendum clashes with Glastonbury and Euro 2016: https://t.co/3en1BxTMo1 pic.twitter.com/HFZoznX5nW

— David Icke (@davidicke) February 22, 2016
In urging us to stay, Cameron spells out why we should leave: https://t.co/mbLa8Rwflp pic.twitter.com/IZF9P3eelL

— David Icke (@davidicke) February 21, 2016
Key figures choose sides as Cameron sets EU referendum date: https://t.co/bLNdP1bdn9 pic.twitter.com/F3CLVvAEVS

— David Icke (@davidicke) February 21, 2016
He joins the ranks of Boris Johnson, whose decision to also back "Brexit" represented a seismic moment in the early stages of the campaign. Other eurosceptic "Outers" include around 100 Tory MPs, Nigel Farage's Ukip, and the Respect Party's George Galloway.