Junior doctors "cannot and will not accept" the imposition of their new contract by Jeremy Hunt, their union has said as it announced an unprecedented new wave of strikes and legal challenge.
The British Medical Association (BMA) is planning three more strikes, each over 48 hours and said it would seek a judicial review into the Government's plans to impose the new contracts.
The announcement is a major escalation in its standoff with the Department of Health.
The BMA has previously staged two strikes this year, the first of their kind for 40 years, each for only 24 hours.
It is believed to be the first time junior doctors have gone on strike over 48 hours.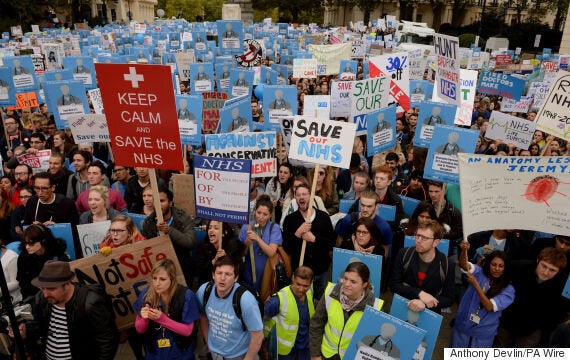 Junior doctors have previously only gone on strike for 24 hours
The latests strikes are from 8am on March 9, April 6 and April 26 and will follow the emergency care-only model used for the previous protests.
"In recent weeks I have heard from thousands of junior doctors across the country, and the resounding message is that they cannot and will not accept what the Government is trying to do," Dr Johann Malawana, chairman of the BMA junior doctors committee, said.
"The Government can avert this action by re-entering talks with the BMA and addressing rather than simply ignoring the outstanding issues and concerns junior doctors have.
"If it pushes ahead with plans to impose a contract that junior doctors have resoundingly rejected, we will be left with no option but to take this action."
The BMA said it was seeking a judicial review of the decision to impose the new contracts because Health Secretary Jeremy Hunt failed to to undertake an equality impact assessment before doing so.
Dr Malawana said: "This is yet another example of the incompetence which the Government has demonstrated throughout its handling of the dispute.
"Imposing this contract will seriously undermine the ability of the NHS to recruit and retain junior doctors in areas of medicine with the most unsocial areas, where there are already staffing shortages.
"We have already seen NHS chief executives refusing to support an imposition, and patient representatives have said they are appalled by this move."
Under the Equality Act, the government must show "due regard" to equalities issues.
The BMA said the government "failed to provide evidence" it did this through an EIA before it decided on February 11 to impose a contract on junior doctors from this August.
The BMA previously said it would consider "all options" after Hunt announced the controversial contracts would be imposed after negotiations failed.
The Huffington Post UK has contacted the Department for Health for comment.