The health secretary, who pioneered controversial measures that led to a spate of strikes, announced the changes on Thursday, coinciding with 300 medics requesting 'Certificates of Good Standing' (CGSs) in one day – up from an average of just 17 a day in January.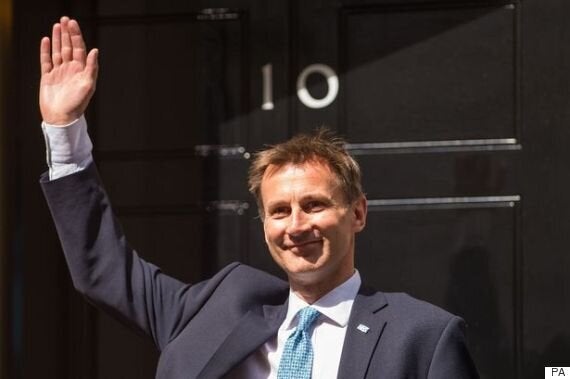 Jeremy Hunt imposed the contract on NHS workers last week
CGSs are the international-standard document used to evidence doctors' fitness to practice and are required by most big medical companies abroad to verify how long and at what level workers have been in the profession.
Each junior doctor costs the taxpayer around £300,000 to train. If all those applying for permits to work abroad did leave the National Health Service, some £90 million worth of investment in medics would be lost.
But the tide did not stop on Thursday - with Friday, February 12, seeing 109 applications for CGS from doctors, according to administrative body the General Medical Council.
It means 482 people have this month applied for permits that will enable them to leave the country and work elsewhere.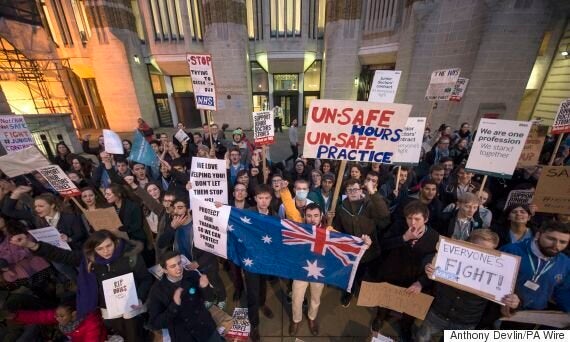 Many medics rallied against the contract proposals
After Hunt announced to the Commons his plans to impose the long fought-over contract on junior doctors, his opposite number on the Labour frontbench, Heidi Alexander, declared the health secretary and become "the recruiting segeant" for the Australian health service.
Jonathan Barnes, one junior medic, told the BBC at the time that the number of young GPs and hospital doctors applying for overseas jobs was at an all-time high.
"If these changes are imposed there could be a mass exodus of doctors," he said.
The medic had his prediction almost immediately confirmed, with the Welsh government keenly stepping in to snap up doctors looking for work elsewhere.
In a statement, a Department of Health spokesperson told The Huffington Post UK: "Medicine is an attractive career and the NHS is one of the best healthcare systems in the world. This is a fair, safe, reasonable contract – 90 per cent of it agreed with the BMA.
"As we move towards implementation we hope junior doctors see the much improved offer on the table compared to their current contract."
Changes to visa rules that mean firms would be taxed £1,000 a year for employing a skilled migrant from outside Europe would also lead to hundreds of UK doctors leaving the NHS every year, the BMA has said.
In a letter to Immigration Minister James Brokenshire, union leaders said imposing the cost on employers could lead to a hefty bill for the NHS - they estimate the health service would have to fork out at least £3.5 million a year.
Related