Donald Trump's presidential campaign has been endorsed by a leading moderate Republican, prompting another politician to warn the billionaire businessman is now the party's "future".
New Jersey governor Chris Christie, who earlier abandoned his own campaign run, said Trump would provide "America with the strong leadership it needs," despite the fact he called the floppy-haired hotelier's proposed ban on Muslims going there "ridiculous" just weeks ago.
"There is no one who is better prepared to provide America with the strong leadership it needs than Donald Trump," Christie said to stunned silence at a press conference in Texas. "He'll provide strong unequivocal leadership and create jobs for this country."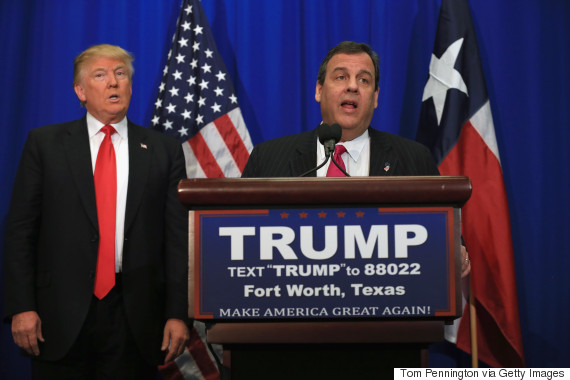 Trump (left) looks on as Christie (right) endorses his former rival
He said Trump was best equipped to defeat Hillary Clinton, the likely Democrat candidate for the November election.
Political journalists weighed in to reflect on the prospect that Trump, dismissed as a ludicrous outsider at first but who has been the victor in most of the early contests, is now winning endorsements from senior Republicans.
The only possible analysis at this moment https://t.co/BidLsz3LBY

— Stuart Millar (@stuartmillar159) February 26, 2016
what the fuck is happening

— john r stanton (@dcbigjohn) February 26, 2016
Trump lost the Iowa caucus, the first stage of the presidential primary race, but won the Republican primaries in New Hampshire, South Carolina and Nevada and is poised to do well on Super Tuesday next week, when several states go to the polls.
Trump has previously been endorsed by fellow self-defined outsider Sarah Palin but Christie is easily the most mainstream politician to do so.
Former presidential candidate and US House of Representatives speaker Newt Gingrich said the endorsement showed the party's establishment had to "begin thinking of Trump as the future".
Chris Christie endorsement of Trump is a major breakthrough.this is a huge step for Trump and will impact super tuesday bug time.

— Newt Gingrich (@newtgingrich) February 26, 2016
This Chris Christie endorsement of Trump is real signal to GOP establishment that they had better begin thinking about Trump as the future

— Newt Gingrich (@newtgingrich) February 26, 2016
Christie called Trump "someone who is going to lead the Republican party to victory in November over Hillary Clinton, which is the single most important thing we can do".
He attacked Senator Marco Rubio, who is still in the race but is polling behind Trump in Florida, his home state.
He said: "We can't any longer as a country stand up and defend ourselves around the world because we have a leader who wrings his hands. I didn't hear any of that this morning from Senator Rubio."
Brits reacted to the news with incredulity, with one asking simply: "Can this election get any crazier?"
Saw NYT alert of Chris Christie endorsing Trump and thought someone had started drinking early at NYT. Can this election get any crazier?

— Sunny Hundal (@sunny_hundal) February 26, 2016
Some speculated Christie endorsed Trump because he wanted to be his vice-presidential candidate in November.
Trump welcomed Christie aboard the "Trump train" and called him a "true patriot".
Welcome Chris Christie to the #TrumpTrain!
We are VERY excited to have you on board!
Everyone thank & follow @ChrisChristie! A true patriot!

— Donald J. Trump (@P0TUSTrump) February 26, 2016