The new Fifa president has pledged to bring to "bring football back" to the world's governing body after it was rocked by a massive corruption scandal.
Gianni Infantino was voted the new president, as Fifa struggles to restore its reputation and its former, long-serving president is banned from the sport for ethical violations.
"I will work tirelessly to bring football back to Fifa and Fifa back to football," Infantino, a 45-year-old lawyer and previous general secretary of European governing body UEFA, told voters.
"This is what we want to do.. I feel a lot of emotion and have not realised yet what has happened today. It is still very fresh and it's been a long and exciting journey and I probably need some time to chill out and see what has happened."
He won with 115 votes in the second round of voting. Sheikh Salman followed with 88 votes and Prince Ali al-Hussein with four. Jerome Champagne received none.
SEE ALSO:
In his victory speech, he said: "Everyone in the world will applaud us for what we will do. Everyone will be proud of what we will do."
Sheikh Salman had been the favourite to win but Infantino's backing from UEFA proved too strong.
Reaction was mixed, with some expressing their hope that the new Fifa leader would usher in a new era for the sport after the body has suffered allegations of corruption.
So Gianni Infantino is the new president of #FIFA ...(Platini's right hand man 🙈😧 best of a bad bunch! Let's hope for a culture change...

— Charlie Webster (@CharlieCW) February 26, 2016
I'm so excited to see what Infantino will do for FIFA. A new era has begun people

— Shelby Farrar⚓ (@shelby_farrar27) February 26, 2016
Gianni Infantino of Switzerland wins #FIFAelection. Hoping for a new era!

— KABUURA (@andrewkabuura) February 26, 2016
While others were less convinced...
Have this weird feeling that Gianni Infantino will pull off his mask to reveal Sepp Blatter.

— Gary Lineker (@GaryLineker) February 26, 2016
Tell me why I feel like nothing is going to change by having Gianni Infantino as FIFA prez. Birds of a same feather...

— H (@Henry2Live) February 26, 2016
Agree with someone I just spoke to. Infantino might be a better alternative for FIFA but not necessarily for football. More of the same.

— Matt Lawton (@Matt_Lawton_DM) February 26, 2016
Former president Sepp Blatter, who is banned from football for six years for ethics violations, said that Infantino was a worthy successor to continue his work and "has all the qualities to continue my work and to stabilize FIFA again" after a corruption crisis".
Blatter praises Infantino's "experience, expertise, strategic and diplomatic skills" in a statement, the Associated Press reported.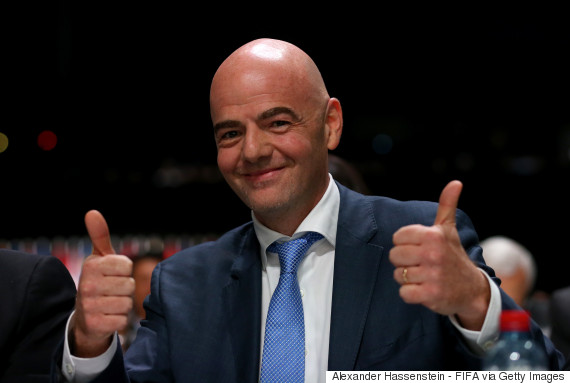 Gianni Infantino has become the new President of Fifa
Infantino will complete the rest of Blatter's presidential term, serving through May 2019. The 79-year-old official was banned by the FIFA ethics committees along with Infantino's now former boss, UEFA President Michel Platini.
The warm congratulations is a notable change of tone for Blatter, who early in the campaign sniped at Infantino despite the fact they come from neighbouring Swiss villages.
Infantino was only five years old when Blatter joined FIFA in 1975.